A new YouGov research shows the movie-viewing preferences of Indians and delves into the psyche of a cinemagoer
In a country obsessed with films, the high frequency of cinema visits is obvious.
The YouGov survey conducted among over 1,000 respondents in India, shows that every 1 in 6 cinemagoers watches a film every week. Cine buffs are visiting theatres 44% more often than they did last year, and intend to do so even more in the coming year. 72% people enjoy the ambience and prefer watching films on the big screen, although 31% feel it is very expensive and prefer streaming films online instead.
Indians love their movies no matter what the genre, be it comedy, action or romance. Over 60% people linked their movie outings to social engagements with family & friends.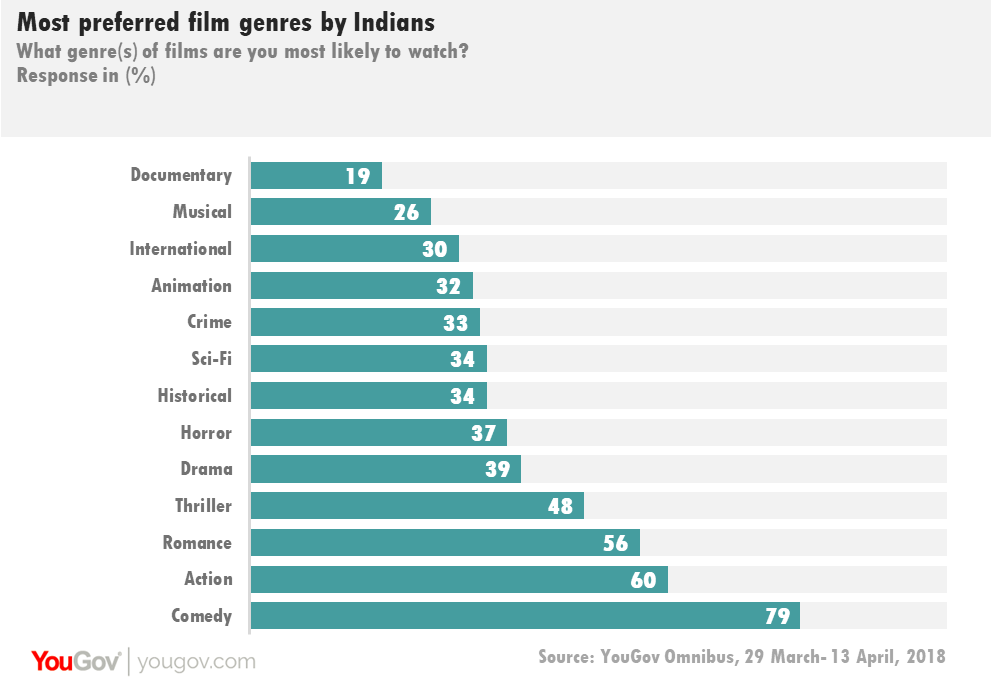 In a new age digital world, there is no surprise that 3 in 4 movie buffs get their updates about the latest movies from social media. An equal percentage of people prefer booking tickets online as well as buying it physically from the counter.
As much as Indians love movies, they love their munchies just as much. 41% of cine goers spend on an average between INR 200- 500 per visit excluding ticket prices. While popcorn and soft drinks are the most preferred eatables savoured by the majority (71% and 60% respectively), chips and the humble samosa are next in line (40% and 35% respectively) to vie for attention.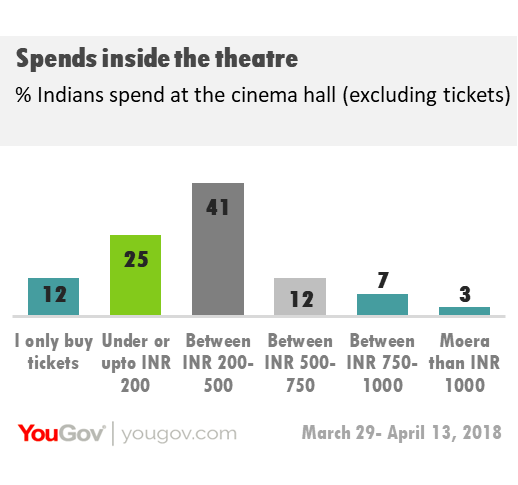 The urban audience is evolving with over 50% cinema enthusiasts basing their movie viewing decision on the story and star cast of the film rather than the publicity generated around it.
A new revelation for brands looking to target the captive cinema audience is that around 50% of people pay more attention to cinema advertising than TV or outdoor advertising. Not just this, they find it more creative and entertaining than traditional advertising. 43% cinemagoers feel watching new release trailers before the film sets the mood for a wonderful film-viewing experience and keeps them updated with the latest happenings.
Speaking about this, Deepa Bhatia, General Manager, YouGov India, said, ""With streaming services gaining so much traction, it's interesting to see that the Indian love affair with the movies has not abated. The YouGov study highlights to marketers the high engagement with cinema advertising and the frequency of cinema going to keep in mind while planning their media plans."
Although the equation of cinemagoers with cinema is evolving, it is only growing stronger with time.
Maybe it's safe to say that cinema is here to stay and so are the cinemagoers.

Get latest updates from YouGov, subscribe to our email updates:
Your email will be only used for sending our blog updates. You may opt-out anytime. Please review our privacy policy.