A new YouGov study reveals around a third of Indians take a vacation every year
Despite the bad exchange rates, people are still looking forward to a holiday. Married people travel more than singles with 39% of them taking a vacation at least once a year compared to singles who mostly travel less than once a year with a limited budget.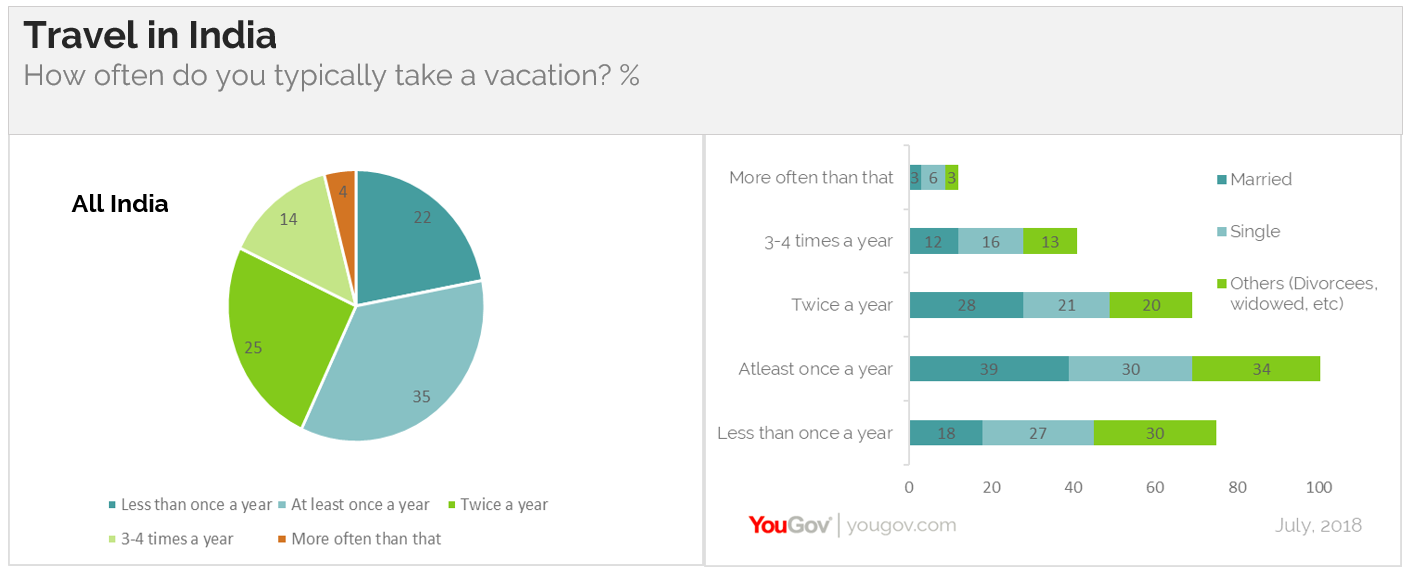 The mountain vs. beach dispute is finally settled with 64% of the respondents saying they prefer hills & mountains over beaches. A well planned getaway rejuvenates your senses and helps you become the best version of yourself. According to our survey, almost a quarter (25%) of the respondents prefer adventurous holidays, followed by spiritual trips, romantic breaks and wildlife safaris.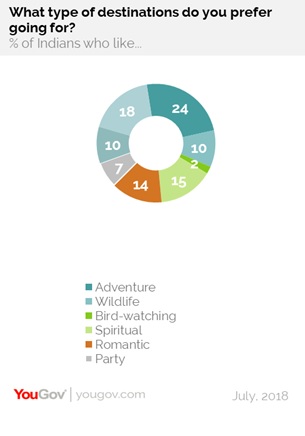 Indians tend to be planned travellers with 80% preferring some kind of plan or itinerary though 40% like some flexibility in the schedule. 63% like to plan their holidays themselves with only 9% preferring the planned tours from global tour operators.
And once there, Indians tend to be really active travellers with 79% seeking to explore all that the destination offers and only 20% wanting to use the holiday to relax or chill out.
Men travel more than women in a year with 28% of them travelling twice a year. While men like to go with a planned itinerary, women like having one too but are willing to explore the place outside the schedule.
Money is an important factor in deciding the location and length of the stay. Most Indians prefer budget holidays within INR 50,000, especially the singles, lasting up to a week.
A sizeable number of married people in this group chose popular tourist destinations over off-beat ones, but 42% singles prefer going for unconventional picks over the usual ones.
Influences driving travel decisions
Close to two-third vacationers are driven by famous sites and history when selecting where to travel next.
Indians love entertainment and there is no surprise that 41% believe the influence of Films & TV and social media inspires them to go on a holiday. No wonder we see countries welcoming Bollywood with open arms.
Europe is by far the most popular holiday destination and preferred continent, closely followed by Asia. One in six Indian travellers voted Switzerland as their ultimate favourite European travel destination, followed by France (42%). However, one-third women travellers fancy a vacation in Italy.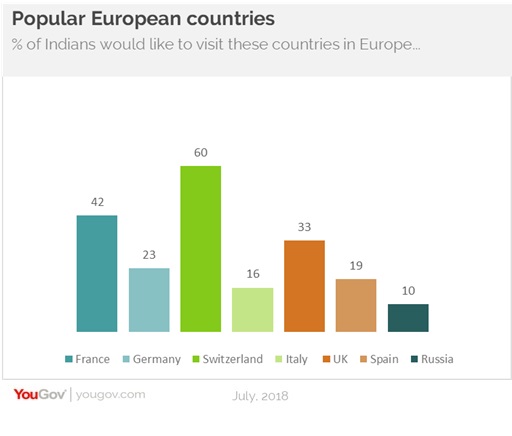 After India, Singapore (46%) is a clear favourite Asian destination for travellers. Malaysia is also a popular choice with 31% holiday lovers wanting to visit the country.
When it comes to the most preferred countries for holiday in North America, U.S.A and Canada are the preferred choices. Although only 2% of travellers want to visit Oceania, most people within this would love to visit Australia.
With the holiday season still on in Europe, maybe it's time to plan a trip soon.
Data collected online by YouGov Omnibus among 1,000 respondents in India in July, 2018 using YouGov's panel of over 6 million people worldwide. Data is broadly representative of the adult online population in the country.

Get latest updates from YouGov, subscribe to our email updates:
Your email will be only used for sending our blog updates. You may opt-out anytime. Please review our privacy policy.