YouGov survey reveals Indians perceive Sundar Pichai as a true Global Indian, followed by Priyanka Chopra and Amartya Sen
A new YouGov survey reveals personalities that Indians perceive to be global Indians and defines the meaning of patriotism as described by Indians.
The word patriotism holds a different meaning for different people. Almost all respondents believe they are patriotic. 42% feel they are as patriotic as their parents and 32% would want their children or the future generation to be more patriotic than them.
Are Indians proud of their country?
55% people are proud to be Indians, the rest (around 43%) are proud but also feel sorry for the general state of affairs. However, given a chance, 45% of Indians would consider moving out of the country.
Mutli-cultural, agricultural, historic, beautiful, traditional, spiritual, are some of the words people associate with India. However, while all this sounds very positive, around a fourth of the population would want the country to be a safe place to live in.
Indians have many ways of showing their love and loyalty towards their nation. 60% Indians pay taxes on time as a contribution to the nation's development and 68% stand up during national anthem as a mark of respect. Close to three- fourth Indians are proud of their armed forces and believe it is their duty to protect public property.
Global Indians
YouGov's new survey reveals Indians truly admire three things: beauty, brains and pure talent.
Sundar Pichai shines bright as the personality who Indians believe is a global Indian in true sense, with 42% people saying that. Indians are respected globally for their technical proficiency and talent. However, the mega talented CEO of Google has given India one more reason to laud its expertise in the global IT sector.
It is not new for Indians to make such strides in the business and technology world. Satya Nadella created history by being the first Indian to head one of world's biggest software companies. 27% Indians feel he is a true global Indian.
In a country obsessed with Bollywood, there is no surprise Priyanka Chopra soars high in the list of global Indians. The former Miss World has made her mark not just as an A-list actress, singer and producer but has also become a global icon.
Amartya Sen parks at the third spot in the list. The Indian economist and philosopher has taught in India, UK and US and has even won a noble prize for his exemplary work.
Steel mogul, Lakshmi Mittal closely follows Amartya Sen. The UK based Indian CEO of the world's biggest steelmaking company has put India on a global pedestal. Not just in India, he is widely recognised internationally for his business acumen and vision.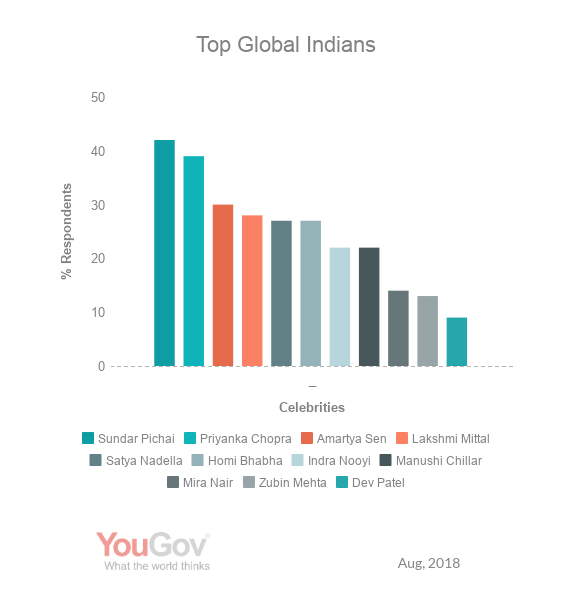 While the whole nation is shocked to learn the news of Indra Nooyi's exit from PepsiCo, close to a fourth people believe she truly embodies the virtue of a global Indian. She has been consistently ranked in the list of world's most powerful women and not just Indians but the entire world recognises her as a true leader.
Miss World Manushi Chillar is winning hearts locally and globally. Her win ended the 17-year draught and has made India the country with the most number of Miss World crowns. Recently, she also appeared in the list of India's most admired people. Truly a global diva with beauty and brains.
Mira Nair, Zubin Mehta and Dev Patel are some of the other names that people believe deserve to be called global Indians.
Data collected online by YouGov Omnibus among 1,193 respondents in India between 2nd August and 8th August, 2018 using YouGov's panel of an online representation of India.