YouGov BrandIndex shows ICICI Bank experienced strong improvement in Ad Awareness and Buzz in July
July seems to have seen a silver lining for ICICI Bank which is in the middle of steadying the ship. Although the year started on a rough note with the surfacing of a leadership crisis, things seem to be moving for the bank. Ever since charges of impropriety were levied against the its MD & CEO, Chanda Kochhar, the brand is fighting a battle to retain the trust and faith of customers and foreign investors.
The ongoing probe and accompanied press attention has posed a risk to ICICI's reputation. YouGov BrandIndex, the daily brand health tracker, shows the brand's reputation (would you be proud/ embarrassed to work for this company) has seen a decline, hitting a low score of 13.8 in mid- April as compared to 24.1 at the end of March. This correlates to the time when the scandal came to fore.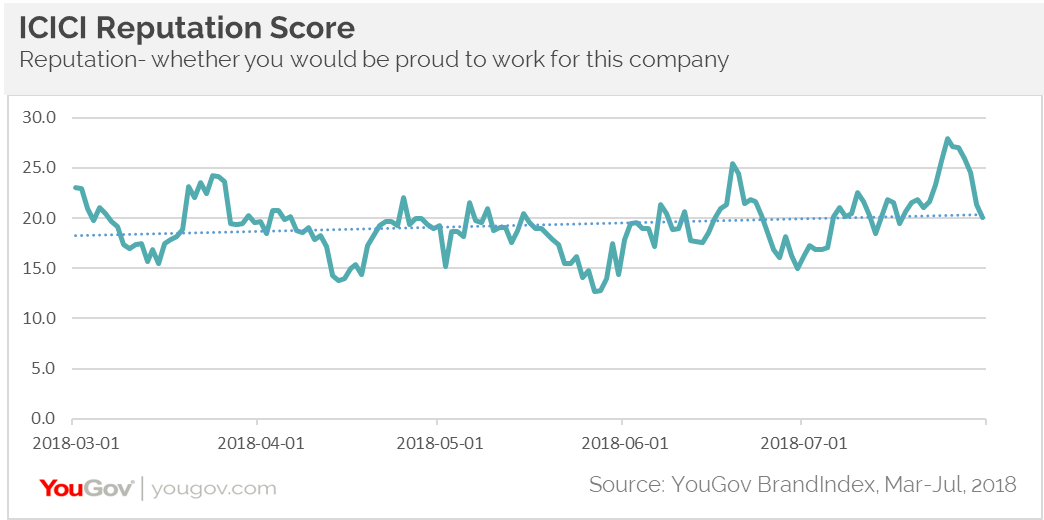 The Index score from YouGov BrandIndex takes into account consumers' perception of a brand's overall Quality, Value, Impression, Reputation, Satisfaction and whether consumers would Recommend the brand to others.
But ever since ICICI bank has taken steps to deal with its crisis and decided to send Chanda Kochhar on leave on June 18, till the completion of the probe, its reputation has witnessed a slight improvement of +3.6 in July.
This could also be linked to the brand's new ad campaign in association with Ogilvy, promoting ICICI bank's iMobile App during the month of July, 2018. The campaign titled 'Ek App mein poora bank'/ 'Your bank in an app' was aimed to make banking a more pleasurable experience for customers. It was unique as for the first time ICICI used humour to bring out the product proposition.
As part of the campaign, Ogilvy created 5 different films, each highlighting one feature. The campaign was rolled out in the first week of July and has got millions of hits on YouTube.
YouGov BrandIndex data shows that ICICI Bank's Ad Awareness score (whether someone has seen an advert for the brand) has seen a significant uplift from 20.1 in the beginning of July to 30.8 at the end of July, 2018. Not only did the campaign resonate with the general public but it also led to conversations. ICICI's Word of Mouth score (whether someone has talked about the brand with friends or family) has also gone up in July.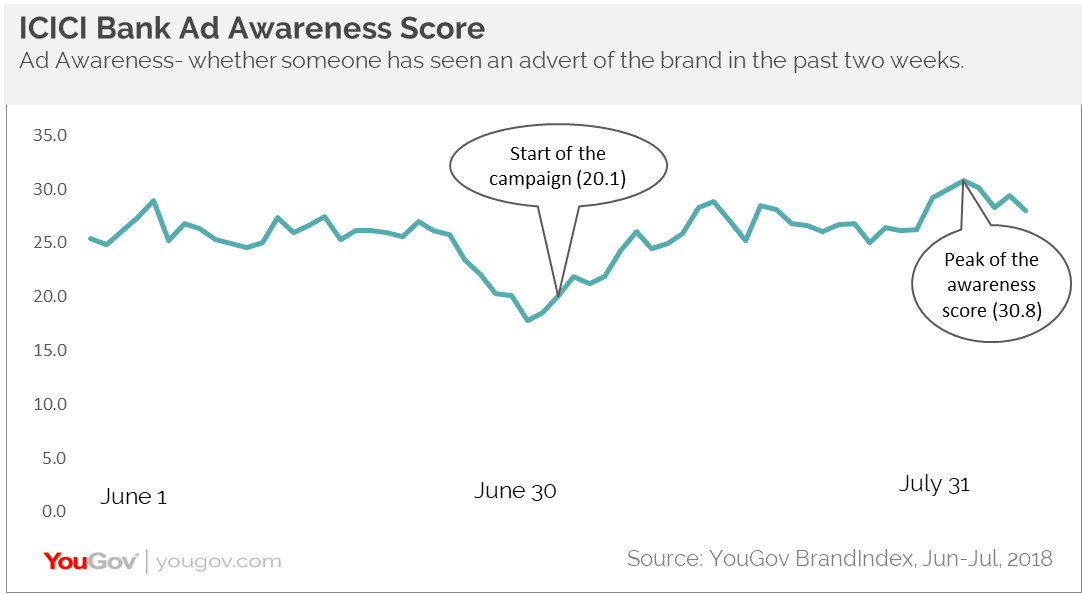 ICICI bank has a huge stake in the private bank and financial services sector in India and the campaign achieved significant increase in consideration (people who would consider buying from the brand), with an increased score from 13.5 to 23.5 towards the end of July.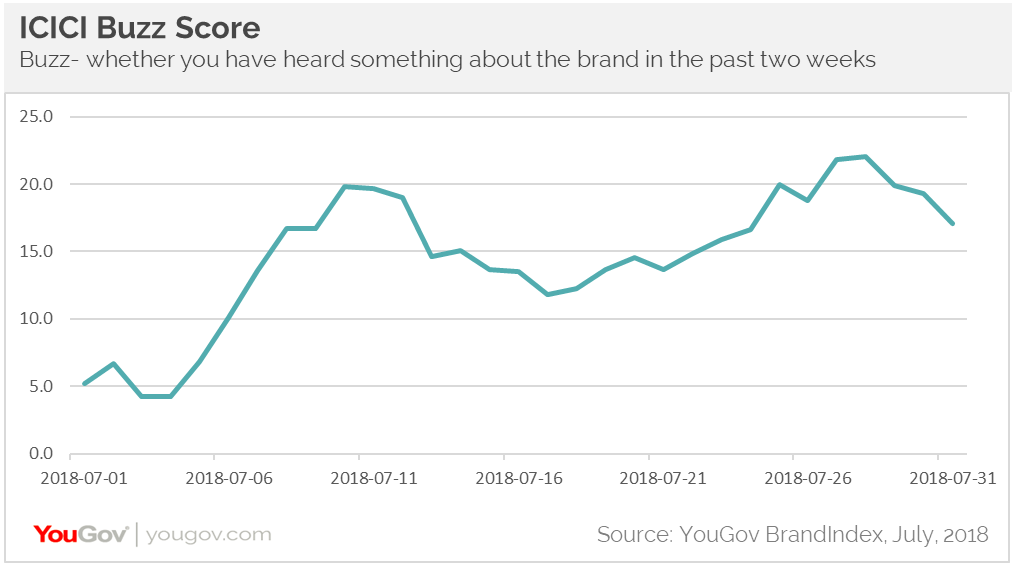 Overall, the campaign increased ICICI Bank's Buzz or Net Sentiment generated across all media (ads, news, word of mouth) significantly from 4.2 to 22.0 in the month of July, 2018.
Commenting on this, Deepa Bhatia, General Manager, YouGov India, said, "YouGov BrandIndex has been tracking the financial sector in India since the last three years and we can see that the leadership crisis that emanated in early 2018 at ICICI had significant impact on the brand's health scores across metrics. We also see a smart recovery already in play thanks to some timely advertising by the brand's advertising agency, O&M. The data further reinforces the need for brands to keep a real time eye on their metrics to be able to take timely action."

Get latest updates from YouGov, subscribe to our email updates:
Your email will be only used for sending our blog updates. You may opt-out anytime. Please review our privacy policy.