The ad campaign significantly improved the brand's ad awareness and purchase consideration, leading to an overall positive brand health
Travel in India is booming with the transition to a digitized economy. More and more people are travelling both domestically and internationally. Although MakeMyTrip stands as a market leader in the online travel category, many other brands are vying to make the most of this thriving business.
Before the holiday season kicked off this year, MakeMyTrip released a series of quirky ads conceptualized by Publicis Capital, featuring Alia Bhatt and Ranveer Singh and managed to catch many eyeballs. The campaign, targeted at consumers that are hesitant to book their travel online, was aimed to increase trust through its 'Best Price Guarantee' and 'Pay at Hotel' features.
On the contrary, rival brand Yatra also launched a campaign around the same time featuring Bollywood superstar Ranbir Kapoor. The campaign created by Ogilvy was aimed to attract new users while retaining the current customer base. It highlighted two of its industry first features –eCash loyalty points and the airfare-drop protection.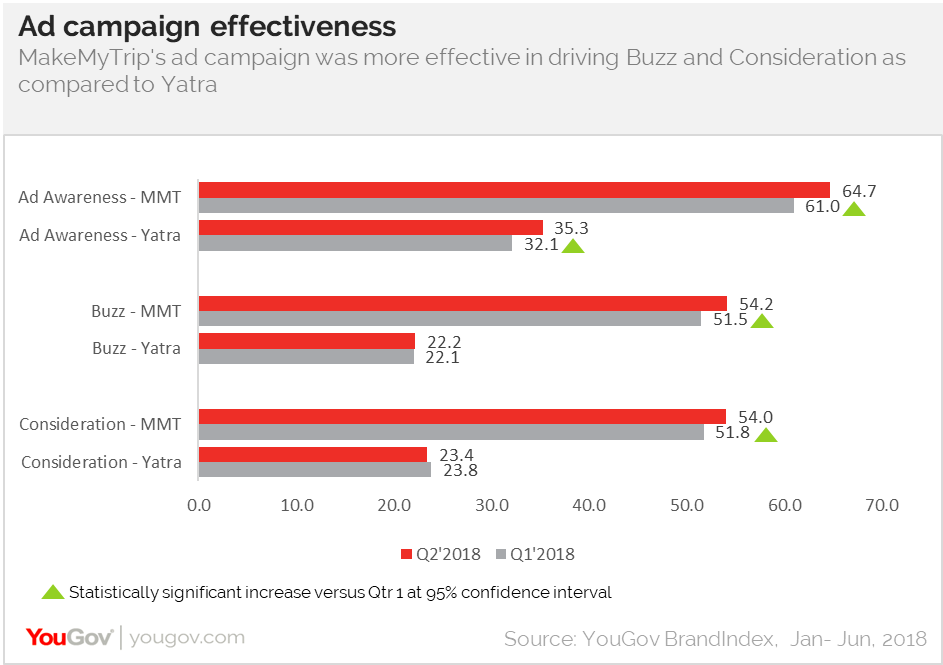 YouGov BrandIndex data reveals both the brand campaigns saw an increase in their Ad Awareness scores (have you seen an ad of this brand in the last 2 weeks) compared to previous quarter. While MakeMyTrip saw a change in score of +3.9 making its score from 61.0 in last quarter (Jan-Mar) to 64.9 in this quarter (Apr-Jun), Yatra saw an increase of +3.2 this quarter. Although both the brands indicated similar reach and noticeability for their advertisements, the true effectiveness of these campaigns can be gauged by tracking if they led to a positive and significant uplift in Buzz and target audience's consideration to purchase from that brand.
MakeMyTrip's ad campaign also led to a significant increase in Buzz (have you heard anything about this brand in the last 2 weeks through advertising, news or WOM), changing its score from 51.7 to 53.1 in this quarter. The substantial increase in Ad Awareness and Buzz for MakeMyTrip impacted Consideration (would you consider purchasing from this brand), changing its score from 51. 8 to 54.1 in the second quarter of the year. This suggests that not only did the campaign grab enough eyeballs but it also led to positive conversations about the brand which made people consider purchasing from the brand.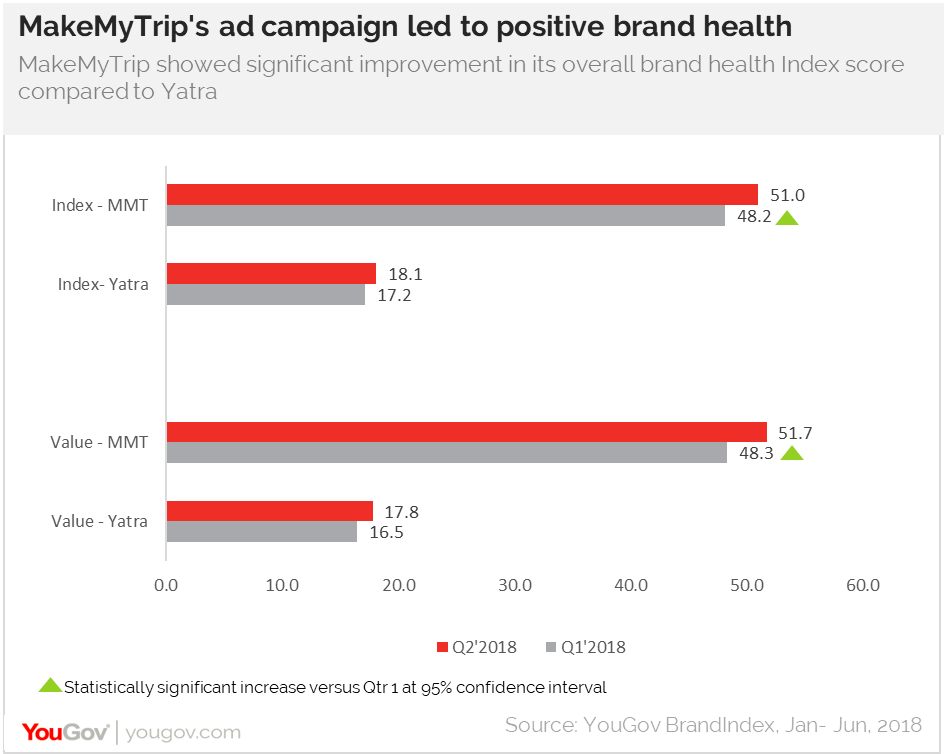 Although Yatra did see an increase in its Ad awareness, there seems to be little or no uplift in its Buzz and Consideration scores.
Another noteworthy development is the increase in Value (Does the brand give good/bad value for what you pay) for MakeMyTrip. The Value metric correlates to the brand's proposition in the ad campaign which focused on generating value through 'Best price guarantee' and 'Pay at Hotel' features, and has witnessed a significant increase from 48.3 to 51.8 in the second quarter of the year.
In terms of the overall brand health, the Index score (an overall brand health indicator giving an average of buzz, impression, quality, value, reputation, satisfaction and recommend) of MakeMyTrip saw an increase of +2.9 in this quarter making its score 51.1 compared to 48.2 last quarter. However, Yatra only saw a marginal uplift in its Value and Index scores which were not significant enough.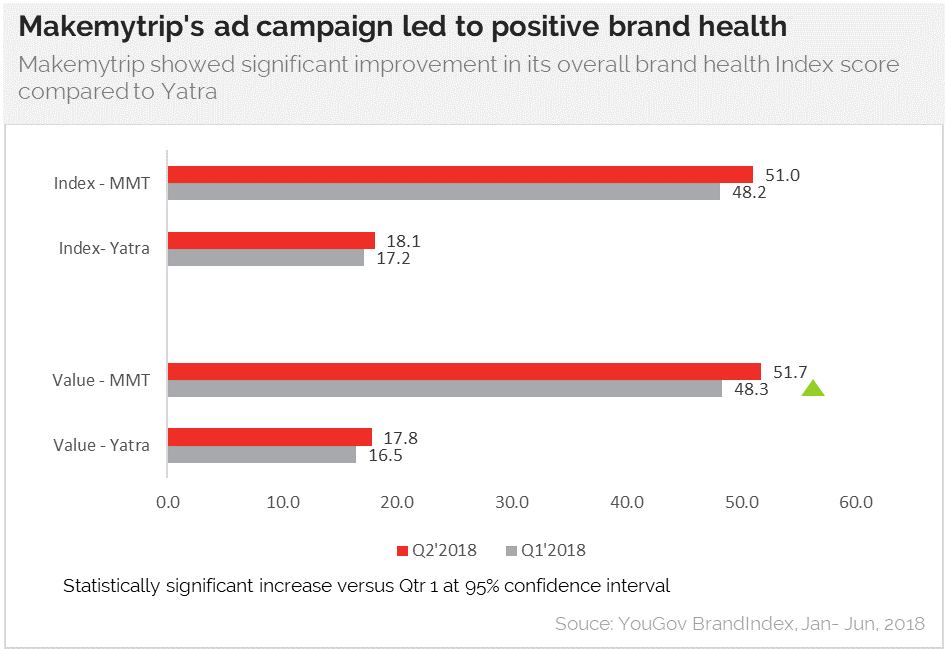 Conclusion
Measuring marketing effectiveness by tracking the uplift in Media and Brand health metrics pre and post campaign period
The YouGov BrandIndex data suggests that MakeMyTrip's witty ad campaign worked well for the brand, not only in driving visibility and conversations but also generating purchase consideration and improving its overall brand health. On the other hand, although Yatra's ad campaign did increase its ad awareness, it wasn't impactful enough to engage audiences any further and hence did not lead to a significant improvement in the brand's health scores.
For more details, visit: YouGov BrandIndex