A new YouGov India survey reveals Indians' awareness about contraception and safe sex
Contraception in India is still not a widely discussed topic and is also surrounded by many myths. This often leaves people with little or no choice in the matter. Ahead of World Contraception Day (September 26), YouGov India conducted a survey to know how aware India is about contraception and safe sex.
Sex in India
Three fourth interviewed respondents said they are sexually active. Out of these, 84% males and 68% females stated that. 43% singles indicated not being sexually active. Most people stated being aware of condoms, birth control pills and the emergency pill as existing forms of contraception. However, a considerable portion indicated knowing of female sterilization, vaginal rings and contraceptive injections as well.
3 in 5 people currently use condoms for safe sex
While condom is one of the most widely used form of contraception, its use is highest amongst the younger generation. Only 10% people indicated using birth control pills and 4% resort to emergency pills as an option.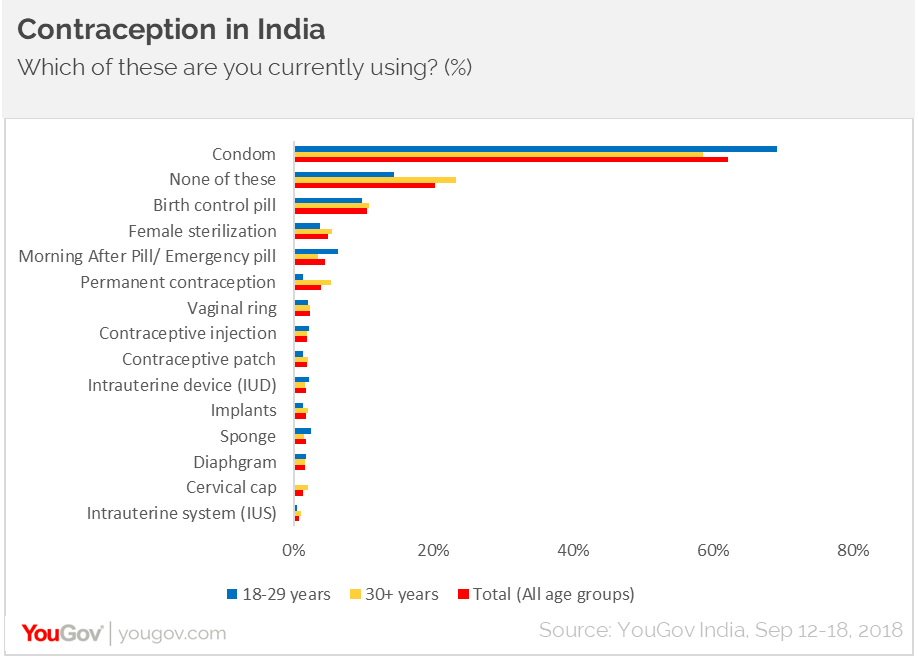 1 in 5 of the respondents indicated not using any form of contraception currently
While majority of people (61%) across all age groups use contraception to prevent pregnancy, over a third of youngsters between the age group of 18-29 years indicated using it to reduce the risk of sexually transmitted diseases.
Over one-third of millennials use contraception to reduce the risk of sexually transmitted diseases
The urban lifestyle brings with it a plethora of lifestyle diseases and conditions. A small portion of respondents (9%) indicated using contraception for health reasons like ovarian cysts, menstrual cramps, etc.
Buying condoms
Pharmacies and drug stores is the go to place for people to buy contraception. Interestingly, a marginal proportion (7%) indicated buying contraception online.
Although the onus of family planning in India is mostly on women, the decision to buy contraception rests in the hands of men. While men mostly undertake family planning decisions and buy contraceptives, women indicated taking part in the decision and around half of the overall population (both men and women) stated taking the decision of buying contraception together.
Male contraceptive pills
Three quarter people said there is a need for male contraceptive pills
Recently, a new research announced that scientists have developed a male contraceptive pill that is safe to use. On being questioned about it, a whopping segment of people (84%) said men should share the responsibility of contraception and family planning and take birth control pills, with an equal proportion of men and women saying that. On the contrary, 16% of the overall population said men cannot be trusted with following the discipline of taking pills and hence should not take contraceptive pills.
Myths around contraception and safe sex
One of the major reasons for low contraception use in India is the little awareness and misconceptions around its use. Contraceptives not just protect individuals against sexually transmitted infections but also empower women and help them make the best decisions to prevent unplanned pregnancies.
38% women said morning pill can also be used as a contraceptive pill
Misconceptions around the use of birth control pills are varied and large. 36% people said morning pill can also be used as a contraceptive pill while 49% were unsure of its actual use. Over half of the population stated being on the pill for a long time makes it difficult to get pregnant.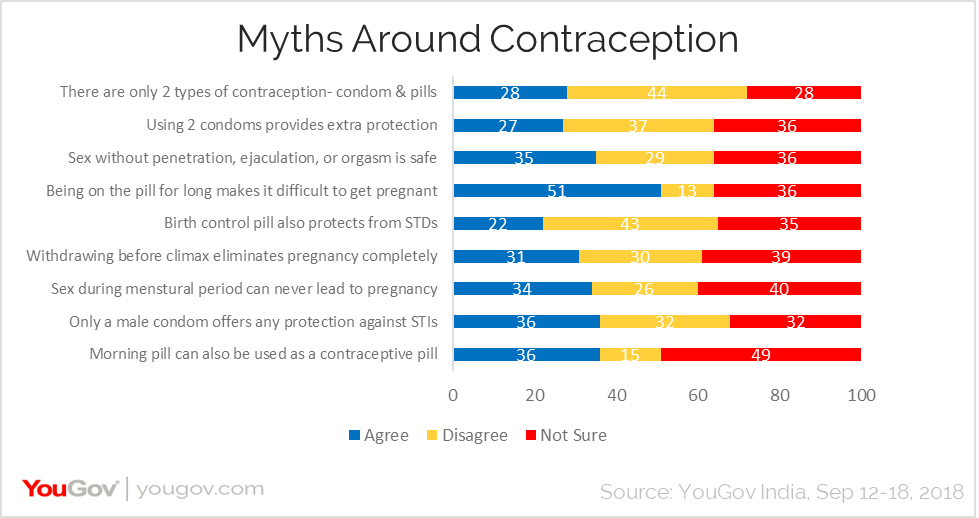 While condom is one of the most effective ways of reducing the risk of sexually transmitted diseases, only 36% people said so. Close to a quarter (23%) believe birth control pills also protect from sexually transmitted diseases.
One third males stated using two condoms provides extra protection
28% men and women stated condom and pills are the only forms of contraception available, while an equal number were unsure of this statement. One third men said withdrawing before climax eliminates pregnancy completely.
2 in 5 married people said sex without penetration, ejaculation, or orgasm is safe
While married couples widely indicated using condoms for protection, 44% married people feel morning pill can also be used as a contraceptive pill.
Data collected online by YouGov India (Omnibus) among 1,030 respondents in India aged above 18, between September 12- 18, 2018 using YouGov's panel of over 6 million people worldwide. Data is broadly representative of the adult online population in the country.