YouGov India World Food Day survey reveals local brands dominate Indians' food preferences
Indians love for food is no secret. In a country obsessed with food, regional and local flavours is the way to a consumer's heart. On the occasion of World Food Day, YouGov India surveyed 1000 respondents across India on 77 leading beverages and snacks brands to know their favourite in each category and to understand the ongoing trends within these categories.
Indian cuisine (85%) stands as the favourite cuisine of the surveyed respondents. This is followed by Chinese (54%) and Italian cuisine (38%). Interestingly, Italian food seems to resonate more with women, with a little under half of the women respondents (45%) choosing it as their preferred cuisine.
The tech-savvy, food loving Gen Z (18-21 years) emerges as a discerning consumer set who chooses to defy the regular norms and trends. This cohort prefers a fast meal and has shown a strong liking for American cuisine, with 2 in 5 of them saying that.
Cold Beverages
Amul Kool, from the house of Amul, is the most popular cold beverage brand with the surveyed people. Interestingly, two of Amul's leading brands, Amul Kool and Amul Masti Buttermilk, are in the top five favourite brands, suggesting that consumers are slowly moving towards healthier options like flavoured milk and buttermilk.
Brand Amul specifically seems to resonate more with females, who have also demonstrated their likeliness for healthier options, with a quarter choosing Amul Kool and Amul Masti Buttermilk over aerated drinks like Coca-Cola and Mountain Dew. On the contrary, men have an inclination towards fizzy drinks with Coca-Cola being their most preferred cold beverage brand.
The new age Gen Z maybe close to millennials in age but their eating habits and brand preferences have stark differences. Coca-Cola is the most preferred cold beverage brand by this youngest generation. Interestingly, Limca seems to be popular with Gen X (38-53 years), with 17% of them showing their preference for the brand.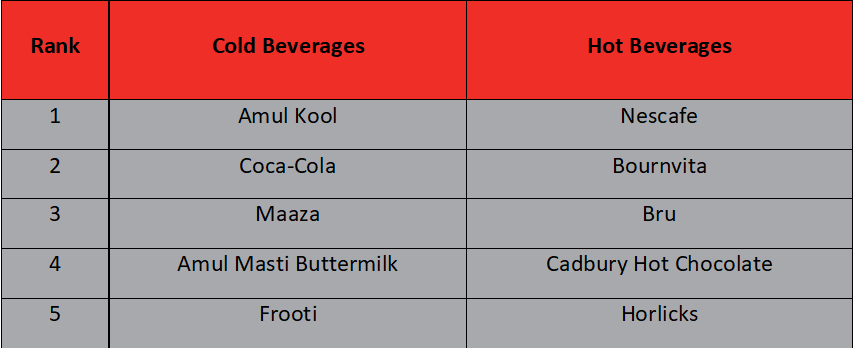 Hot Beverages
In terms of hot beverages, Nescafe stands as the clear favourite for all respondents. However, Cadbury Bournvita is equally popular among Gen Z.
The long standing culture of starting the day with a cup of tea seems to be challenged with the evolving culture of coffee. In a tea dominated market, preference for coffee brands such as Nescafe & Bru and health drink brands such as Bournvita & Horlicks is more than that for traditional tea brands.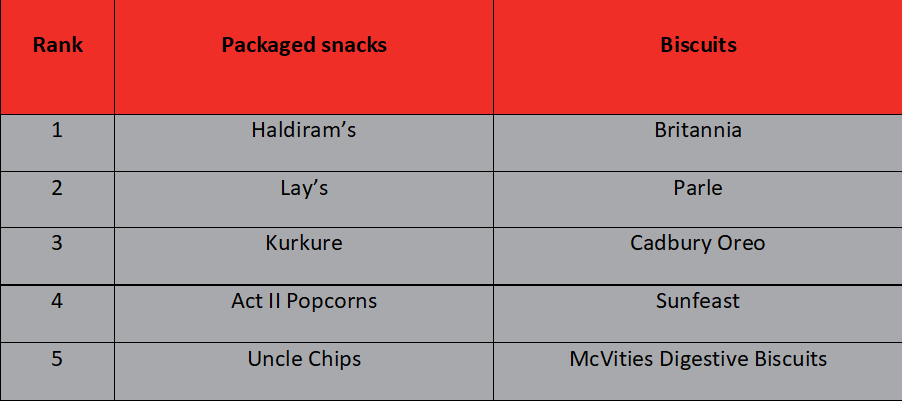 Snacks
Snacking is an all-time favourite activity in India. Indians show strong solidarity in their preference for home-grown brand Haldiram's as their favourite snack brand. This suggests that whilst this segment in India is on the rise, the tastes of Indian consumers are skewed towards local traditional snacks like Namkeen over western options like potato chips and popcorn. Having said that, PepsiCo is giving tough competition to the dominant local brands, Haldiram and Balaji, with its local offering Kurkure, which seems to be becoming popular with the masses.
Once again, the younger generation chooses to contradict this trend and has revealed a stronger preference for western snacks and brands. Lay's is the most popular snack brand among the Gen Z, followed by Kurkure. Overall, Pepsico as a brand seems to be winning over the younger generation more.

Even the genders have specific areas of interest within the snacking category. Our data suggests that women are experimental and have an openness towards newer options. Act II popcorn ranks third in the preferred snacks for women but its preference is lower for men.
Furthermore, McVities Digestive biscuits and Unibic are also becoming increasingly popular among females, reinforcing their willingness to try newer brands and options. On the other hand, men have shown a stronger preference for age old trusted brand names like Britannia and Parle.
Britannia biscuits emerges as the most favourite biscuit brand, with highest preference among Gen X. Cadbury Oreo is the most popular biscuit brand with Gen Z.
Commenting on the above, Deepa Bhatia, General Manager, YouGov India, said, "YouGov India explored packaged foods consumption patterns and snacking habits in the country with this survey. Interestingly, we see younger consumers are choosing coffee brands over tea but keeping their snacking options firmly local in flavour. Localization and the healthy 'good for me' options chosen by women are key trends packaged food firms need to take note of for new product development."
Data collected online by YouGov India (Omnibus) among 1,000 respondents in India aged above 18, between October 5- 10, 2018 using YouGov's panel of over 6 million people worldwide. Data is broadly representative of the adult online population in the country.