OnePlus outshines iPhone and Samsung Galaxy as the strongest brand amidst the young urban consumers
OnePlus smartphones has steered ahead to become the strongest smartphone brand among the urban youth in the age group of 16-29 years, ahead of mobile giants Apple iPhone and Samsung Galaxy, who are in the second and third spot respectively.
Although overall Samsung enjoys the best brand health within smartphone brands in India, followed by iPhone and OnePlus at number two and three, respectively, OnePlus has the best brand health amongst the younger generation.
Earlier this year, the Chinese smartphone maker launched OnePlus 6 which became extremely popular with consumers. Now, they have come out with an upgraded version of the flagship smartphone series, OnePlus 6T.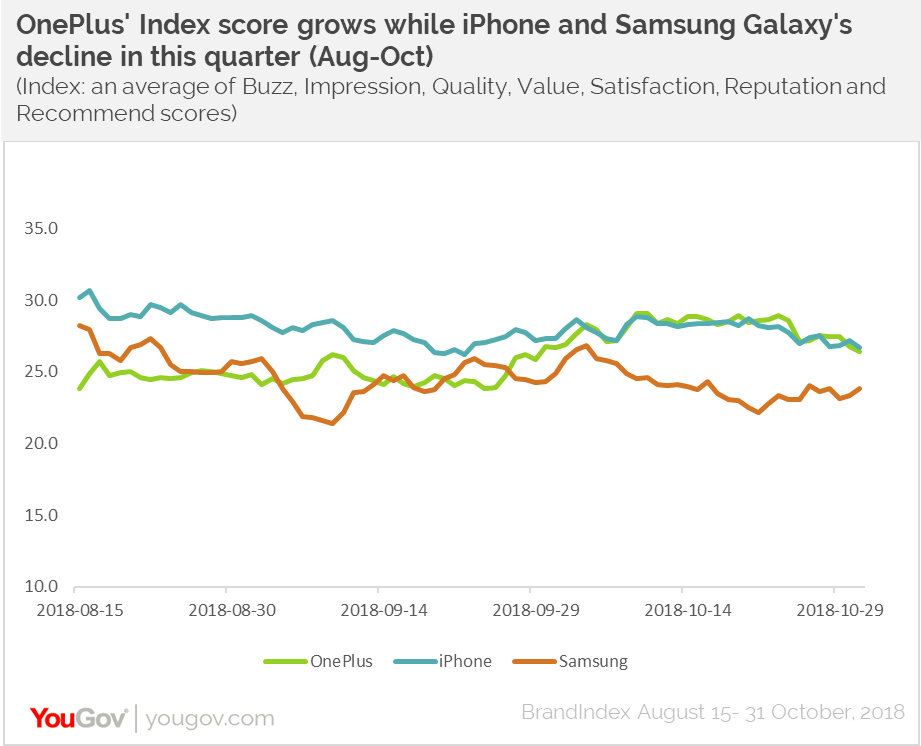 YouGov BrandIndex data shows that OnePlus has increased its Index score (an average of Buzz, Impression, Quality, Value, Satisfaction, Reputation and Recommend scores) in the last quarter (Aug-Oct) from 23.8 in mid-August to 26.7 in October end.
Its popularity among youngsters could be attributed to its 'value-for-money' proposition and its unique promotional events and offers. For males in this age group (16-29 years), OnePlus reigns supreme, followed by iPhone and Nokia. It is interesting to see Nokia in top three, considering it relaunched recently but has still managed to regain the trust of its customers, especially the younger ones.
On the contrary, for females, iPhone stands as the strongest brand followed by Samsung Galaxy. OnePlus comes in at third spot, suggesting that the brand resonates more with the young males compared to females.
OnePlus'a strategy of launching two devices year and its influencer driven digital promotions have been successful in driving the buzz all year round. Amidst the festive fervour and despite new launches by iPhone and Samsung, OnePlus has maintained a steady Buzz among the young consumers in this quarter and has slightly increased its score from 33.5 in mid-August to 35.9 in October end, owing to all the noise around its new launch. Samsung on the other hand, has seen a huge decline in its Buzz score. iPhone, picked up on its Buzz post the launch of its new phones- iPhone XS and XS Max, but started seeing a decline in score towards the end of October.
Although Consideration (whether one would consider purchasing from a brand) for OnePlus dropped to 26.7 in September end, the brand has shown some improvement and stabilised its score to 28.7 at the end of October, ahead of its competitors iPhone and Samsung.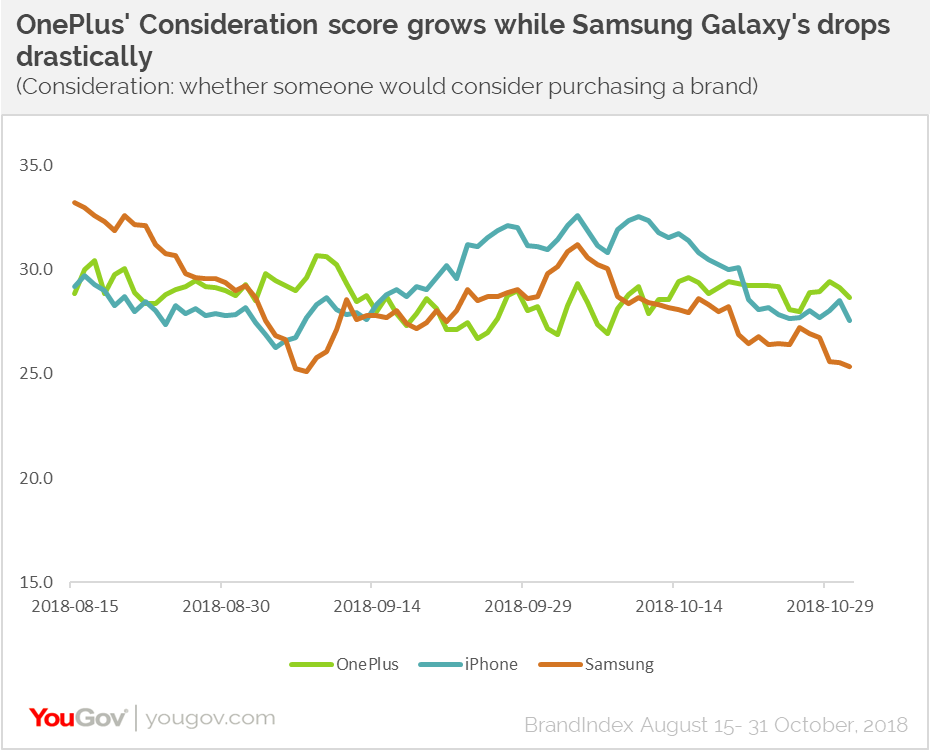 Looking at OnePlus' perceptions among the youngsters it will be interesting to see if the brand can make it to the top spot and be a game changer in the smartphones category.
Commenting on this, Deepa Bhatia, General Manager, YouGov India, said, "It is interesting to see these ever changing trends within the dynamic smartphones category. Although OnePlus is relatively newer in the premium phones category, it has definitely made an impact in the market. YouGov BrandIndex helps to track a brand's performance and the impact of any promotional campaign across different target groups. The youth is a very important target segment and brands should watch out for latest trends within this age set."