In early December, online food delivery giant Zomato saw itself in the middle of a controversy after a viral video exposed its delivery executive eating out of a food pack meant for delivery. Following this, the brand received a lot of flak from social media users for its substandard quality and poor delivery service.
The crisis unfolded into the company issuing an apology to the angry trollers and taking stern action against the delivery boy. This incident evoked mixed reactions on social media but YouGov wanted to see what consumers have to say on this and how the brand faced this challenge.
YouGov BrandIndex, the daily brand health tracker, interviews consumers on a daily basis and is able to pick up how consumers perceptions change over time across sixteen key metrics. YouGov BrandIndex shows that ever since the incident took place on December 10, there has been a sharp decline in the overall brand health perceptions of Zomato across all the metrics.
Zomato's Attention score (sum of positive and negative buzz) has increased from 59.8 points on December 10 to 64.3 points towards the end of December, indicating increasing number of conversations around the brand. However, the Buzz score has fallen from 45.0 to 27.9 points for the same time period, suggesting a strong negative public sentiment towards the brand. Although more people were talking about Zomato, the mentions were mostly negative.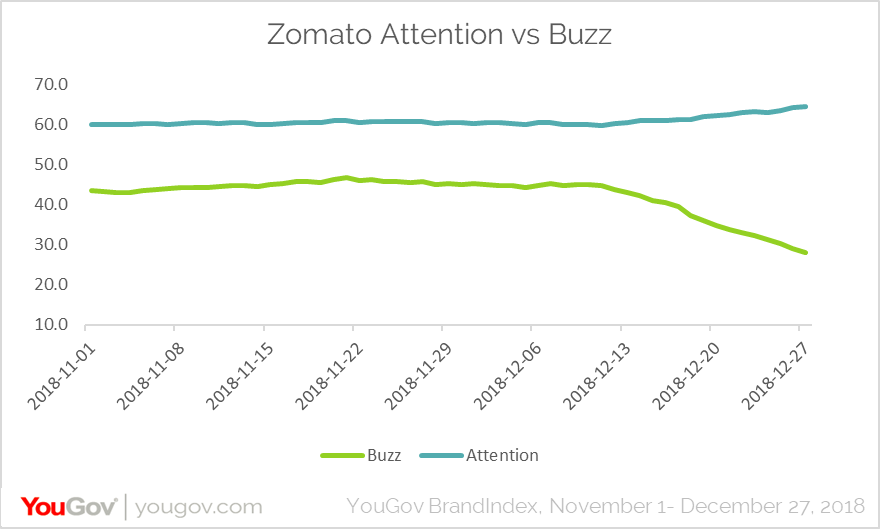 The Index score for Zomato, which measures perceptions of a brand's overall health (average of Impression, Quality, Value, Reputation, Satisfaction and Recommend scores) also saw a significant decline from 38.8 points on the day of the episode (December 10th) to 27.5 points towards the end of December.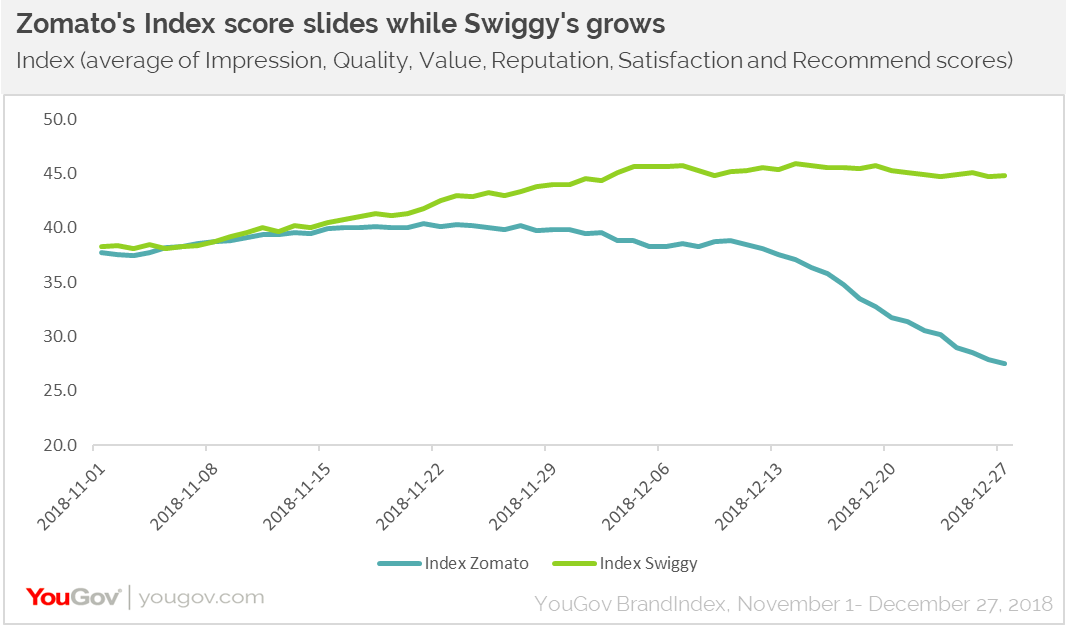 For the same time period, Satisfaction (whether one is a satisfied customer of the brand) and Purchase Intent (whether one would purchase from the brand) have also dropped for Zomato from 31.3 and 23.0 points to 24.4 and 21.6 points, respectively.
On the contrary, Zomato's top competitor Swiggy, seems to have had a rather good end to the year. At the start of November, both Zomato and Swiggy were almost at par with each other in terms of overall brand health. However, while Zomato succumbed to the scandal which adversely affected the brand's perceptions, Swiggy has been steadily improving its brand health.
The Index score for Swiggy improved from 38.3 points at the start of November to 44.8 points at the end of December (see in the chart above). Even Satisfaction and Purchase Intent for Swiggy are tracking way ahead of Zomato at 37.3 and 31.2 points, respectively, at the end of December.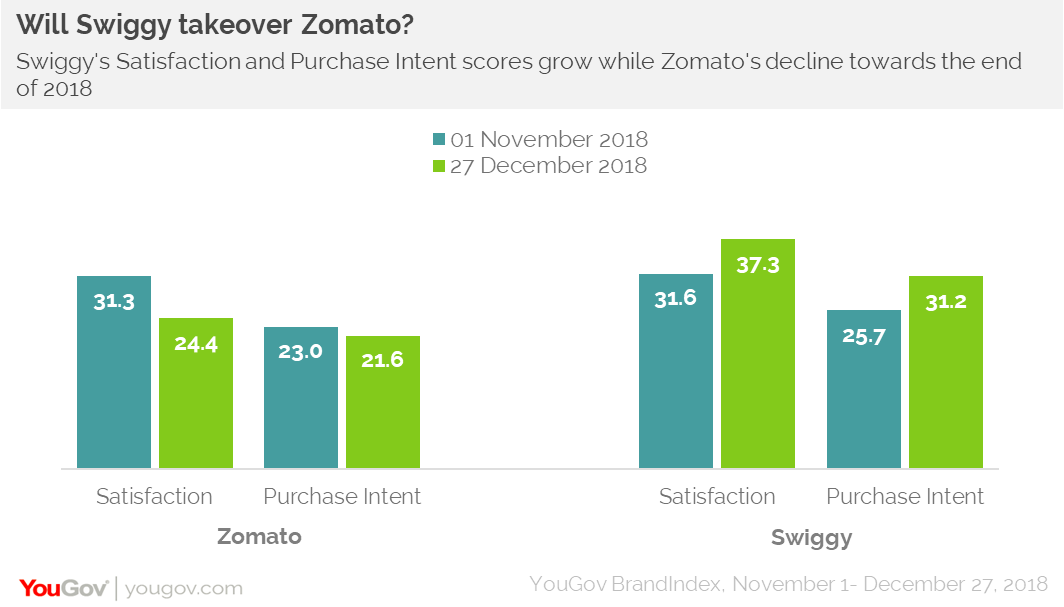 Speaking about this, Deepa Bhatia, Country Manager, YouGov India, said, "YouGov BrandIndex allows brands to see how their brand is perceived on a daily basis and is therefore a great tool to have when facing an inadvertent situation. Although brands can't control where they might be vulnerable, they can with the help of BrandIndex data be able to ascertain the severity of the situation and take targeted corrective action. Zomato can navigate and manage its brand perception better especially in such a highly competitive industry as food delivery."