On the occasion of International Women's Day, YouGov explores the meaning of beauty as described by Indian women and reveals the brands that appeal to them
A new YouGov research shows that most Indian women associate beauty with inner goodness when asked about the first word that comes to their mind when they think of beauty. The association of beauty with one's nature or heart supersedes its association with physical beauty attributed to face, skin or appearance.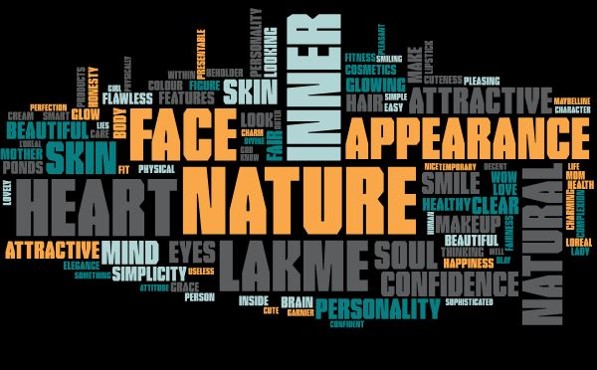 Having said that, the role of brands in shaping the idea of beauty in consumers' mind cannot be underplayed. Lakme garners strong top of mind association with beauty among women, signifying how the brand has become a household name for that.
While spontaneous responses indicate a strong link between beauty and one's inner personality, at least 7 in every 10 women also tend to agree with the statement- "It is important for me to look physically attractive". The desire to look beautiful among these beauty seekers is not bound by age but somewhat influenced by socio-cultural and geographical factors. Looking attractive is more important to women in North India as compared to rest of India. Similarly, the idea of beauty appeals more to married and working women than their counterparts.
Looking specifically at these women, more than three quarter women use general skin care products to stay beautiful. This is followed by face care (72%), hair care (67%) and lip care products (66%). Make-up comes at the end of the spectrum, with 44% women using it regularly to look beautiful. Interestingly, compared to their counterparts, the use of face and hair care products is more amongst those above 30 and those who are working and make-up is used more regularly by married women.
We looked deeper into these categories to see the products and brands that Indian women prefer. YouGov asked women to rank products and brands from a given list, and this is what they picked:
Skin care: Are women opting for natural products?
Body lotion emerges as the most regularly used skin care product, followed by face cleansers and moisturizers or day creams. North India stands as the biggest consumer of body lotions (86%), while the usage of fairness/skin lightening creams is the greatest in South India (41%).
Interestingly, married women seem to be more conscious of their looks, and are the regular users of facial masks (54%), anti-ageing cream (34%) and under eye cream (29%), as compared to the single women.
Lakme emerges as the most popular brand among women, in terms of awareness and usage. It is no surprise, considering the strong association of the brand with beauty in the minds of women consumers.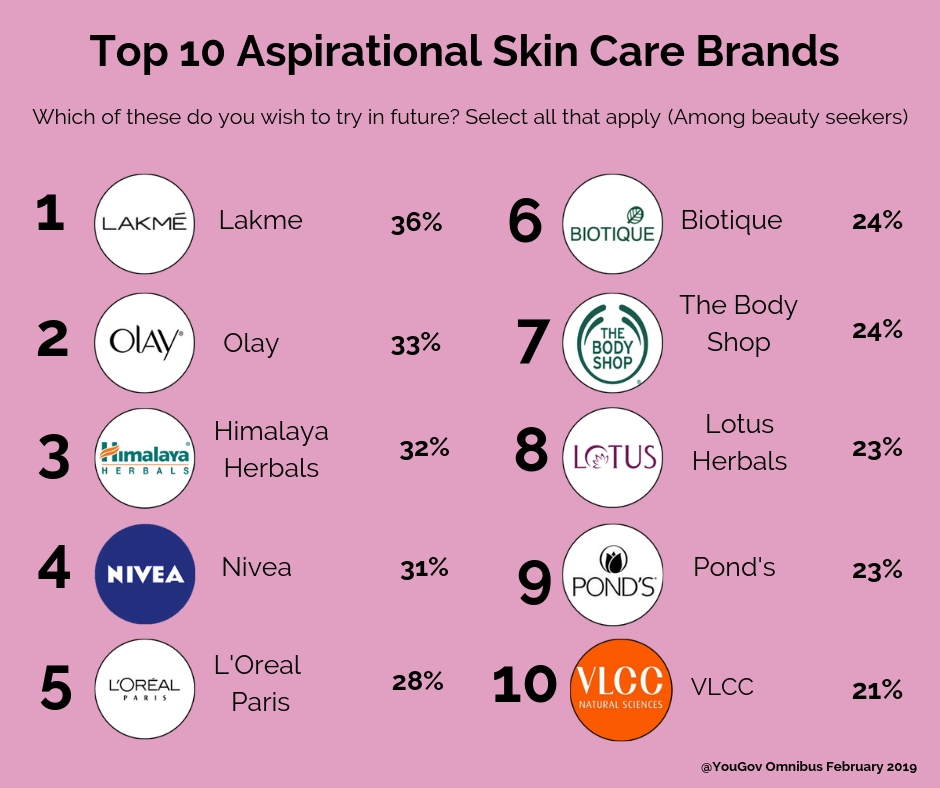 Brand Olay comes next in line and seems to be popular among women in general. More than half of women above 30, women who are married and those who are working have used Olay and a sizeable section from these women wants to use it in future as well, suggesting the popularity of the brand within this demographic.
The increasing awareness about the benefits of using natural and organic beauty products has made consumers conscious of the choices they make. Today people are seeking information about the composition of products and are shifting to more natural or organic beauty products. The presence of herbal brands such as Himalaya Herbals, Biotique and Lotus Herbals reinforces this idea and indicates women's likelihood to opt for natural products in the future.
Hair Care: Is it time to go natural?
When it comes to hair care, shampoo is the most regularly used product, with nearly 9 in 10 women using it. Hair oil and conditioner follow up as the next in the list.
Among all the hair brands, Dove has the greatest awareness among masses and is also the most used and aspired for brand by people.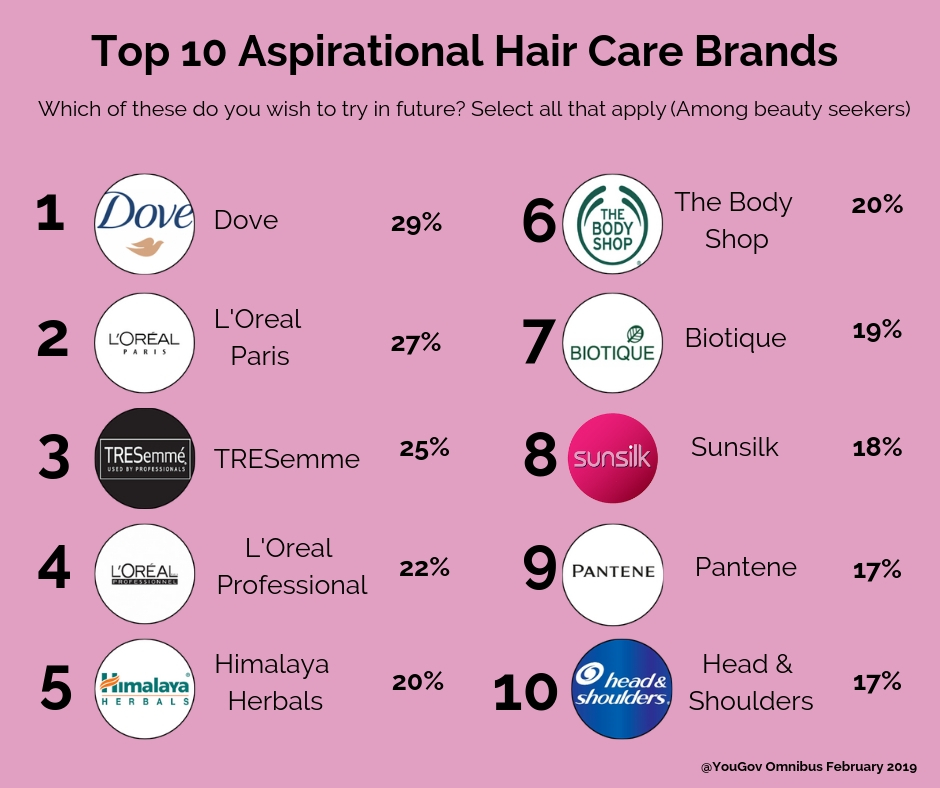 Once again we see two leading herbal brands- Himalaya Herbals and Biotique, in the top 10 list, indicating the growing preference for natural products among women, even in the haircare category.
Make Up: Home brand rules the heart
Although make up is low on the beauty routine, a considerable number are still using it regularly. Lip gloss/ balm and lipstick are the most regularly used make up items, followed by eye-liner and foundation.
Lakme emerges as the most popular make-up brand among women in India. This is followed by L'Oréal and Maybelline. M.A.C, which was one of the first few foreign professional makeup brands to enter the Indian market, is catching up on popularity and is currently the fourth most aspired for brand among Indian women.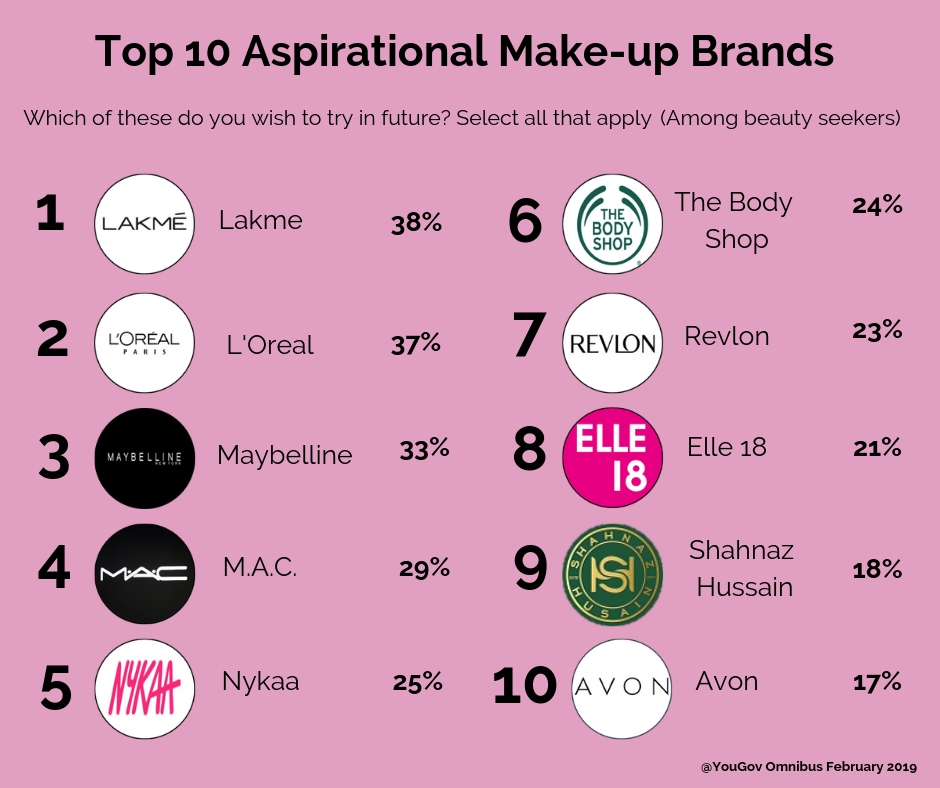 It is also interesting to see Nykaa rise up the aspiration ladder. Although it is a recent entrant in the beauty space, around a quarter of women have used this brand and a similar proportion wish to use it in the future.
Amongst the premium luxury brands, Clinique is the most aspired for brand, followed by Estee Lauder and Sephora.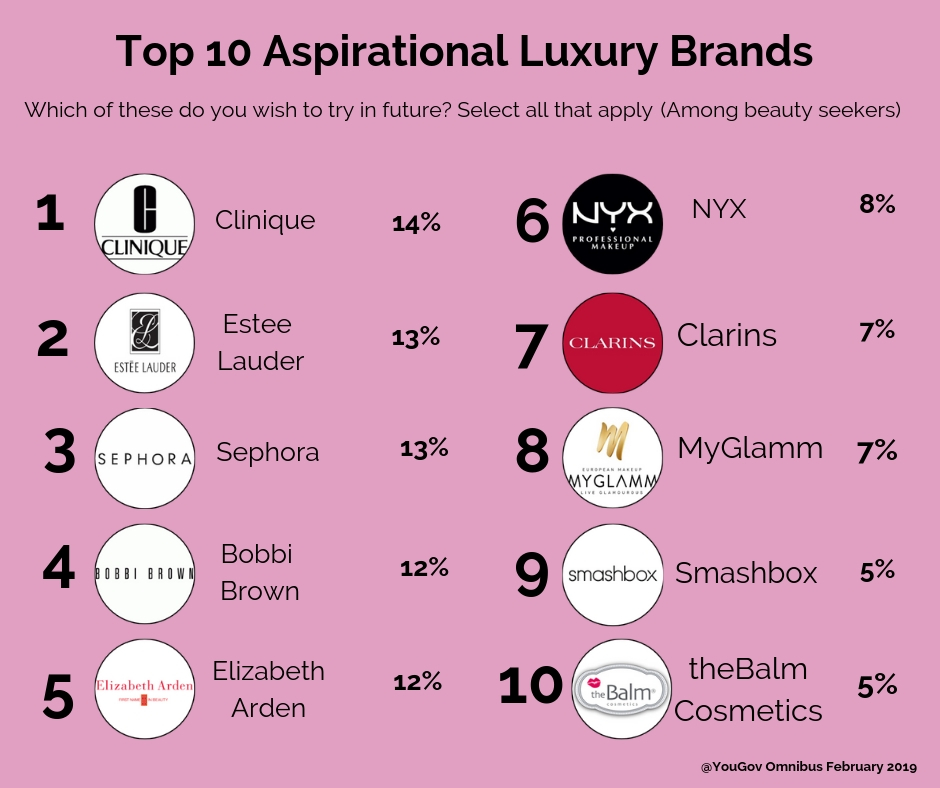 Going Organic!
Our research shows that women do have a preference to try organic and natural products in the future. On being probed further, around 9 in 10 women agree that natural or organic products are better for both skin and hair than regular products. Of these women, 42% are willing to pay a premium for organic products.
When looking specifically at a list of organic brands, Himalaya Herbals emerges as most popular one amongst women. Biotique and Lotus Herbals come in at two and three. Although lesser women have used luxury Ayurveda brands such as Forest Essentials and Kama Ayurveda, there is a desire to try these brands in future.
Data collected online by YouGov India among 720 female respondents in India in February 2019 using YouGov's panel of an online representation of India