OYO Rooms, which started as a hotel-aggregator platform five years ago, has become India's largest hotel chain today. Recently the brand made headlines again with the news of Airbnb investing $ 75 million in the company.
While Oyo is on a fast track of expansion, we looked deeper into its performance over the past two years to see what makes Oyo a favourable case for investors.
YouGov BrandIndex, the daily brand health tracker, shows that Index score for OYO, which is an average of impression, quality, value, reputation, satisfaction and recommend scores, has seen a significant improvement in the two years since 2017.
In September 2017, Oyo raised $250 million, mostly from SoftBank Vision Fund. From an Index score of 16.7 points in April 2017, OYO considerably improved its brand health between October 2017 to February 2018.
However, March-April 2018 the brand witnessed a decline in its Index score, after which it stabilized its score to some extent, and thereafter witnessed another slump in September-October 2018. This is also the time when Oyo checked into the Unicorn club with a $ 1 billion fundraising.
Despite these ups and downs, Oyo finally managed to record a steady improvement in its overall brand health and changed its score from 18.1 in September 2018 to 20.5 points by the end of March 2019.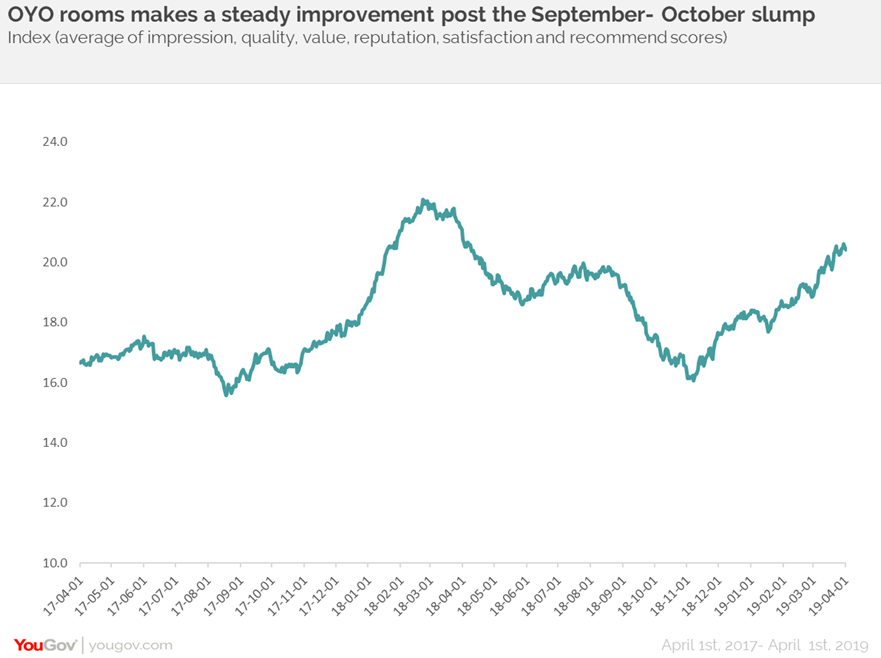 Overall, Oyo has seen an improvement in its purchase funnel in terms of awareness (whether one is aware of a brand), consideration (whether one would consider purchasing from the brand) and usage since April 2017. What is interesting is that while the category (hotel and booking sites) has seen a decline in the last two years, Oyo seems to have made an improvement.
Conversion rate from Consideration to Usage for Oyo has increased from April 2017 – April 2019 (from 67% to 71% conversion) while for the overall category it has dropped (from 55% to 52% conversion) in these two years.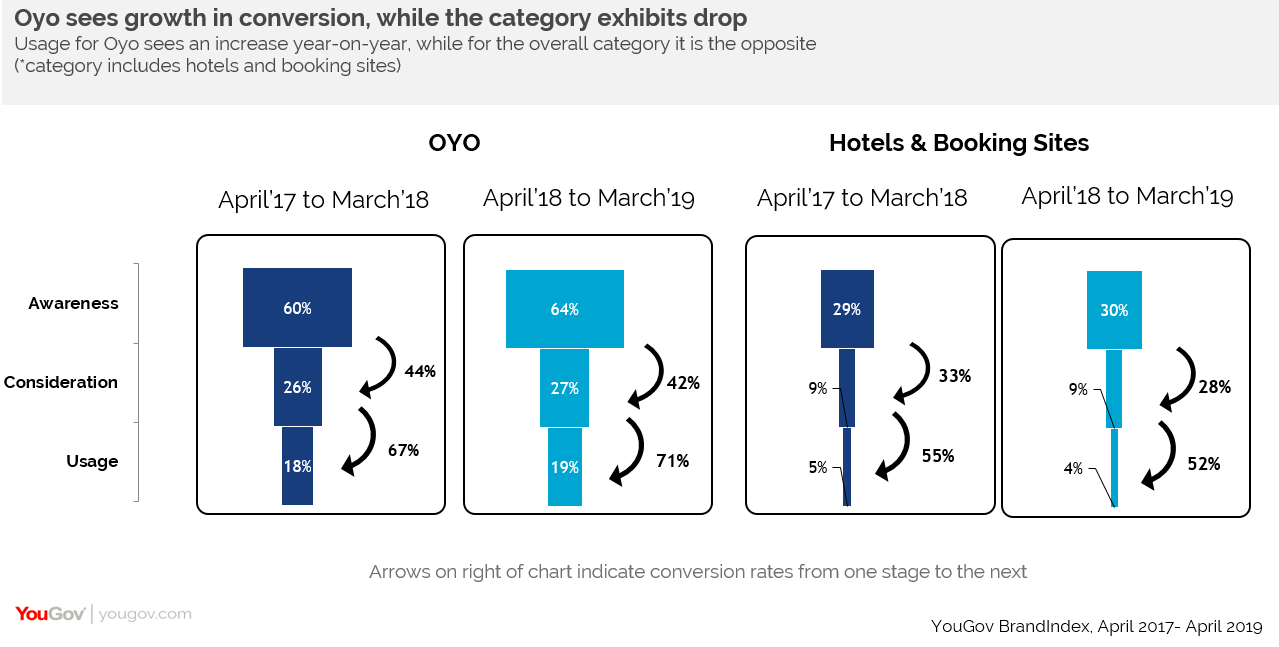 YouGov BrandIndex data also shows that Index, Consideration, as well as Purchase Intent for Oyo, seem to show a stronger correlation with the Recommendation metric (whether one would recommend the brand to others) than Value for Money metric (whether a brand gives good value for the money paid). This suggests that Oyo's strong brand advocacy among consumers could be driving the success for the brand in this category.
In October last year, YouGov BrandIndex reported how Oyo's Index and Purchase Intent declined amongst female consumers when an American blogger put out a YouTube video recounting her harassment experience at an OYO room in Delhi. However, as we can see, since then the brand has registered marked progress and its health metrics have improved considerably.
Now when the health metrics are in Oyo's favour and consumers' intent to buy from the brand is so strong, we wonder how difficult it will be for potential investors to stay away from brand Oyo.