Although the majority is interested in buying them, a good design range is what would drive them to make a purchase
A vast majority of Indians think sustainable manufacturing processes are important when buying fashion products, new YouGov research reveals.
The sustainable fashion movement – which thinks it is important to gear the fashion industry towards being more ecological and socially just – has gained huge media coverage in recent years. This new data shows that more than four in five people (83%) consider sustainability when buying fashion items but it is far behind other factors. Material quality (95%), fitting (93%), design (90%) and price (90%) are all notably more important when deciding what to buy.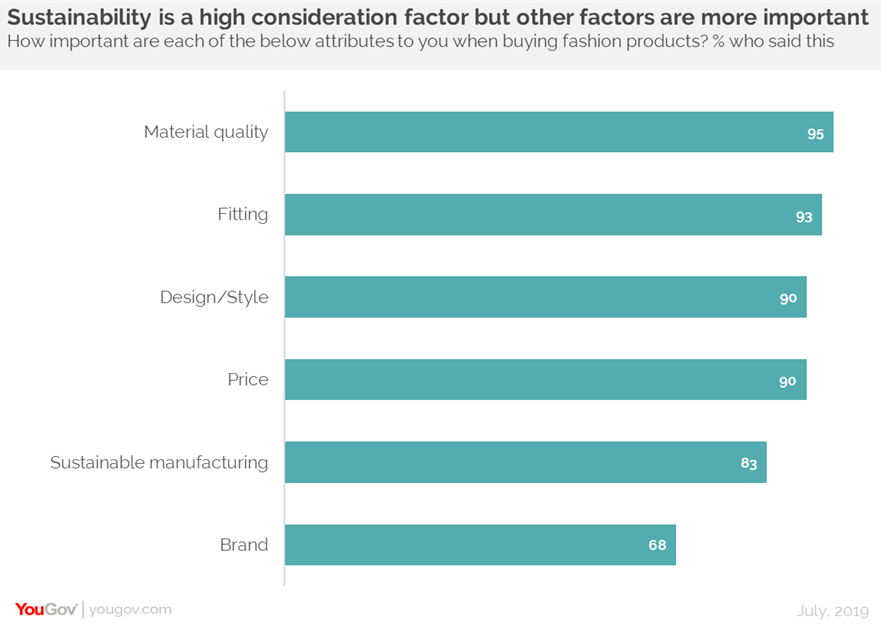 At present, seven in ten people (72%) in India said they have heard about sustainable fashion. From these, two in five (40%) don't know much about it, around a fifth (19%) know but have never tried buying it and only one in eight (12%) have bought it in the past.
YouGov's survey shows that while it is less of a motivating factor when making a fashion purchase, more than four in five (84%) people who are aware of this concept are interested in buying sustainable fashion items. However, a better design range of sustainable fashion products (64%) is the key driver in what would motivate someone to buy sustainable items, followed by competitive prices (58%) and sustainability certification on labels (56%).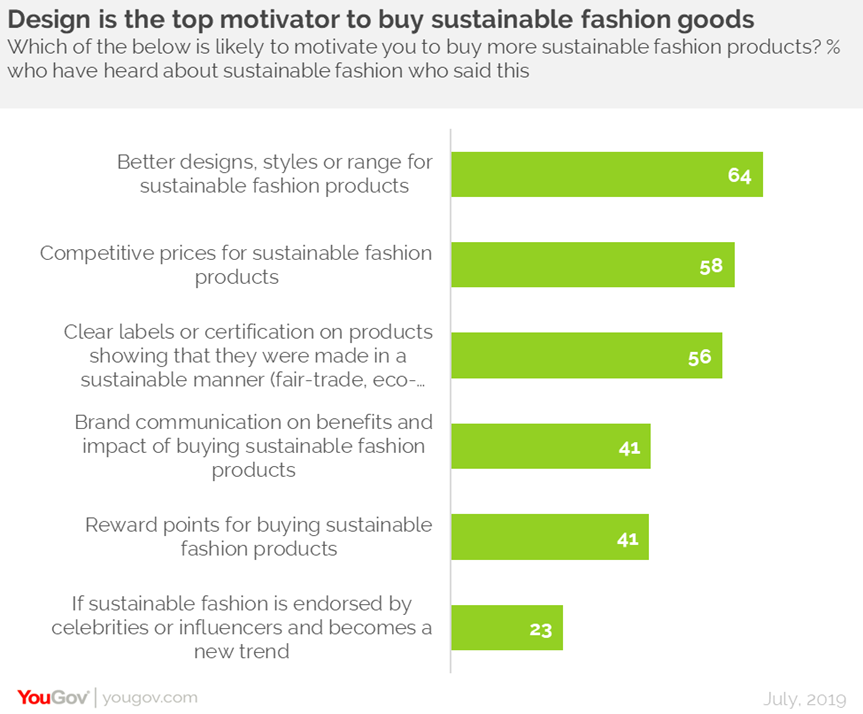 Many people also said they are likely to purchase more sustainable products if brands highlight the benefits and impact of buying sustainable fashion products in their communication (41%) and if they give reward points for buying sustainable fashion products (41%). More than a fifth (23%) would do so if sustainable fashion becomes a new trend after being endorsed by celebrities or influencers.
These motivations work differently across different demographic groups. While the top motivators for men are competitive prices (58%), and better designs (57%), in both cases women are more likely than men to be encouraged by these factors to make a purchase (59% and 72% respectively).
The difference exists even among the age groups. While a good design range motivates both millennials and GenX, the latter is more likely to be influenced by labels containing information regarding the sustainable process of manufacturing (66% vs 50%) and by cheaper prices for sustainable fashion (68% vs 53%) as compared to millennials.
Data collected online by YouGov Profiles among around 1007 respondents in India in July 2019 using YouGov's panel of over 6 million people worldwide. Data is representative of the adult online population in the country.