People of India trust local brands in most of the online business categories, however, global brands score higher in some commercial areas
In recent years we have seen a lot of global brands make headway into the Indian market as well as witnessed many Indian brands make it big globally. On the occasion of 73rd Independence Day of India, YouGov India ran a survey to see whether Indians trust local or global brands when it comes to some of the dominant online businesses operating in India. The research listed leading 76 brands in five categories- e-commerce, online travel booking, online payments or e-wallets, cab-hailing and mobile network providers, and asked people to choose the brands they trust the most in each of these categories. The study was conducted on 1017 people in urban India aged between 18 and 40+ years.
It shows that brand trust varies according to the business category. While Indians are more trusting of global brands in areas of online shopping and e-commerce, Indian brands are more reliable when it comes to making online payments, for online travel bookings and while choosing a mobile network provider.
Close to half of Indians (45%) trust Amazon when it comes to shopping online for fashion. Indian behemoths and Amazon's biggest competitors in the country- Flipkart (21%) and Myntra (13%) are the second and third most trusted brands in this category.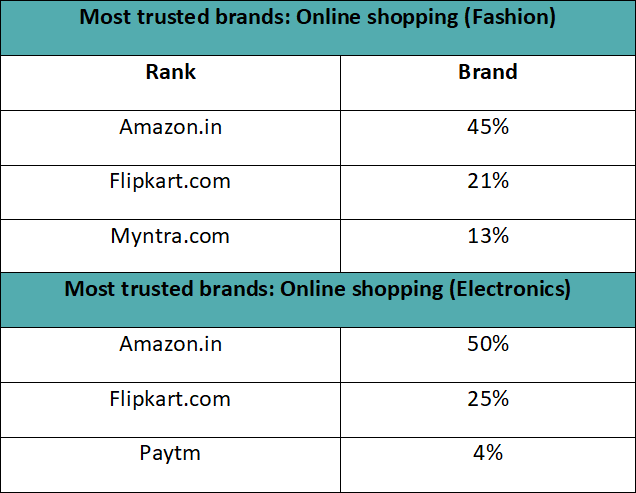 Not just fashion, Amazon takes a clean sweep even when it comes to shopping online for electronics, with half of the people (50%) saying they trust the brand in this area. A quarter (25%) trust Flipkart when buying electronics online.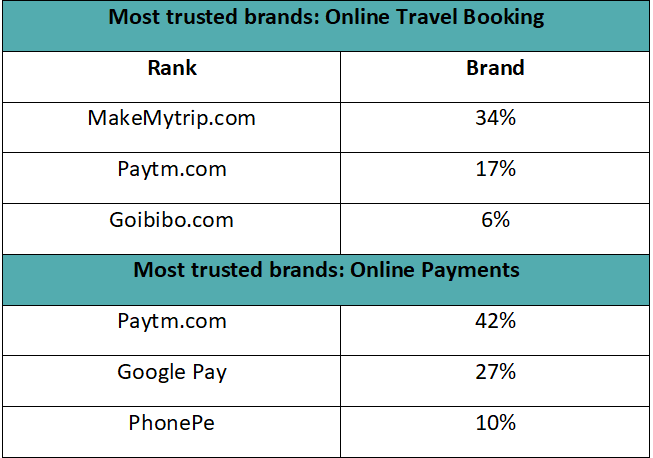 Although the American giant is the clear winner in online shopping, when it comes to making travel bookings online, MakeMyTrip takes the lead as the most trusted brand (with 34% saying this), followed by Paytm (17%). Indians also seem to stick to home grown brands such as Paytm for making online payments (42%). Although Google Pay was launched in 2017, it is steadily increasing its user base. More than a quarter (27%) said they trust Google Pay to make online payments. Phone Pe comes in as the third most trusted brand in this category (said by 10%).
For cab hailing and renting, Uber and Ola are at par and both are equally trusted by Indian consumers (41% saying they trust both).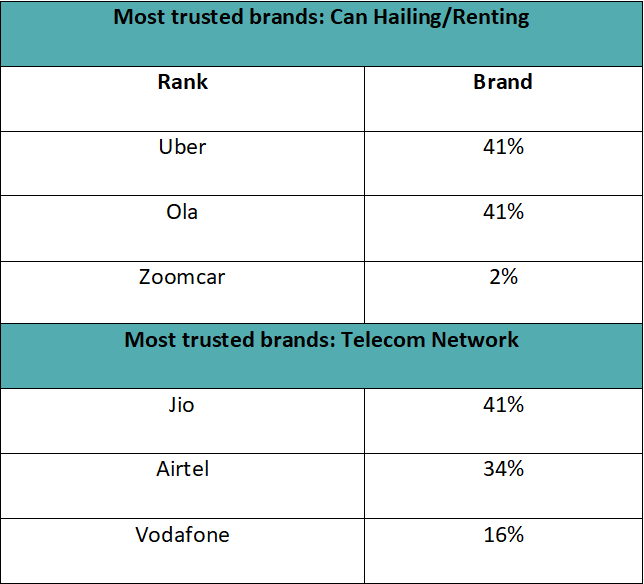 Lastly, speaking about mobile network providers in the country, Jio emerges as a clear winner, with more two in five (41%) people saying they trust this brand in the telecom category. It has been only four years since the brand launched in India, however, it has managed to completely change the game for telecom players in the country. Airtel is second in line, with around a third (32%) saying they trust it, and Vodafone is next, with 16% Indians saying they it the most amongst all telecom providers in the country.
Data collected online by YouGov among around 1017 respondents in India in August 2019 using YouGov's panel of over 6 million people worldwide. Data is representative of the adult online population in the country