Job security is the biggest reason for wanting to pursue a career in the public sector
YouGov's latest survey reveals that government jobs are unanimously favoured by residents of small towns in India and currently a large majority (78%) is looking for a job in the public sector while the rest (22%) hope to find one in the future.
YouGov surveyed respondents in tier 2 and 3 cities of India to see their enthusiasm for government jobs and understand the process of study preparation. The report revealed that while more than half of the residents prefer both State as well as Central govt. jobs, a higher percentage of men than women (23% vs 16%) are likely to choose Central over State government jobs. Among the generations, a higher number of millennials (31%) than GenZ (24%) showed interest in the State government jobs.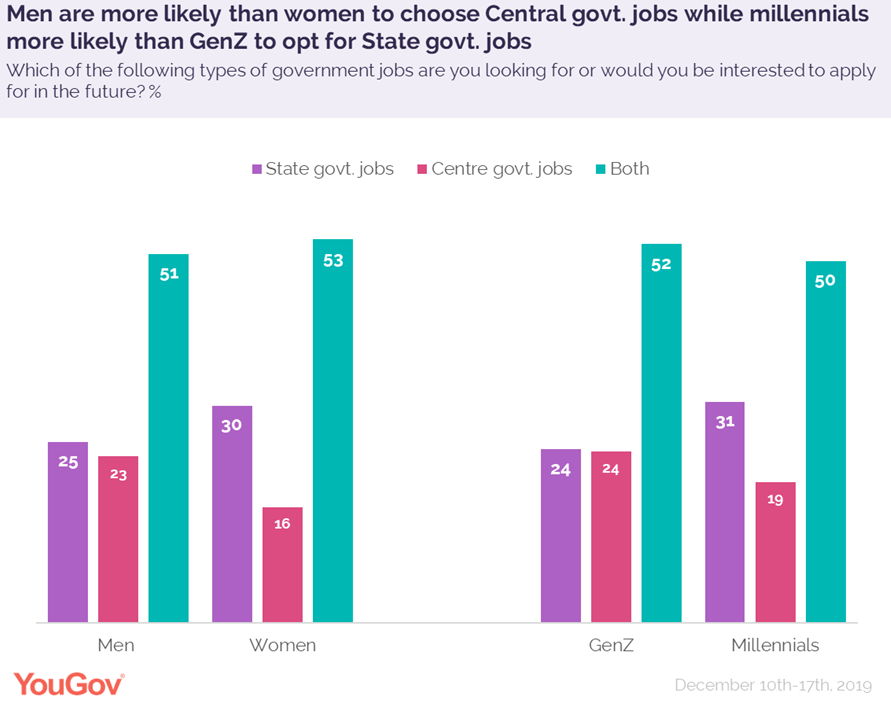 The job security guaranteed by a government job over a private sector job is considered as the most important reason for seeking a government job (24%). Women are far more likely than men to say this (36% women vs 22%).
For one in five respondents (19%) the better perceived reputation of government jobs is the top reason for pursuing it (19%). Many consider the perks offered at these jobs -both while you're working and after retirement (14% each) as the main attraction. For some, lack of opportunities in the private sector (9%) and parental pressure (8%) stand as the most relevant reasons for wanting a public sector job.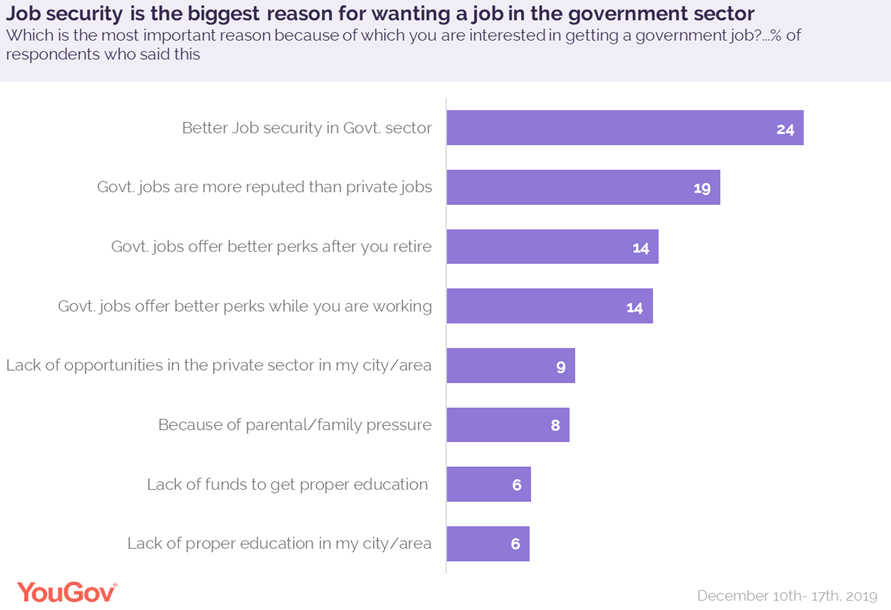 At present, more than half of the surveyed respondents (52%) are preparing for some type of exam that would qualify them for a government job. The data shows that e-learning is a popular medium among government job enthusiasts in Indian small towns, with close to half (44%) saying they have referred to online study material for exam preparation. Of these people, 31% took free online study material while 13% paid for it.
In comparison to this, only a quarter (25%) enrolled in physical coaching classes. Overall, self-study is the most preferred medium (as said by 67%) and could be the reason why people choose to take freely available online courses.
When asked about specific sources that they have enrolled in or engaged with for the purpose of study, Youtube's free courses emerged as the biggest study source for govt. job takers (26%). After that, learning sites such as Testbook (17%), Unacademy (14%) and Byju's (13%) were also chosen by many for exam preparation. Comparatively, the numbers for classroom coaching centres like Vision IAS (5%), Vidya Guru (5%) and Chanakya IAS Academy (4%) were much lesser.
Almost all of those who used online study material found it useful and most of them are likely to recommend it to their friends and family. Furthermore, nine in ten (89%) of the surveyed respondents said they are likely to learn from online classes or apps in the future.
Although currently most people are using free online sources for exam preparation, many have indicated an interest in paid material. When it comes to paying for an online learning app, people are equally divided, with 28% saying they will definitely pay for it while 25% reckon they will not. Close to half are unsure (47%) of their decision. However, from the people who are either not convinced or confused, 27% are willing to change their minds if the subscription fee of online learning apps is lower than that of coaching centres.
Data collected online by YouGov Omnibus among around 1004 respondents in India between December 10th-17th, 2019 using YouGov's panel of over 8 million people worldwide. Data is representative of the adult online population in the country