YouGov's latest survey explores urban Indians attitudes towards sex and relationships
Three in ten (29%) tier-3 residents of India agree with the statement 'Full sexual relations are acceptable before marriage' as compared to one in five (21%) in tier-1 cities, YouGov's latest survey reveals.
The survey which explores urban Indians' attitudes towards relationships and sexual intimacy reveals that when it comes to the acceptable level of intimacy before marriage, most people are fine with cuddling, kissing and even spending time together outside home. However, a full sexual relationship before marriage is acceptable only to a few.
Among the different regions, North and East India are more likely to agree with the idea of having complete sexual relations with their partners before marriage (28% and 32%, respectively) while South India is least likely to agree with this view (16%).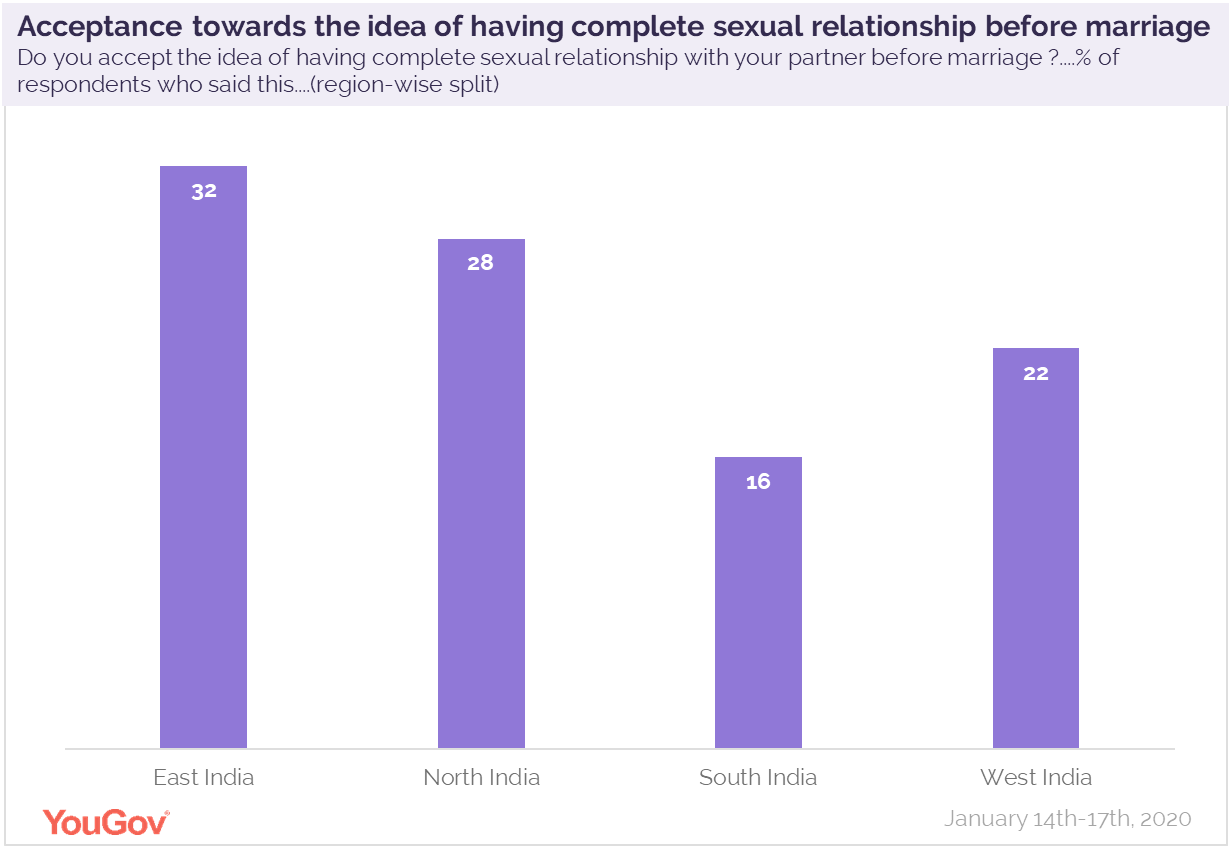 There seem to be some differences amongst the generations as well. The young adults- GenZ and millennials are more likely to agree with the idea of premarital sexual intimacy (34% and 29%, respectively) than the older generations. Even though some people are tolerant of sex outside wedlock, the stage at which it is acceptable varies across different demographic groups. Nearly two in five respondents (39%) said their personal values do not allow them to indulge in premarital sex but they are tolerant of others indulging in the act. Women are more likely than men to say this (47% vs 32%). For close to a quarter (23%), pre-marital sex is acceptable between two committed people. The younger generations, namely, GenZ and millennials, are more likely to comply with this view of intimacy than their older counterparts. Similarly, West India is most likely than the rest of the regions to hold this thought about sex before marriage.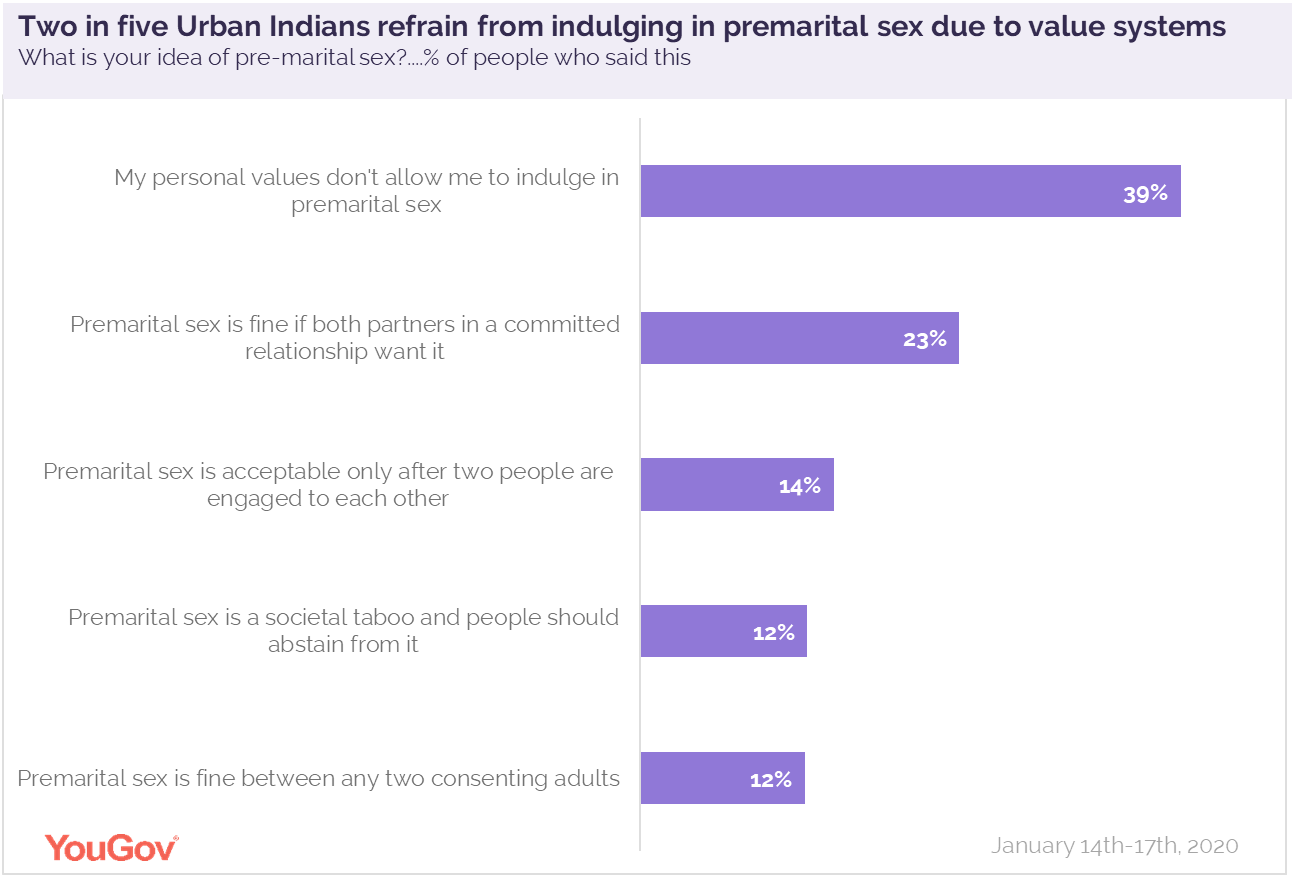 Some people find premarital sex allowable once the couple is engaged (14%), while for fewer people (12%) it is a societal taboo and should be abstained from.Very few (12%) are comfortable with premarital sex between two consenting adults, even if they are not dating. A higher number of men than women are likely to hold this view (15% vs 9%).
When it comes to accepting one's future partner's past relationships, we see differences in the views of the younger and older generations. Although GenZ are comfortable with the idea of sexual intimacy before marriage, three in five (60%) of them said they are not accepting of their partner's former relationships, as opposed to 37% GenX respondents saying this.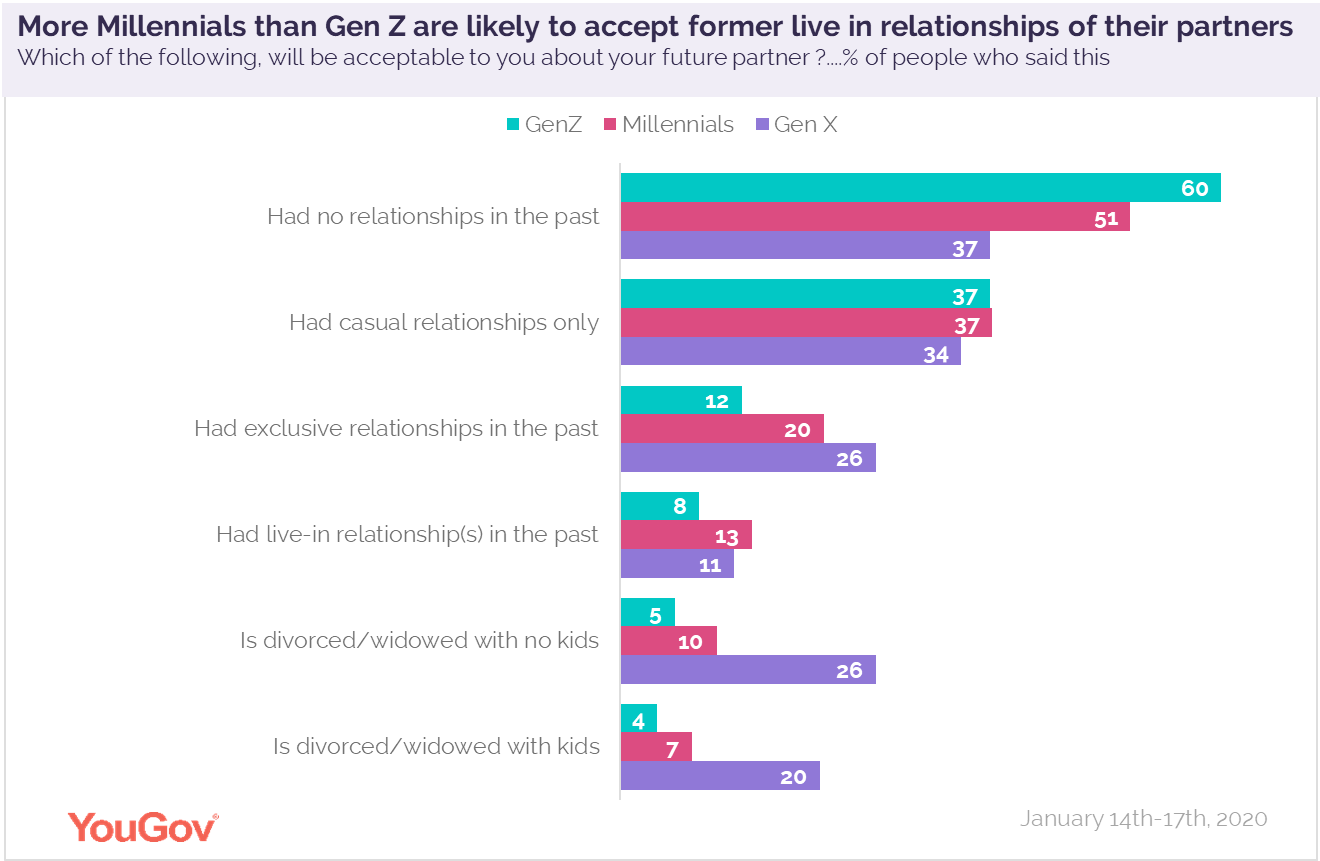 Even within the younger cohort, GenZ appear to be more conservative than millennials. A higher number of millennials than GenZ respondents are more accepting of their partner's former live-in relationships (13% millennials vs 8% GenZ). Acceptance is high even for people who had exclusive relationships in the past among millennials than it is among GenZ respondents (20% vs 12%).
Data collected online by YouGov Omnibus among around 2023 respondents in India between January 14-17, 2019 using YouGov's panel of over 8 million people worldwide. Data is representative of the adult online population in the country