52% Indians are open to accept movies with their favourite actors playing homosexual characters
YouGov latest study brings in some good news for the LGBTQ community, as the findings show 64% of Indians confirming to the idea of mainstream Bollywood movies depicting same-sex relationships or characters as the main subject. While a majority of people (55%) expressed their excitement for Ayushmann's upcoming movie that depicts him as a gay lead, more women than men (33% vs 27%) are likely to accept such commercial movies with homosexuality as the central theme. A region wise disparity is also seen with lesser number of respondents from South India (26%) who are extremely likely to accept movies based on homosexuality.
For the people that expressed their willingness to watch Ayushmann's next movie - Shubh Mangal Zyada Saavdhaan, close to a half (45%) said they would watch the movie for its concept or storyline, followed by a third (34%) who said they will watch it for the lead actor. Novelty of the film (21%), Music (19%) and support cast (14%) were some other reasons why people displayed their interest in watching the movie.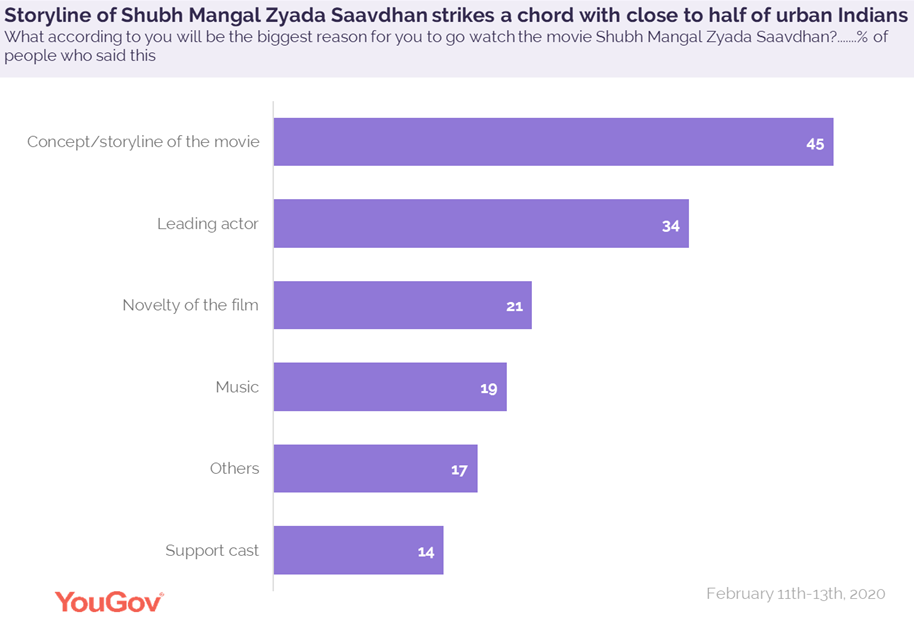 Looking at the possible outcomes of mainstream cinema portraying same-sex relationships, 41% of the respondents said it could help create awareness about the taboos or stereotypes linked to homosexuality, followed by another 40% who feel it could help normalise conservations around the topic. However, close to one fourth people still feel that such movies could lead to increase in harmful targeting towards homosexuals in terms of mockery or abuse and lead to increased anxiousness for belonging to the LGBT community.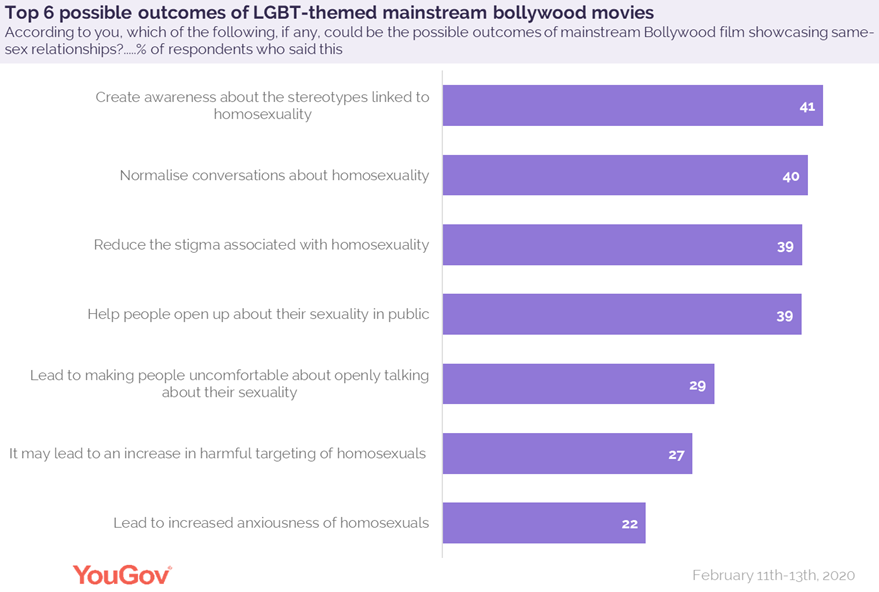 For a country that has only recently decriminalised same sex relationships, the depiction of sexual minorities in cinema has mostly been linked with social stereotypes. However, the study revealed that half of urban Indians (50%) are comfortable with the idea of watching movies based on homosexuality with friends and family. Among the generations, Gen Z is the most comfortable among all to watch such movies with their peers or family. The conservatism towards watching movies about homosexuality on big screen with close ones is lesser in Tier I cities (22%) as compared to Tier II (15%) and III (14%) cities of India.
Data collected online by YouGov Omnibus among around 1003 respondents in India between February 11th -13th, 2019 using YouGov's panel of over 8 million people worldwide. Data is representative of the adult online population in the country
Image: FPJ