A large majority of public want the government to stop mass gatherings and are taking steps themselves to avoid public contact
The outbreak of Covid-19 has hit several industries and is likely to have a great impact on the overall economy. Cinema theatres have been shut, film releases postponed and shooting halted, vacations dismissed and many large events have been cancelled.
Some of the biggest global and domestic sporting events such the 2020 Tokyo Olympics and the Indian Premier League (IPL) 2020 which were planned to occur this summer, also took a hit and their schedules now hang in the air.
YouGov continues to track how people are responding to the outbreak personally, and their views on the Government's reaction. New data from the COVID-19 tracker (between 17th- 20th March) reveals that a large majority of Indian public (73%) want the government to cancel all large sporting events and happenings involving mass gatherings.
Just as many want the government to close all schools temporarily (73%) and encourage companies to implement work from home (72%). With the Governments in many states going under a total lockdown, the latter has been achieved in many places.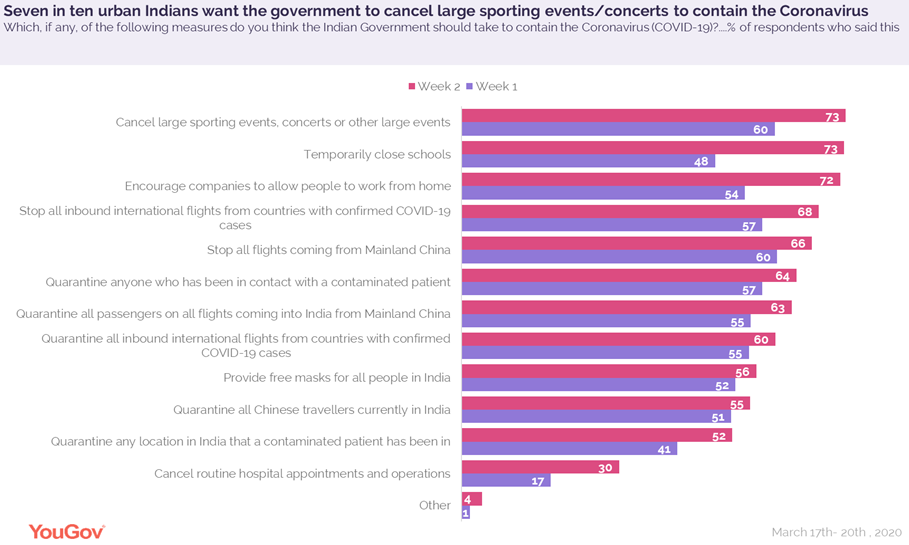 Last week, people's focus was more on cancelling international flights and quarantining suspects/ victims. However, as the number of cases are progressively increasing, public focus has shifted and they want the government to take steps to avoid mass gatherings and improve social distancing.
This also explains why at an individual level most respondents are avoiding crowded public places (74%). The number of people taking this measure has gone up considerably, from 59% last week to 74% this week.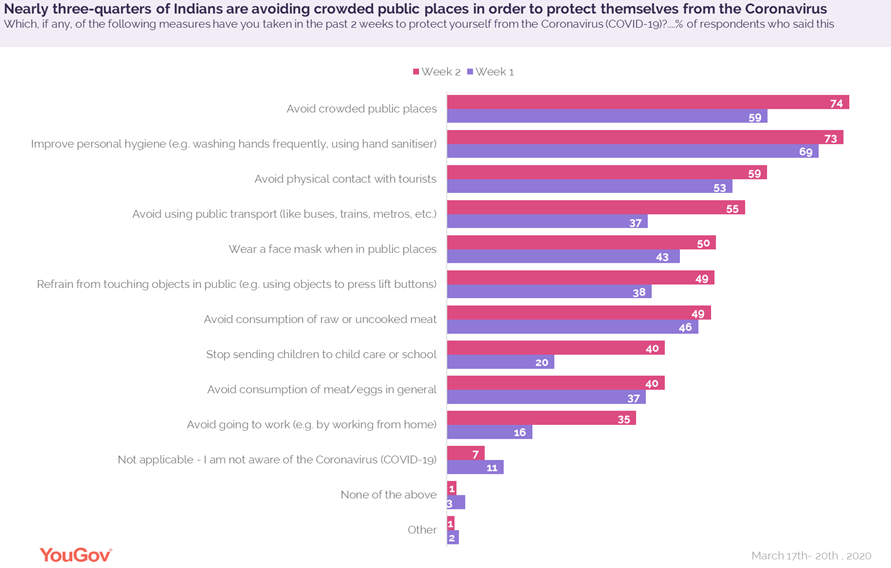 People continue maintaining personal hygiene and this is the second most widely observed step in order to protect themselves from the Coronavirus (observed by 73%). A higher number of GenX and Baby Boomers claimed to be taking these two top measures as compared to their younger counterparts. In fact, Baby Boomers are most likely to avoid crowded places (82%) and improve personal hygiene (86%) while the GenZ are least likely to do so (58% and 63%, respectively).
Avoidance of public transport and refrainment from touching objects in the public have also gone up notably at 55% and 49%, respectively.
Overall, the Indian public show great confidence in the Government's ability to handle this crisis. In fact, the 87% who think the Government is handling the crisis well is slightly up from last week (80%) while the proportion thinking they are handling it badly is slightly down (at 10%).
There hasn't been much change in the level of fear among people. They are as scared about contracting the virus as they were last week- 54% said they are very or fairly scared about contracting it and 39% claim they are neither very scared or not at all scared about getting infected.
However, awareness around the outbreak has gone up from 89% to 93% this week, with the older people claiming to be most aware of the ongoing crisis. Not just awareness, even preparedness to tackle the virus has improved, with 81% people saying they are well-informed about what to do if they suspect they have coronavirus, as opposed to 72% saying this last week.
In the weeks to come, YouGov will continue to track public's attitudes and opinions on Coronavirus across the globe.
Data collected online by YouGov Omnibus among around 1089 respondents in India between March 17th and 20th, 2020 using YouGov's panel of over 8 million people worldwide. Data is representative of the adult online population in the country