While most people applaud the government's actions in areas concerning the pandemic, many think it needs to ramp up its efforts around COVID-19 testing
YouGov's latest survey reveals that the majority of Indians want the government to test more for the novel Coronavirus. Notably, a higher number of Baby Boomers (92%) and Gen X (85%) respondents want the government to take this action as compared to the younger GenZ (68%) and millennial (79%) respondents. Likewise, tier-1 city (86%) residents are more likely than people from tier-2 (82%) and tier-3 (73%) cities to suggest this action.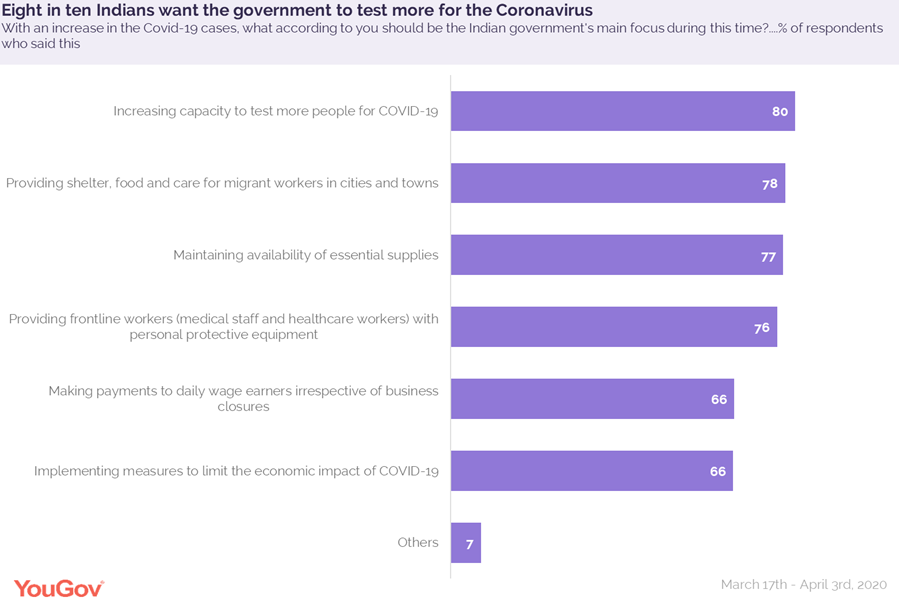 Furthermore, nearly half (47%) think the government is not meeting public expectations in this regard and needs to increase its efforts around COVID-19 testing.
Almost as many as those who want to increase India's testing capacity, want the government to provide food, shelter and care for migrant workers (78%) and ensure availability of essential commodities (77%). Three-quarters expect the government to concentrate on supplying frontline workers with protective equipment (76%) and two-thirds want the focus to be on limiting economic impact of the virus (66%) as well as providing monetary assistance to daily wage earners (66%).
Apart from testing, most people feel the government is doing a good job in other areas connected to the virus such as providing timely and accurate information for prevention and control of the virus (69%), taking steps to reduce social interaction (60%), maintaining availability of essential commodities (56%) and protecting frontline workers fighting against the Coronavirus (53%).
YouGov's ongoing COVID-19 tracker has been tracking people's attitudes and behaviours around the pandemic on a weekly basis. More than a week into the lockdown, data from the latest wave of the tracker shows that the fear levels among Indians have stabilized over the past week and there has been a marginal increase in the number of people who said they are very or fairly scared about contracting the virus over the past week.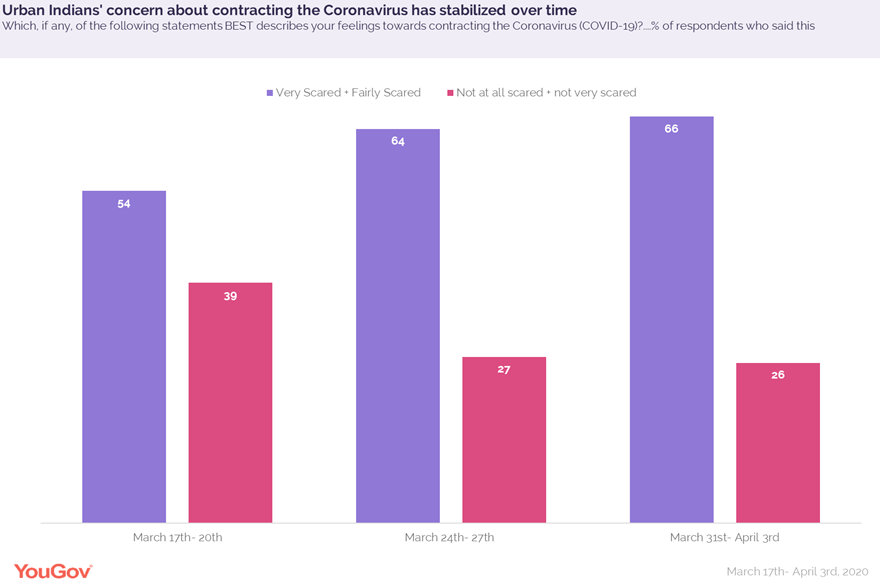 Staying at home reduces the chances of catching the infection and probably that could be the reason for the stabilising fear levels among people. This also explains why a large proportion of people want to continue this practice, with 69% saying the lockdown should be extended further. Notably, a higher number of millennials (74%) want the lockdown to be extended as compared to GenX (62%) and Baby Boomers (61%).
Furthermore, a vast majority of Indians (94%) claim they have adjusted to the lockdown phase- either greatly or somewhat, while only 6% are finding it difficult to cope with and have adjusted to it very little or not at all.
Data collected online by YouGov Omnibus among 1000 respondents in India between 31st and 3rd April 2020 using YouGov's panel of over 6 million people worldwide. Data is representative of the adult online population in the country.