Although fear about contracting the virus has stabilised over time due to staying indoors, many people have concerns relating the pandemic
Data from YouGov's latest survey run among urban Indians between 7th-10th April shows that people's expectations are in line with the government's decision to extend the lockdown and most of them (76%) want the lockdown to continue till the number of COVID-19 positive cases in the country do not reduce. 18% on the other hand hoped for the lockdown to be lifted post 15th April so that people could go back to work and prevent further economic damage.
As people have been staying home for roughly three weeks now, data from YouGov's ongoing COVID-19 tracker shows that fear levels among people have stabilised over time and this week there has been a marginal decline in the number of people saying they are very or fairly scared of contracting the virus – at 64%, down from 66% last week.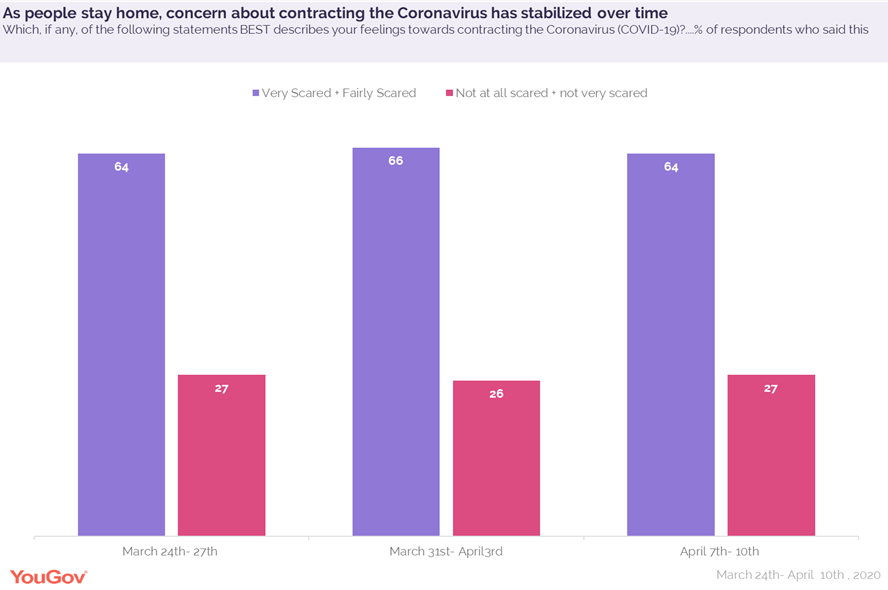 The number of people saying they are not very or not at all scared has also been stable at 27%. Fear has notably declined for the oldest generation of Baby Boomers, with 53% now saying they are very or fairly scared as opposed to 61% saying this last week.
Although fear levels have stabilised, people do have concerns related to the pandemic, the biggest being the unavailability of essential items, which 37% Indians are worried about.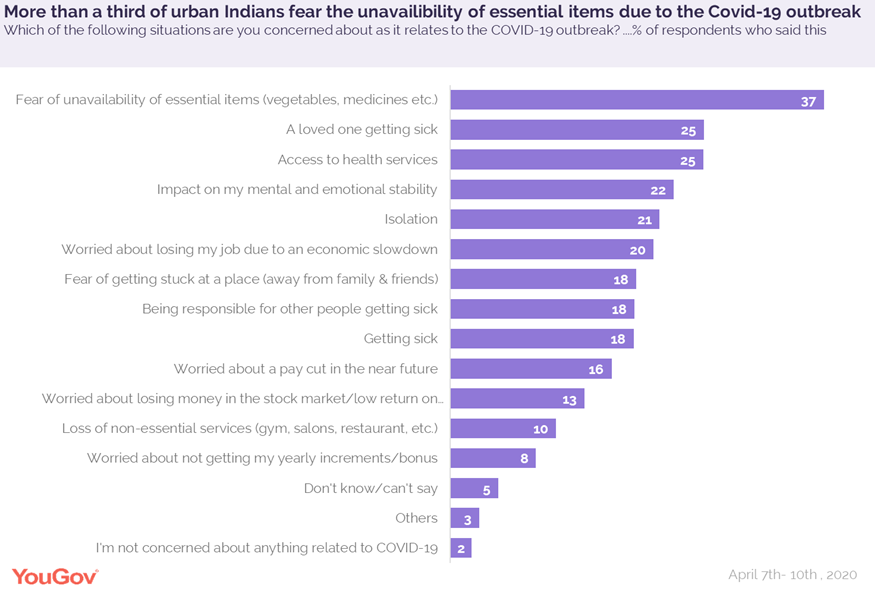 Apart from this, a quarter fear a loved one getting sick or worry about access to health services during this time (25% each). One in five are anxious about their mental stability (22%), and just as many fret about being in isolation (21%). Slightly fewer are concerned about getting stuck somewhere away from family (18%) or getting someone else sick (18%).
Some Indians worry about the economic impact of the virus- such as losing their jobs (20%), getting a pay cut (16%), or not getting a bonus or increment this year (8%).
As people are staying home and practising social distancing, some of their daily habits have changed and other activities have been introduced to their routine. Naturally, participating in household chores such as cooking, cleaning, etc. is the activity that most people (59%) are involved in during the lockdown, which otherwise they were not doing. Even though everyone is at home, expectedly women seem to be bearing the brunt of this development and a higher number of women than men are involved in domestic chores (65% vs 54%). However, Baby Boomers seem to be the busiest with household work- with 72% saying this.
Nearly half (47%) have started exercising at home to keep themselves fit and just as many people (46%) are making video calls to friends and family, who in normal times wouldn't have turned to this form of communication. Women were more likely to take up this technology as compared to men (50% vs 43%).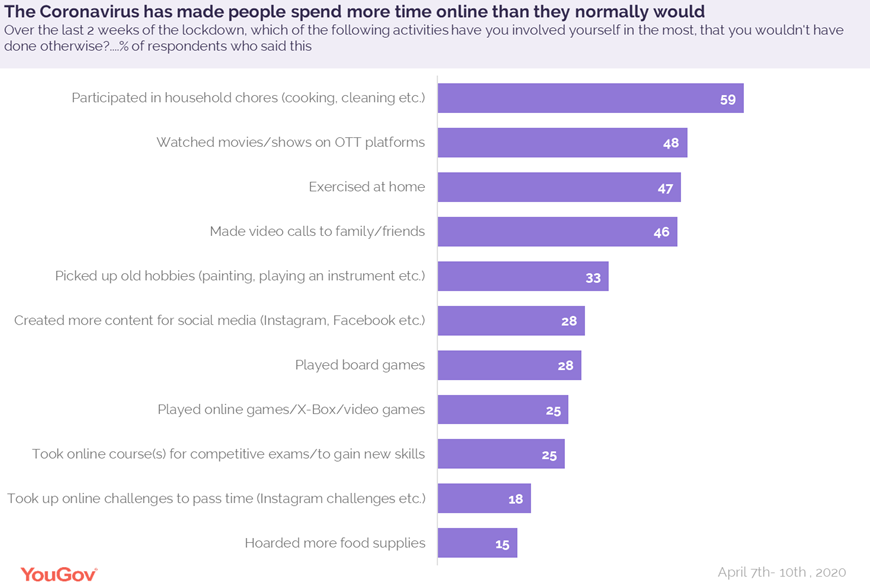 With no access to the outside world, many people have turned online for entertainment and are spending more time digitally now than they would otherwise. Almost half are catching up on shows and movies online (48%), while a quarter have kept themselves busy by playing video/online games or taking up online courses (25% each).
Some are creating more social media content (such as sharing stories, posts, etc) now (28%), while others are taking part in online challenges to kill time (18%). The younger generation of Gen Z and millennials are more likely to indulge in online games and challenges as compared to their older counterparts.
Apart from online activities, the COVID-19 situation has encouraged many people to pick up old hobbies during this period of social distancing (33%), as well as give in to the world of board games (28%).
Data collected online by YouGov Omnibus among 1000 respondents in India between 7th - 10th April 2020 using YouGov's panel of over 6 million people worldwide. Data is representative of the adult online population in the country.