YouGov's latest findings reveal the apps that urban Indians are engaging with while staying at home
Data from YouGov's latest survey shows around half of urban Indians (49%) claim to be using music apps regularly amidst the lockdown. Almost as many are using video calling apps (46%), news and online gaming apps (45% each) on a regular basis while staying at home. Many are indulging with OTT apps (41%), health and fitness (29%), cooking (28%) and education apps (27%). Some are engaging with reading apps (19%), but very few are using dating apps (6%) amidst the pandemic.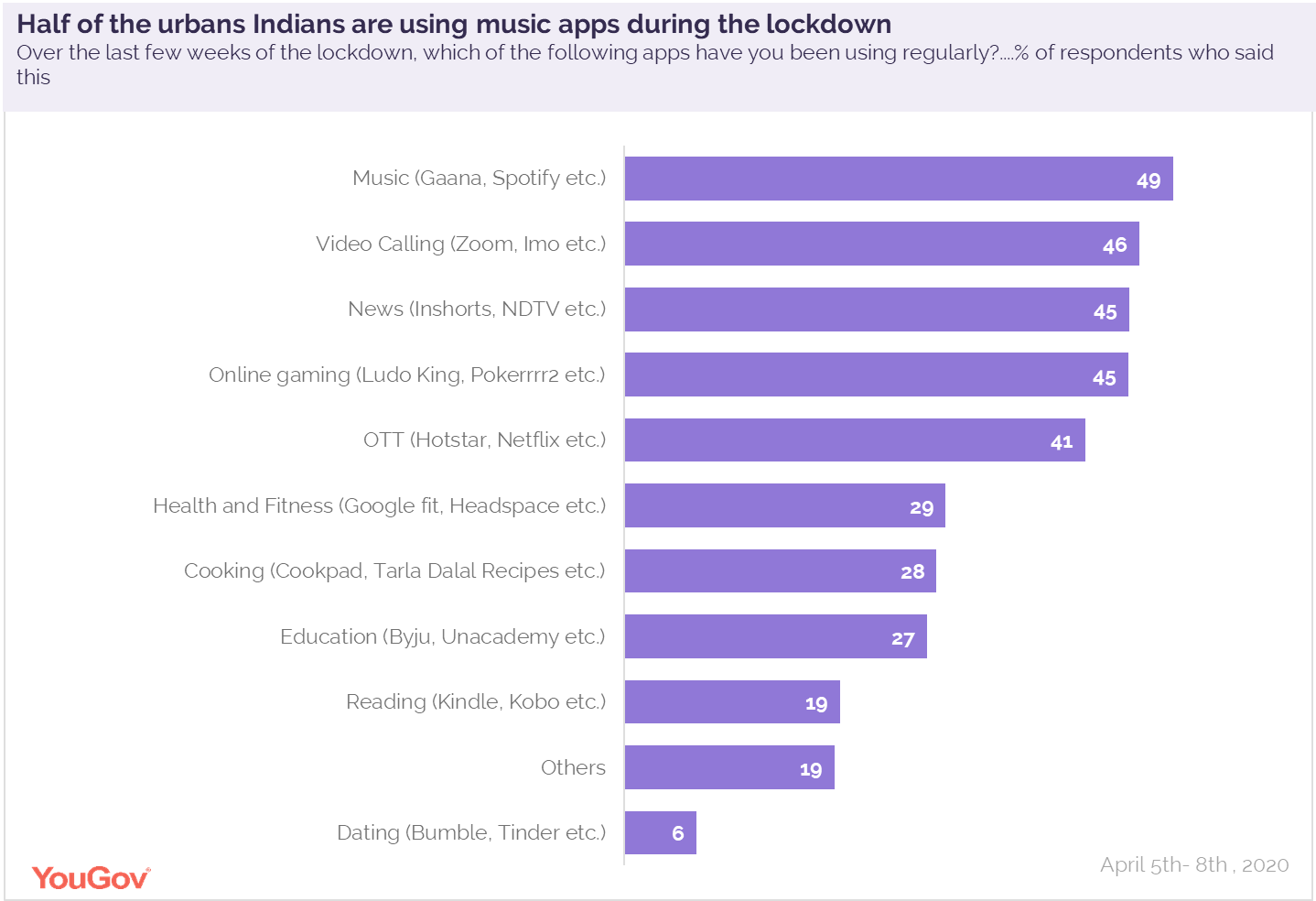 Among the different age groups, Gen Z respondents are more likely to indulge with gaming and music apps (55% each) as compared to the other age groups, while Gen X respondents are most likely to frequent news apps (55%) and cooking apps (35%). On the other hand, a higher percentage of millennials are engaging with OTT apps (45%) and health and fitness apps (32%), as compared to the rest of the age groups.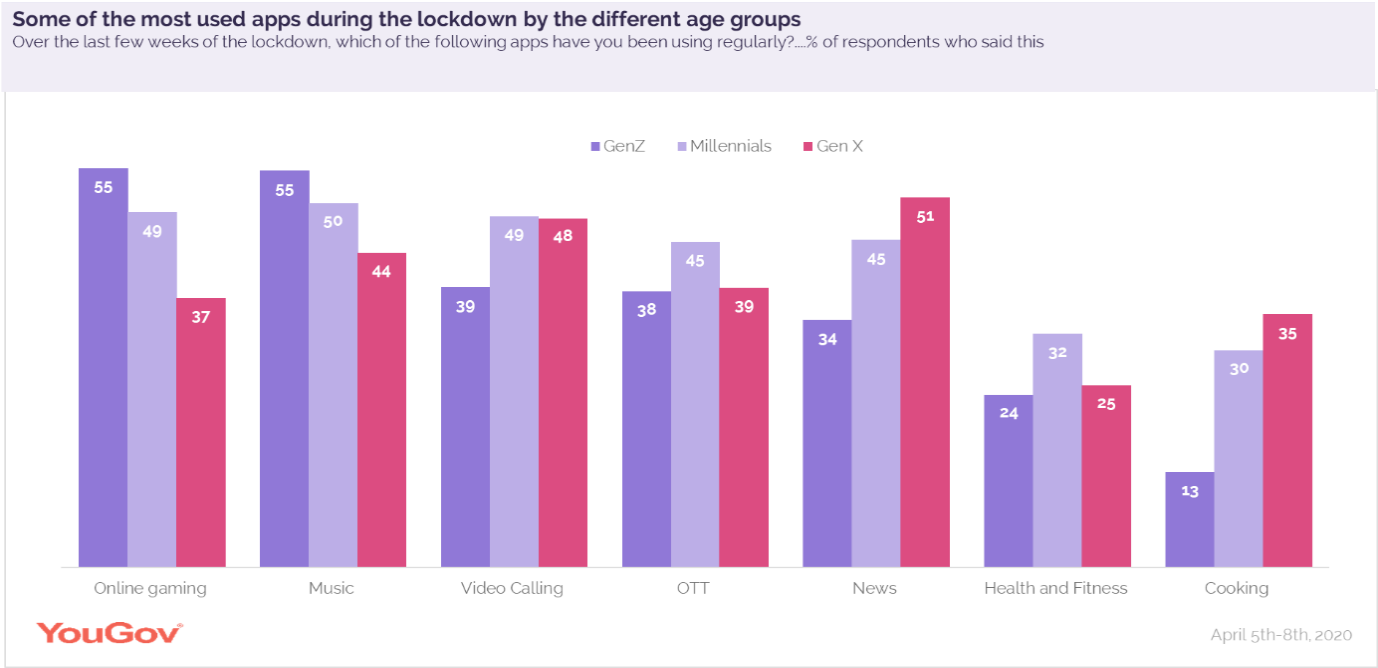 There are some noticeable differences among the different city tiers as well. Usage of video calling, OTT and cooking apps is much higher in tier-1 cities than the rest, however consumption of music apps peaks in tier-2 cities. Comparatively, usage of all these apps is much lower in tier-3 cities when compared to metros and bigger cities.
Even though music apps are the most used apps by people in the lockdown, frequency of using news apps is the highest, with 81% urban Indians claiming to use these apps on a daily basis, as opposed to 66% using OTT and music apps daily.
YouGov data shows a large majority of app-users are currently using free versions of almost all the apps, except for OTT platforms (for which 70% have paid subscriptions). Among the listed apps, cooking (89%), online gaming (88%), video calling (87%, news (85%) and fitness (81%) are some of the top apps with a higher number of free subscribers than paid ones. Apart from OTT apps, a considerable number of people are paid subscribers of education (37%), reading and dating apps (30% each).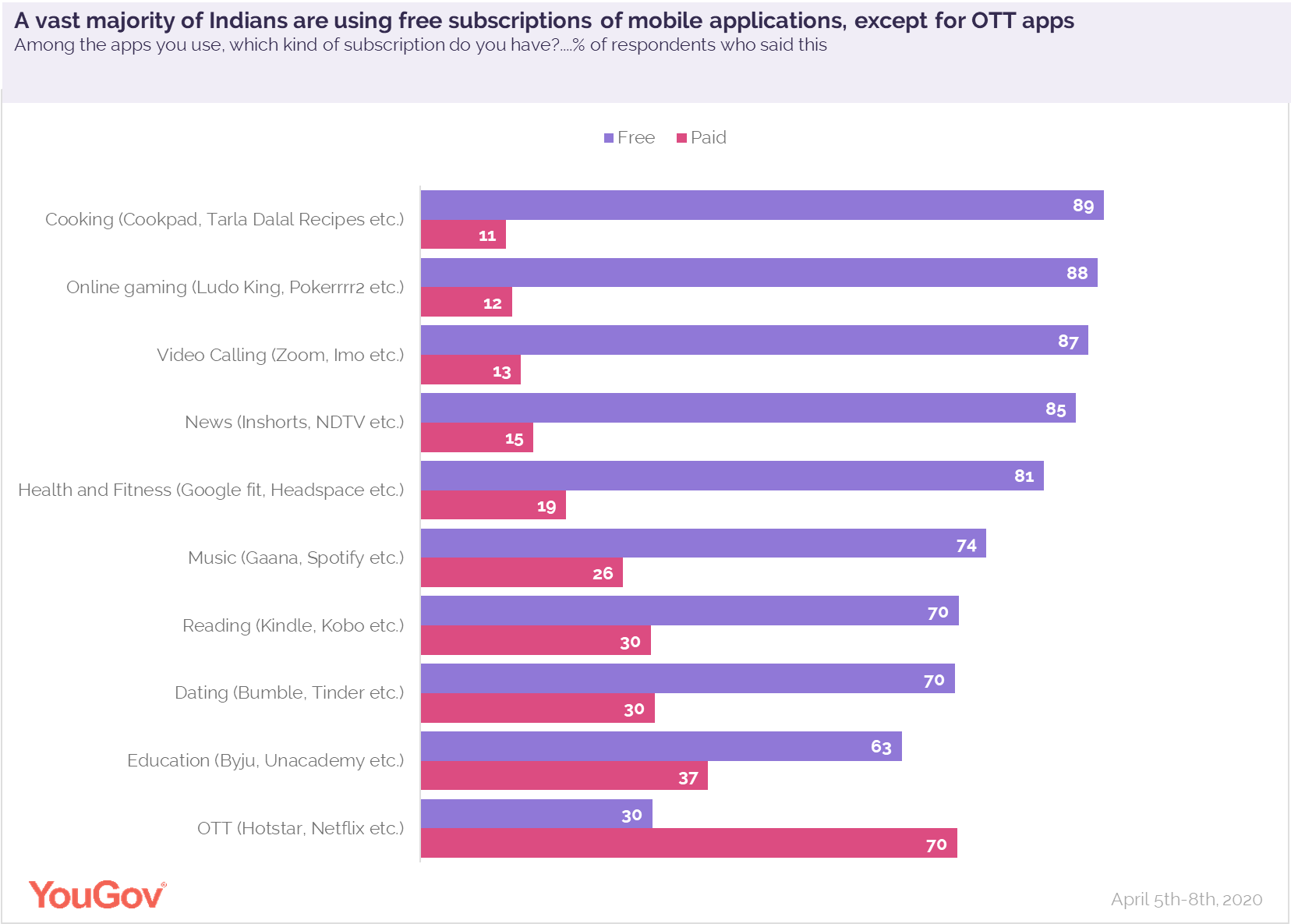 Although the majority are using free subscriptions of most of the apps, 42% of these users are willing to turn to paid subscribers in the future, 32% are unwilling and 26% are unsure of their decision.
Among those who have shown interest in becoming paid users, likeliness to pay in the future is highest for music (27%), online gaming (24%), fitness (23%) and news apps (22%), and is the least for reading (10%) and dating apps (4%).
When asked about the possible reasons that would make them switch to a paid version in future, economical subscription rates with more accessibility (45%), access to more variety of content and ad-free experience (42% each) emerged as some of the top reasons for wanting to do so. Some would pay for an app if it gave access to premium content (39%) or facilitated greater customization (25%).
Speaking about this, Deepa Bhatia, General Manager, YouGov India, said, "As residents stay at home and practice social distancing, they are fulfilling a lot of their needs digitally. The data shows that while urban Indians are engaging with various applications, the numbers of paid subscribers for most of these still remains low. In order to convert them into paid-users, app-providers need to understand consumers' changing requirements amidst the pandemic and must entice them with offerings that are functional as well as economical."
Data collected online by YouGov Omnibus among 1067 respondents in India between 5th- 8th April, 2020 using YouGov's panel of over 6 million people worldwide. Data is representative of the adult online population in the country.