Although urban Indians widely support the Covid relief package, only a third believe it will help actualise the idea of a self-reliant India
A week after India's Finance Minister announced the 20-lakh crore Covid-relief package to mitigate the economic effects of the pandemic, YouGov ran a survey to understand the public sentiment towards it and to see how do individuals see it benefitting themselves and the overall economy.
The survey reveals that a vast majority (71%) of Indians either agree or strongly agree that the relief package extended by the government will lead to economic recovery. Respondents from Tier 3 (76%) cities of India are more likely to view this package favourably than those from tier 1 (67%) cities.
Furthermore, 62% are very or fairly satisfied with the package, and only 15% seem unhappy with it. Dissatisfaction is the highest among South Indians (at 21%) as compared to the other regional residents. Similarly, tier-1 residents (21%) seem unhappier with the offered benefits as compared to tier-2 (14%) and tier-3 (10%) residents.
Even though a majority support the economic package, fewer than half see it benefitting them personally. From the various schemes, four in ten urban Indians (43%) feel they are most likely to benefit from the 'Increased public expenditure on healthcare' and the 'Reduction of TDS/TCS rates for non-salaried section' (40%). One in three (33%) see themselves benefitting from the 'Extension of credit linked subsidy scheme for middle-income groups' (33%), 'starting of online courses by top 100 universities' (31%) and 'Interest subsidy for smaller business under MUDRA-Sishu loans' (30%).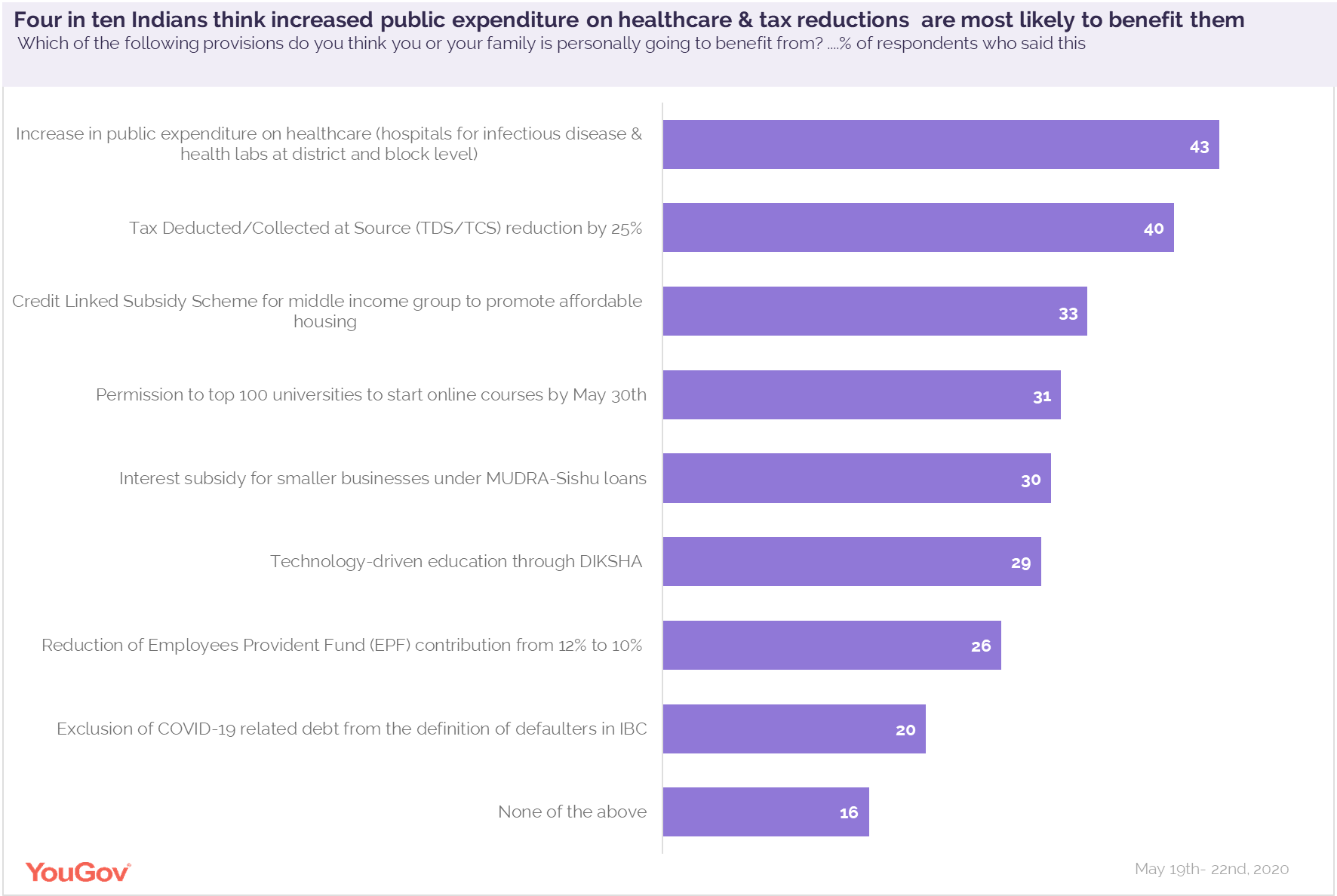 Comparatively lesser (26%) view 'Reduction of Employees Provident Fund (EPF) contribution for businesses and workers' favourably. Fewer consider 'Exclusion of Covid related debt from the definition of defaulters in IBC' as a benefit (20%).
When asked about the provisions that could benefit the underprivileged (migrants, poor, etc.) in the country, most respondents feel 'distribution of free food grains (61%) for the poor/migrants' is most likely to work to their advantage. More than half (53%) are in support of 'one nation one ration card' provision under which government has allowed inter-state portability of ration cards for food access to migrants in other states. Almost as many (50%) favour creation of new job opportunities for tribals and adivasis and view it as a likely benefit for this section of the society.
Although the government believes the economic package will go a long way in realising the idea of a self-reliant India, only one-third (33%) of urban Indians think so. Some think this package will create new job opportunities (21%), while others see it giving a boost to the smaller businesses (20%) or the rural economy (17%).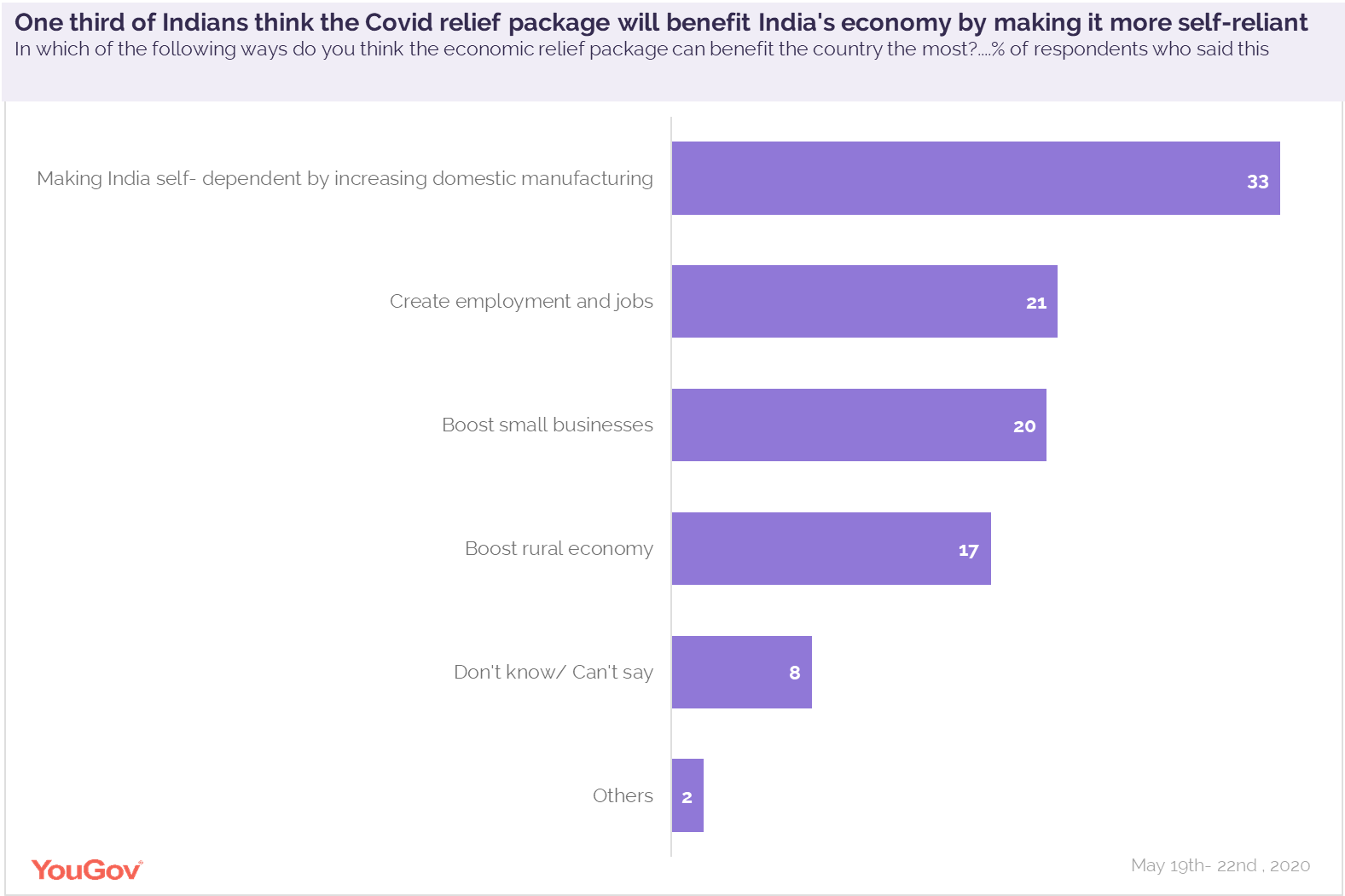 Data collected online by YouGov Omnibus among 1005 respondents in India between 19th and 22nd May 2020 using YouGov's panel of over 6 million people worldwide. Data is representative of the adult online population in the country