Although there are signs of increased online shopping after the lockdown, this shift is significant only in specific categories
YouGov's latest survey reveals compared to the time before the lockdowns, close to half (44%) of urban Indians said they are more likely to shop online once the lockdown is over. In addition to this, 21% said they are less likely than before to shop in physical retail stores.
Among the different regions, East and West Indians (51% and 50%, respectively) are more likely to say they will shop online in the future as compared to residents in North and South India (41% and 40%, respectively). Likewise, inclination to move online for shopping appears to be stronger among tier-1 city residents (51%) than tier-2 and 3 residents (41% each).
Even though a large proportion of respondents have indicated migrating online, the data suggests this shift is significant in certain categories and does not extend to all. Gadgets (68%), Beauty & personal care (58%), Apparels & accessories (56%) and Home & kitchen appliances (51%) are the top categories where a majority of respondents have indicated their likeliness to buy online, once the Covid crisis is resolved.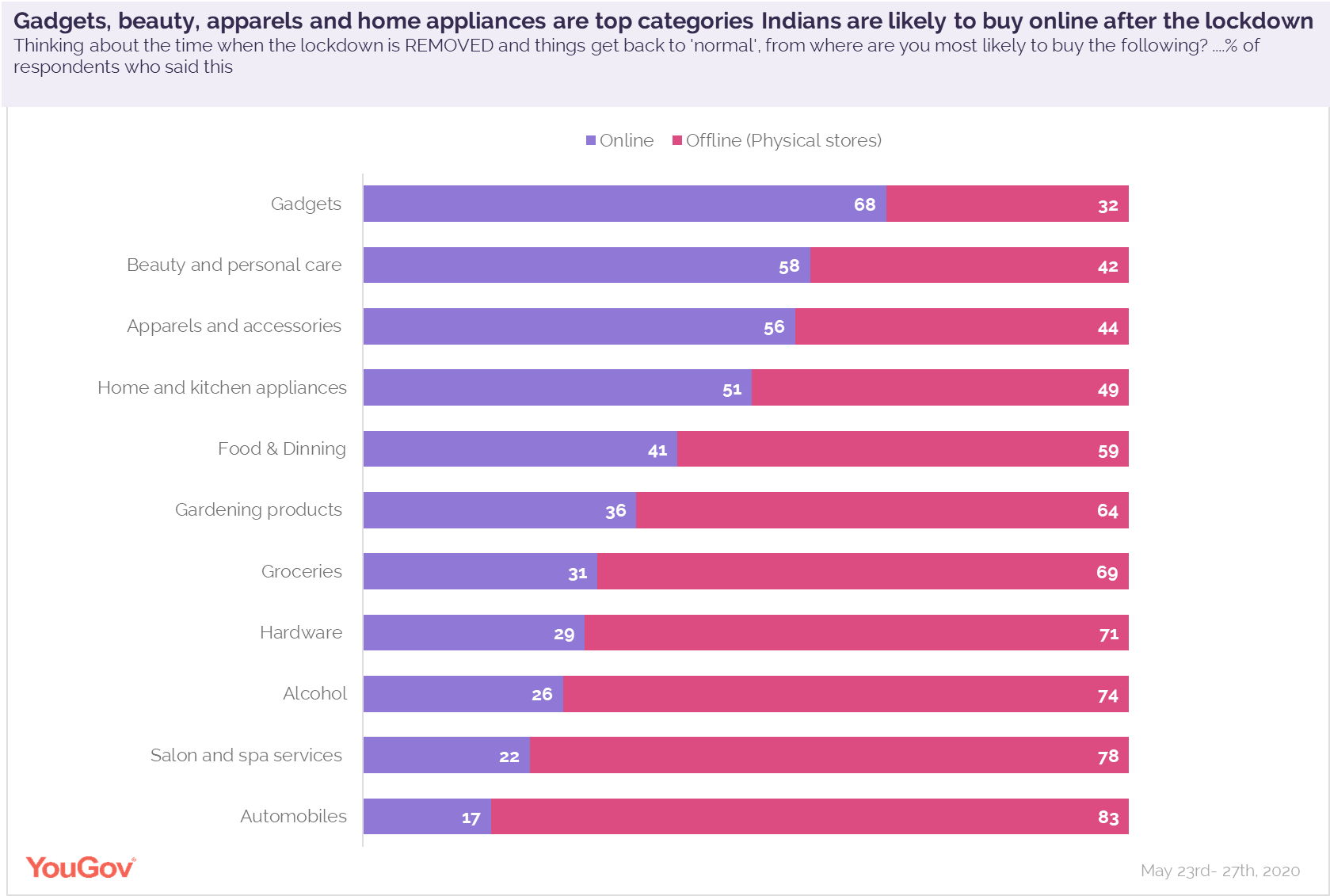 However, for most of the other categories, such as Automobiles (83%), Salons & Spa services (78%); Alcohol (74%), Hardware (71%) and Gardening & fertilisers (64%) consumers are likely to prefer shopping offline in physical stores. Notably, shopping for some of the key categories- Grocery and Food & dining, which picked up a lot of momentum online amidst the lockdown, is also likely to return to the offline medium once things return to normality.
At present, one in three urban Indians (30%) have bought or are planning to buy beauty and personal care products online since e-commerce delivery resumed in their area amidst the Covid lockdown. Demand for these products is the highest in tier-1 cities at 37%.
Apparels and accessories emerged as the second most commonly ordered non-essential products in the lockdown (at 28%), followed by gadgets, kitchen appliances and health supplements (25% each).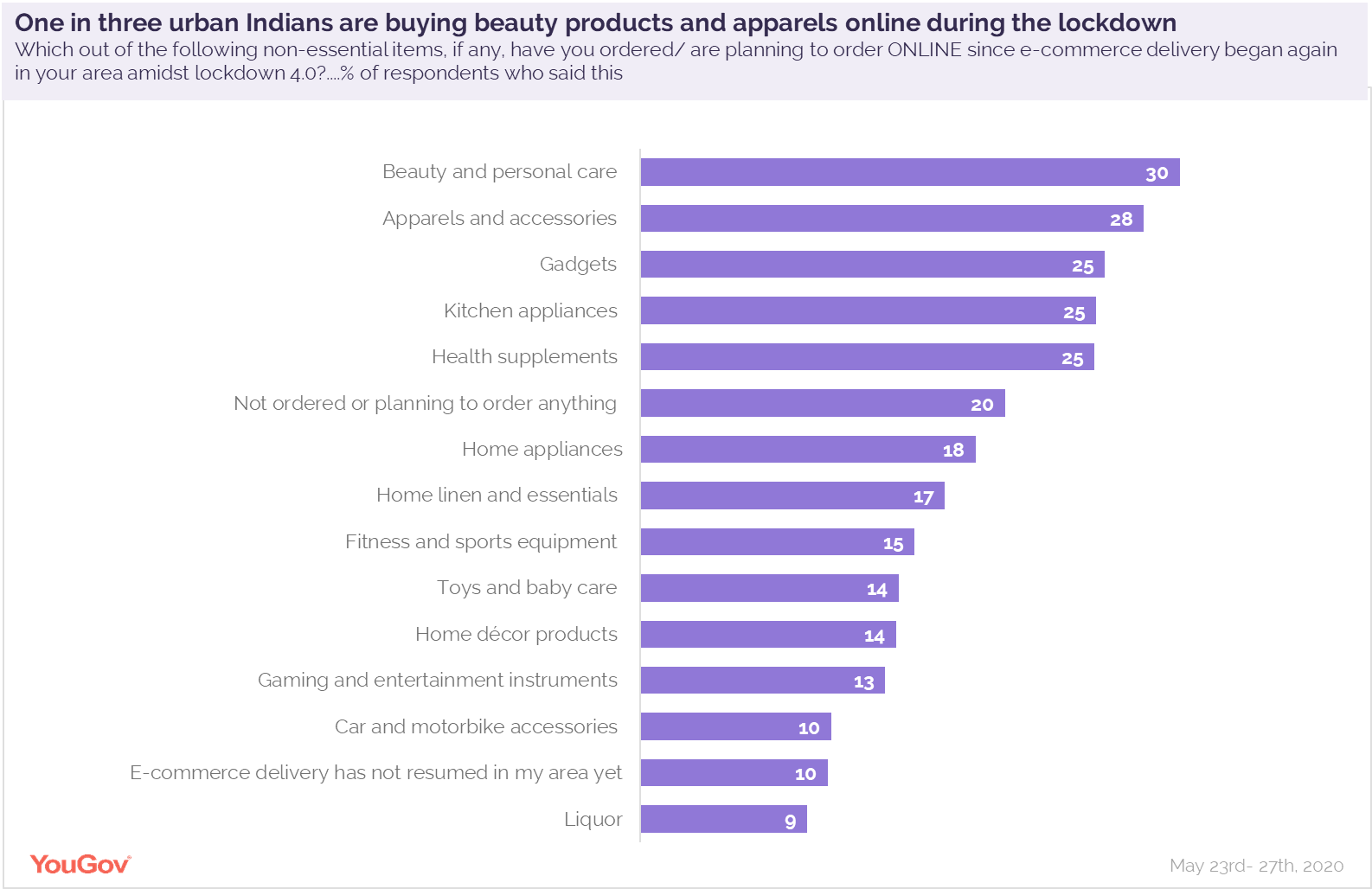 Home appliances (18%), home linens (17%), fitness & sports equipment (15%), toys & baby care (14%) and home décor products (14%) are other popular lockdown purchases made online. One in five urban Indians (20%), however, claimed to have not ordered any non-essential items although online delivery had resumed in their area.
Even though people are currently buying online, the majority (73%) are either very or fairly scared about their safety while shopping.
In fact, sanitation, hygiene and safety practices of the e-commerce platforms is the biggest concern for them when it comes to shopping online (58%). Following that, delivery period (37%), the fit and look of the product (30%), the security of shopping online (28%), cancellation policies (27%) and payment issues (23%) are some of the other concerning factors. Concern for safety is the highest among those in their thirties (at 67%) while worry about the fit or look appears to be strongest among respondents aged above 40 (at 35%).
Speaking about this, Deepa Bhatia, General Manager, YouGov India, said, "The current Covid crisis and the subsequent lockdowns have helped accelerate the momentum for e-commerce. A few categories will see a more significant and permanent shift towards online sales channels while for others consumers will revert to traditional buying behaviours. Brands need to understand the changing behaviour of consumers and must address their concerns in order to increase their confidence and make their shopping experience worthwhile."
Data collected online by YouGov Omnibus among 1011 respondents in India between 23rd and 27th May 2020 using YouGov's panel of over 6 million people worldwide. Data is representative of the adult online population in the country