A new YouGov survey reveals consumers' intent to purchase from fast-food restaurants and lists measures that would boost their confidence in dining out
According to a new YouGov survey of more than 1,000 urban Indians conducted in June, a third of the respondents are willing to dine in at a fast food restaurant in the near future- within the next 30 days (13%) or in the next one to three months (20%).
The rest are likely to take longer, between 4-6 months (18%) or more than six months (18%) to head inside their favourite fast-food restaurant.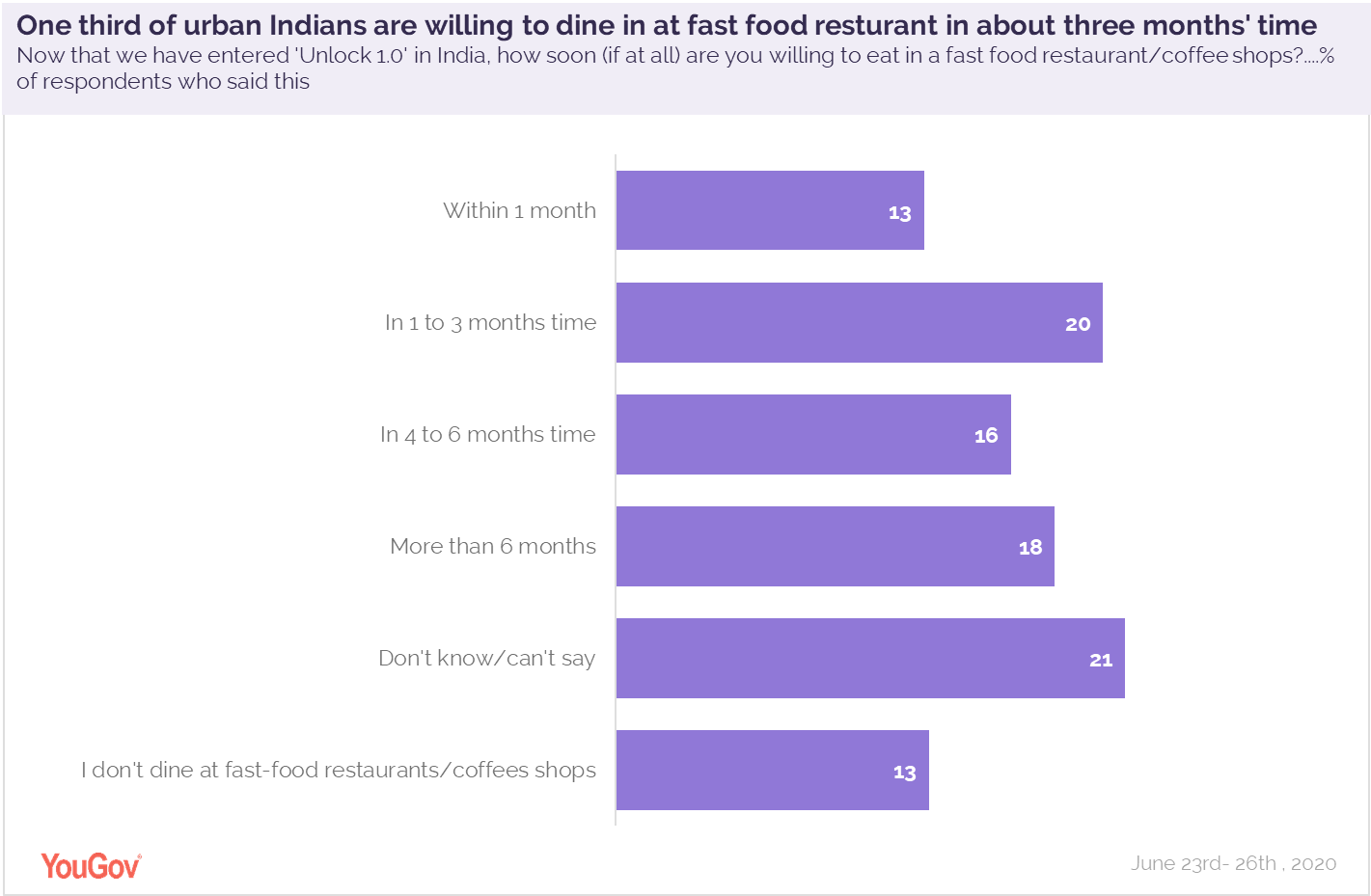 GenZ respondents are most likely to make a return to restaurants sooner (43%) as compared to millennials (32%) and GenX respondents (28%).
When asked which fast-food chains are they most likely to order from once the country is completely unlocked, Dominos emerged as the top choice (with 41% saying this), followed by Mc Donald's (34%), KFC (32%) and Pizza Hut (30%).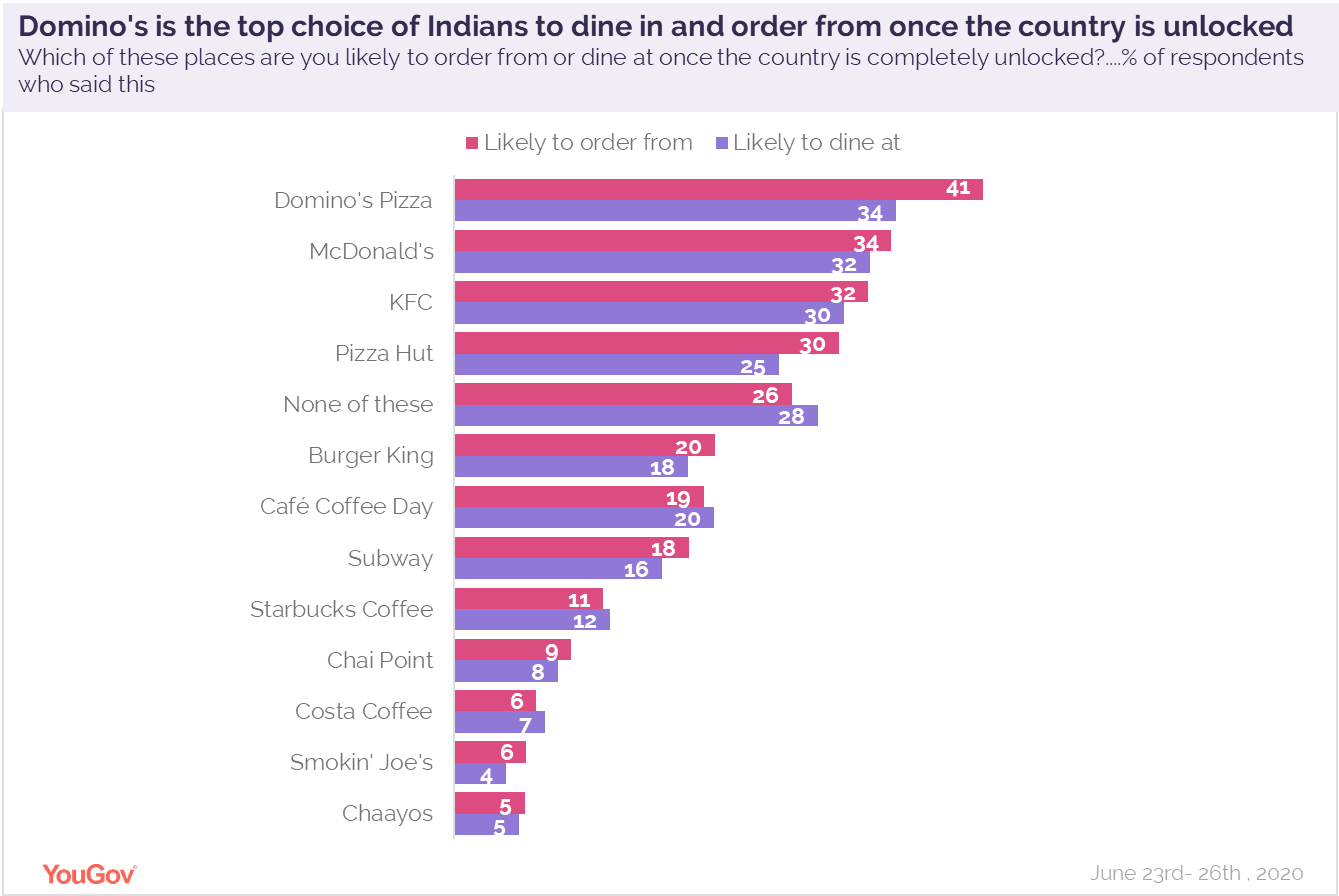 We see a similar preference when it comes to eating out in a fast-food chain once things go back to normal- Dominos is the top choice (with 34% saying this), followed by McDonalds's (32%) and KFC (30%).
YouGov BrandIndex added another layer to the story with a deeper dive into Domino's brand metrics. Domino's was the first few brands to start contactless delivery in response to the pandemic. Since then the brand has invested heavily in advertising trying to communicate about its safety practices and hygiene standards.
However, in mid-April the news of a Pizza delivery agent testing positive in Delhi for the Coronavirus spread around, leading to a negative perception of some of the popular fast-food chains, including Domino's. The brand's Buzz score (whether one has heard something positive/ negative about a brand in the past two weeks) declined by 4 points from 23.2 in mid-April to 19.2 towards the end of the month, and further to 18.0 in May end.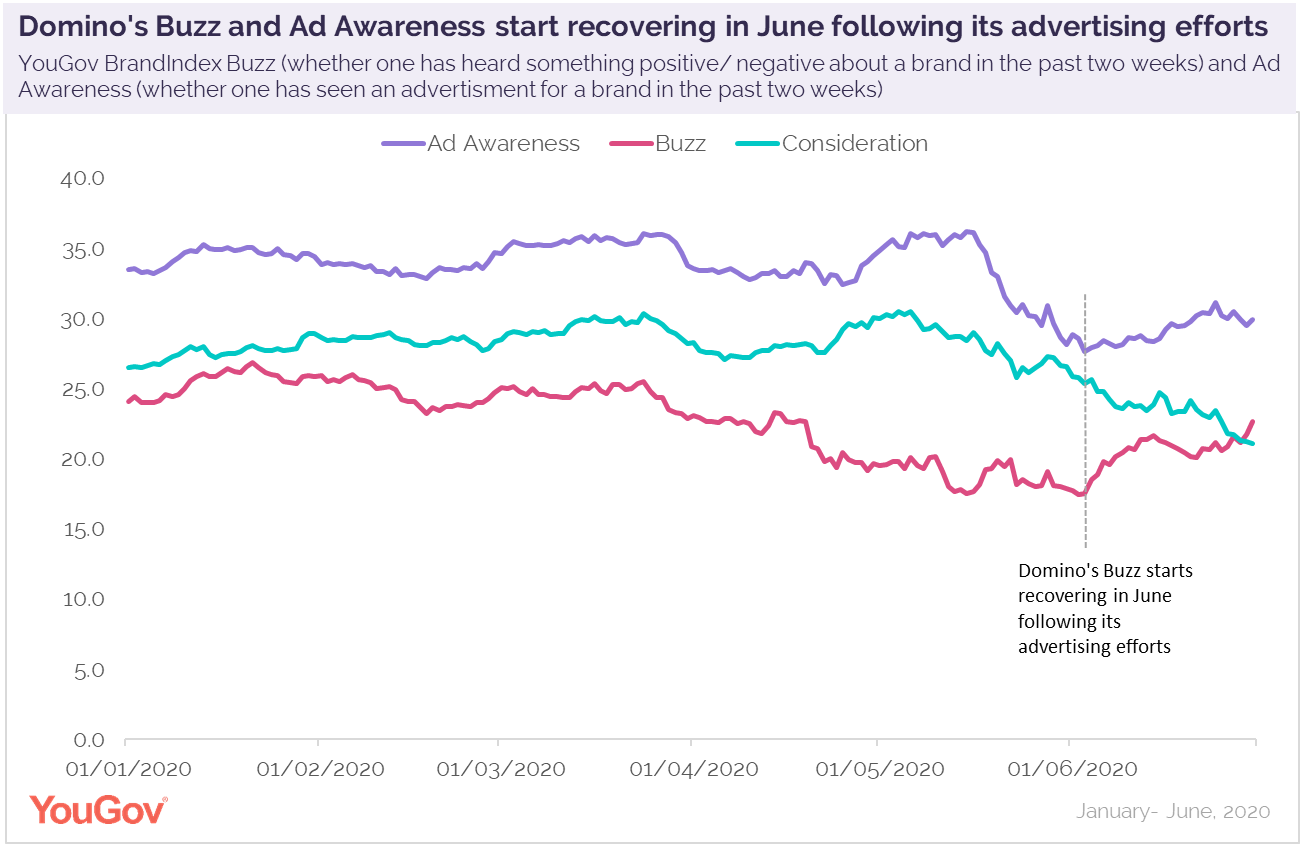 Domino's continued its advertising efforts- releasing advertisments in regional languages as well, emphasising the safety precaution taken by the delivery agents. In June, the brand came out with its latest campaign #OrderKarnaSafeHai highlighting the stringent safety norms adopted by the brand right from the kitchen to the customer's doorstep.
It appears the brand finally seems to have struck a chord with consumers as Ad Awareness sees a slight rise in June after suffering a decline in the previous month. Around the same time Domino's Buzz score also started recovering through June.
Even though Domino's has managed to draw some attention, these efforts have not translated into purchases yet. Consideration (whether one would consider buying from a brand) for Domino's has declined in line with the increasing number of Coronavirus positive cases in the country since May. However, Quality (whether a brand represents good/ poor quality) and Value score (whether a brand represents good value for money) haven't seen any dramatic changes amidst the pandemic. This suggests the lack of intent to purchase from Domino's is likely to be driven by the fear among the masses of contracting the virus than their absence of trust in the brand itself.
The Omnibus data shows a similar view where concern for safety is primary- the willing to purchase is there but only once the country is completely unlocked and Coronavirus is less of a threat.
YouGov also asked Indians what measures would help them feel more comfortable dining-in at a fast-food restaurant and nearly two in five (38%) said sanitization of tables and chairs in-between customers would help. Other measures that would put patrons at ease include free hand sanitizer or hand-washing station for customers before entering the place (30%), as well as maintaining social distance while placing orders (29%), and thermal screenings at the entrance (27%).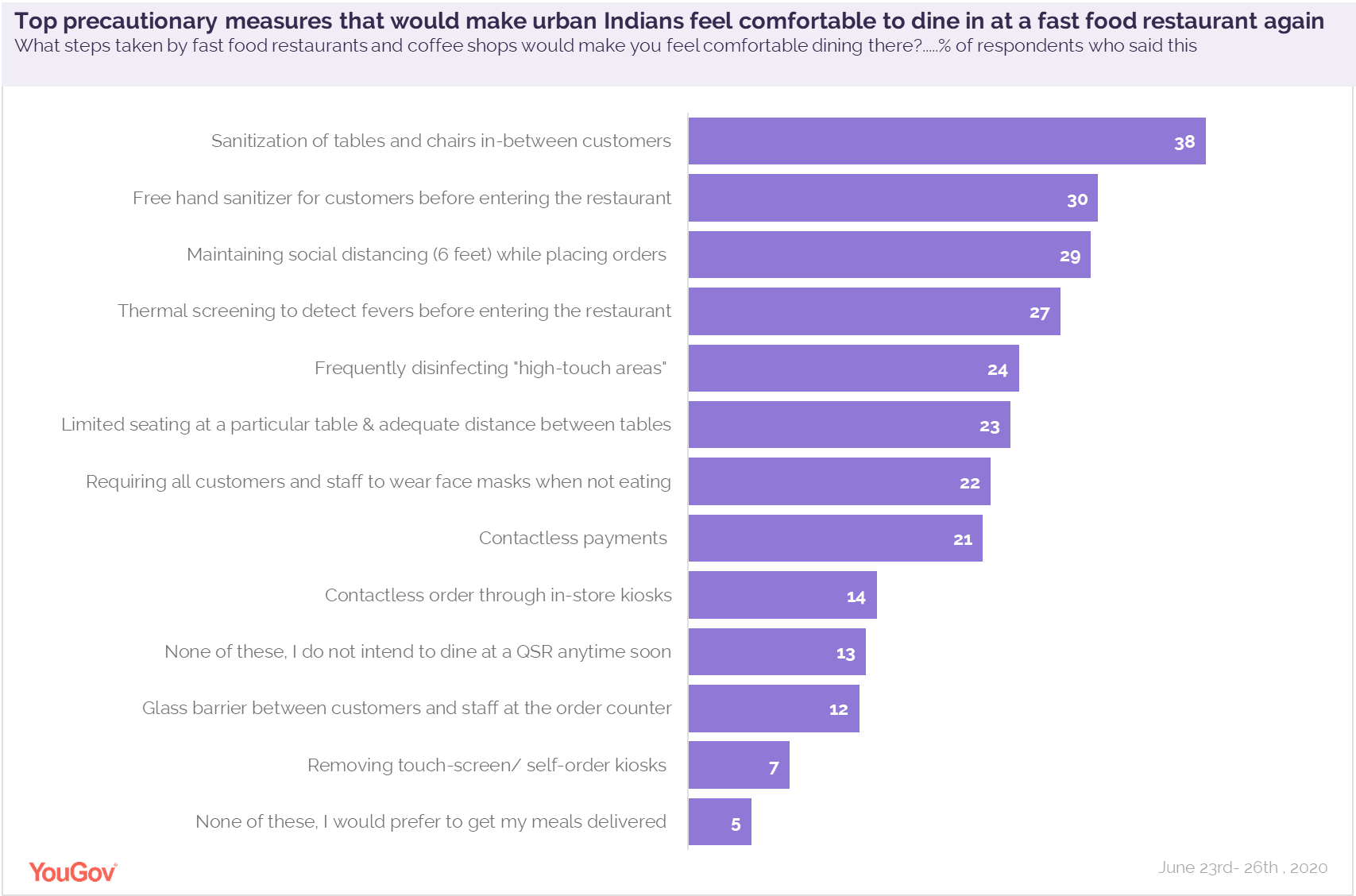 More than a fifth would be at ease if restaurants disinfected high touch areas (23%) and put a limit to the seating capacity with adequate distance between two tables (23%).
Restaurants may also want to consider facemask polices, as close to one-fourth (22%) said requiring all customers and staff to wear facemasks when not eating would help them feel more relaxed dining-in.
Contactless payments (21%), contactless order through in-store kiosks (14%), glass barrier between customers & staff at the order counter (12%) and removal of touch-screen kiosks at stores (7%) were some other methods that can be adopted by restaurants to make customers' dining experience comfortable.
Data collected online by YouGov Omnibus among 1024 respondents in the country between 23rd and 26th June 2020 using YouGov's panel of over 6 million people worldwide. Data is representative of the adult online population in the country.