In general, a higher number of people claimed to watch a film for its story than its actors or director
With the death of Bollywood actor Sushant Singh Rajput, a wide discussion has started on nepotism and groupism in Bollywood. Now YouGov's latest survey reveals that a third of urban Indians (34%) claimed nepotism did not influence their film choices until now but is likely to be a consideration factor in the future.
While a few (28%) said they are open to watching films that feature star kids (children or relatives of renowned Bollywood celebrities), a fourth (24%) are against this practice in Bollywood and do not watch their films. Surprisingly, it is not the youngsters but the older generation that is keen to watch films of star kids, and a lesser number of young adults between 18-29 years said they are open to watching films of star kids, as compared to respondents aged 40+ (23% vs 33%).
When it comes to Bollywood actors, 37% respondents said they prefer watching films of good actors, irrespective of their backgrounds. One in six (15%) like to see films of actors who do not have a Bollywood lineage, while very few (5%) are intrigued by star kids and like watching their films. For a large proportion of respondents (38%) it is not the cast or crew but other factors like the storyline, cinematography etc. that attracts them to a film.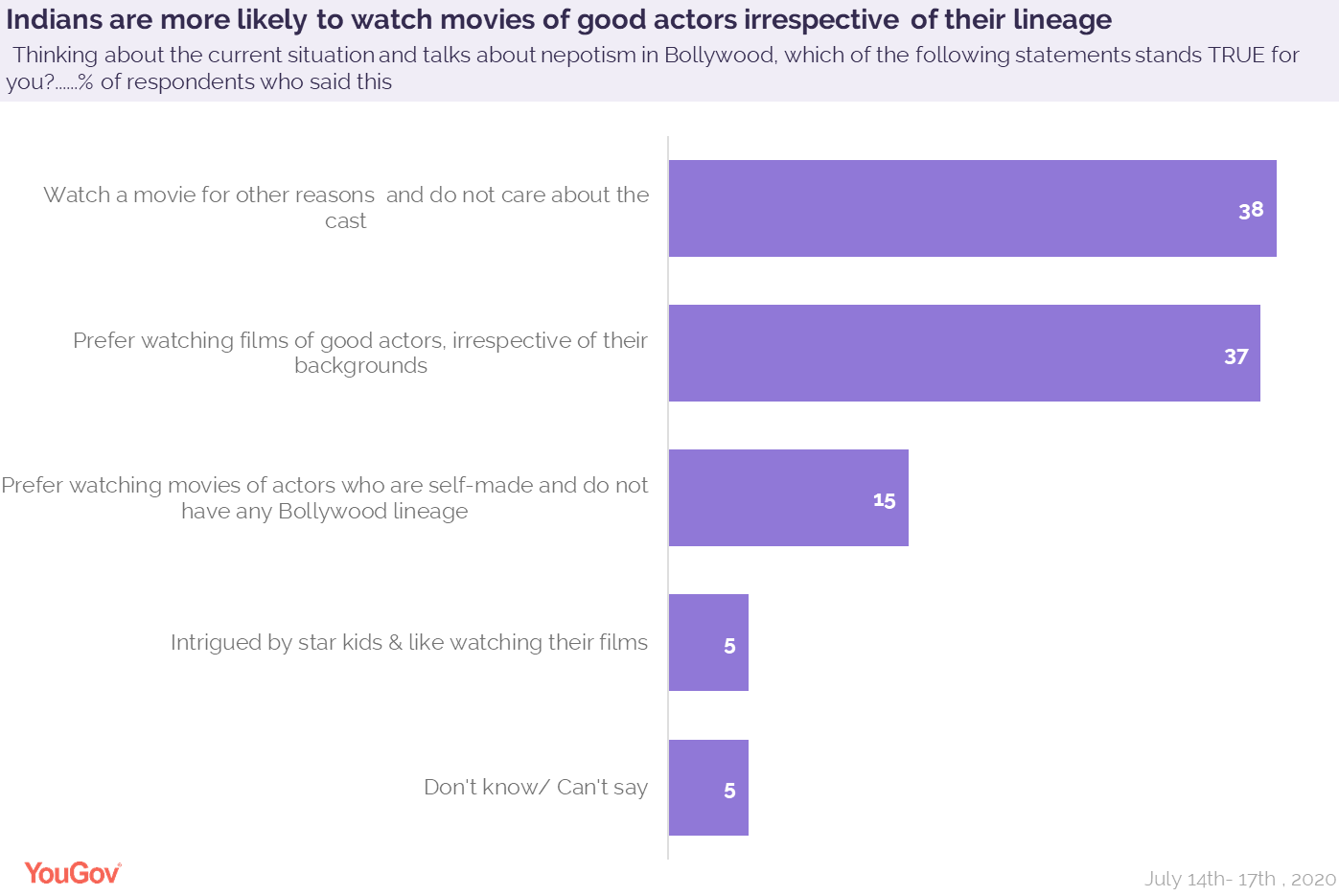 Speaking about their views on Nepotism, around half (50%) of urban Indians strongly or somewhat oppose this practice in general. A third (32%) however, favour it (strongly or somewhat) and a fifth (19%) do not hold any view on this.
When it comes to nepotism in Bollywood, the majority (62%) look at it unfavourably- feel it denies equal opportunity to actors and prevents talent from flourishing. For some (23%) nepotism is a practice that exists everywhere and should not be made a big deal out of. A few (15%) look at it positively and believe it enables talented actors/ filmmakers to carry forward their legacy.
Thinking about what the public can do to be a responsible cinema audience; almost half of urban Indians (47%) feel people should support good content by watching films of talented actors and not just celebrities. Roughly, a third (32%) think audience should do so irrespective of the actor or filmmaker's lineage. Some put across a strong opinion of boycotting films of star kids and nepotistic filmmakers (12%), and a few (10%) feel that an actor or filmmaker's success depends on their luck and not much on the audience's will.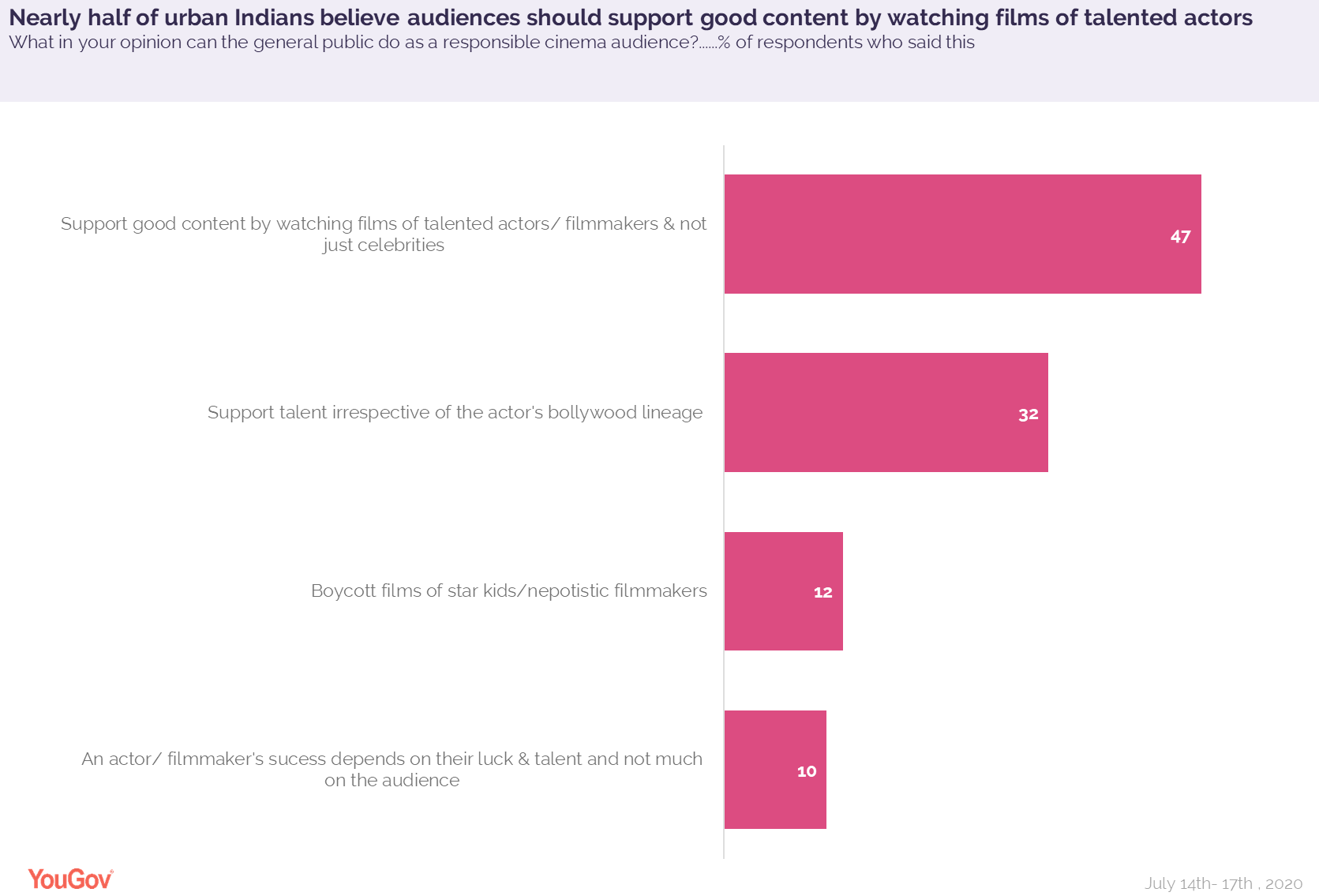 In general, when it comes to the main reasons for watching a film, for the majority (63%) the story of the film is the main consideration factor. Close to half (48%) said it is the actors in the films. For many movie reviews (44%) or the music of the film (42%) does the magic, and for some (30%) the director is a pulling factor. Comparatively very few (11%) are influenced by the production banner and a fewer (7%) are excited to watch the debut of a star kid in a film.
Data collected online by YouGov Omnibus among 1026 respondents in the country between 14th and 17th July 2020 using YouGov's panel of over 6 million people worldwide. Data is representative of the adult online population in the country.