Although Instagram Reels emerges as the most popular video-sharing app, many people have tried homegrown counterparts and are likely to continue using them
Recently the government of India put a ban on many Chinese apps including the widely used video sharing platform - TikTok. The departure of the popular Chinese app has presented an opportunity for other video sharing apps to gain a foothold in the market.
Now YouGov's latest survey reveals in the absence of TikTok, nearly two-thirds of urban Indians (65%) said they are very likely or likely to turn to alternatives or start using video apps that are either Indian or non-Chinese in origin.
Among the generations, millennials (69%) were most likely to show their readiness to switch to Tik-Tok's alternatives, as compared to GenZ (54%). Likewise, men were more likely than women to hold a similar view (70% vs 59%).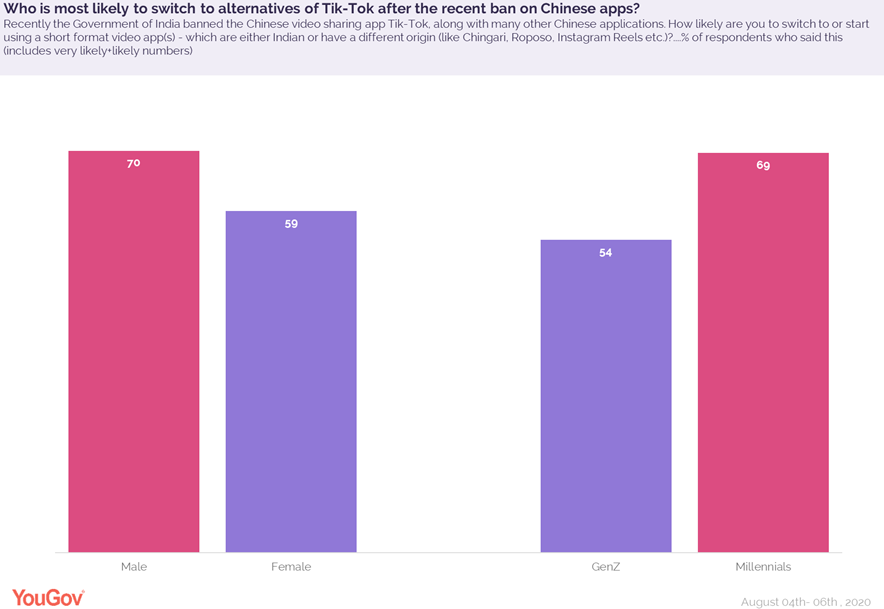 Interestingly, in the absence of the Chinese platform, 68% of TikTok content creators said they are likely to switch to Indian or non-Chinese versions of video sharing apps.
On being presented with a list of alternatives, Instagram Reels topped the list of apps most likely to be used by people in the future. The platform, which is Facebook's answer to TikTok, is welcomed by more than six in ten (62%) urban Indians who claim to have tried it and are likely to continue using it. Instagram Reels is especially popular among young adults (between 18-29 years), and 70% of these respondents indicated their likeliness to use this platform for video sharing.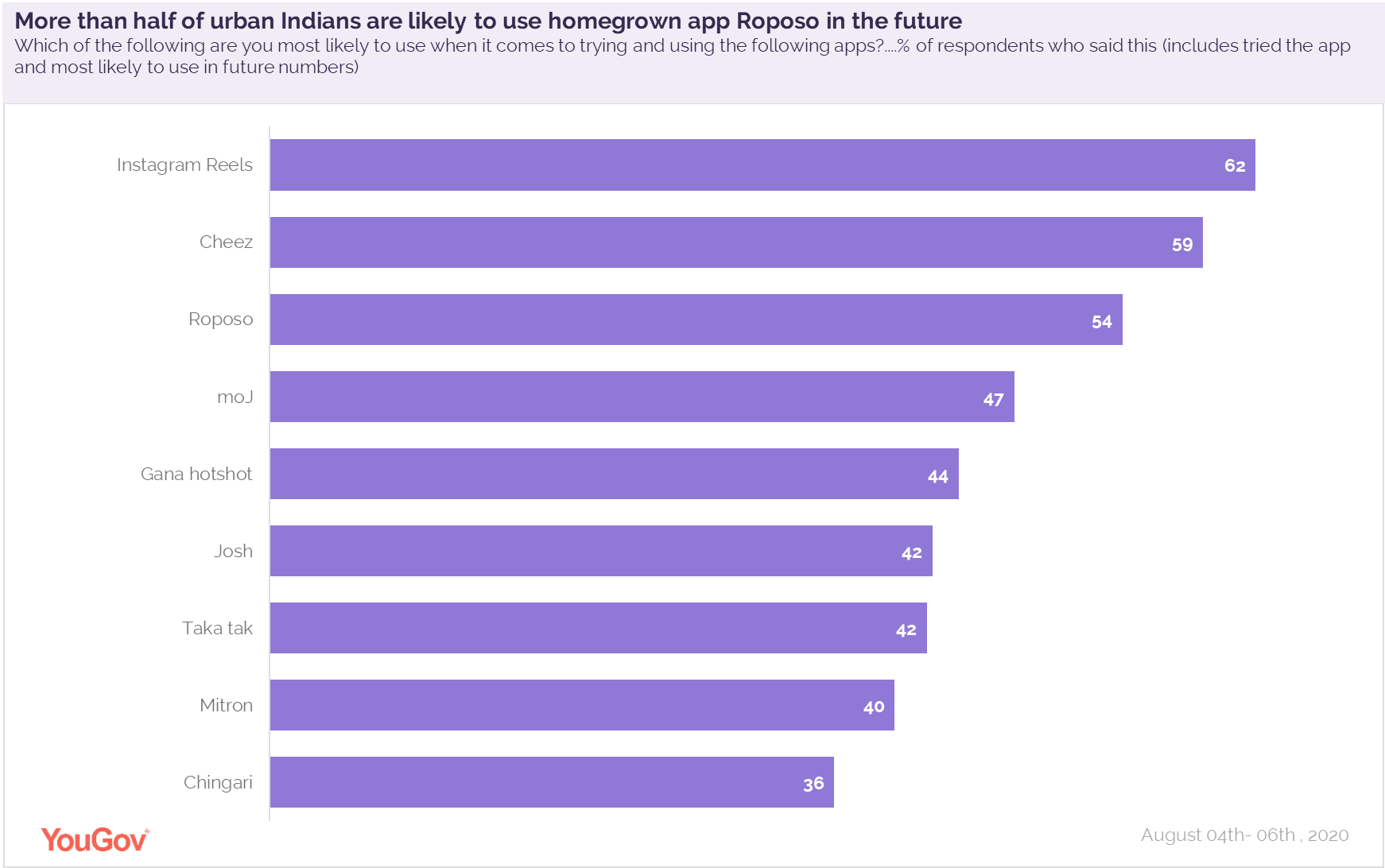 Almost as many have a similar view about Singapore-based app called Cheez (59%), which has a higher appeal among Tier-3 public in India as compared to tier-1 city residents (with 80% vs 42%).
Apart from these foreign apps, more than half claimed to have tried the homegrown app Roposo and are likely to use it in the future (54%).
Other regional apps such as moJ (47%), Gana hotshot (44%), Josh (42%), Taka Tak (42%), Mitron (40%) and Chingari (36%) also seem to have gained ground following Tik-Tok's departure but still lag behind non-Indian apps in the race to capture the video-sharing app market.
Until recently, TikTok was one of the most popular apps in India with a user base of over 200+ million. Amongst its various features, its short format option for creating videos (72%) appealed the most to users. Following that, its wide music library (58%), user-friendly interface (56%) and ease of creating content in regional language (54%) were some of the other features that attracted people to this platform, and these could be key takeaways for brands trying to replicate the Chinese app's success in India.
Even though respondents have shown an interest in switching to alternatives of TikTok, the popularity of the Chinese app cannot be completely dismissed. A large majority (63%) of urban Indians favour (strongly or somewhat) the ban on TikTok to be revoked, and only a fifth (21%) still 'strongly or somewhat' oppose the ban being lifted in India.
Talking about the ban on TikTok, followed by the surge in demand of regional short video apps, Deepa Bhatia, General Manager, YouGov India, said, "The government's decision to ban TikTok along with other Chinese apps has presented an opportunity for homegrown players who are gearing up to take advantage of this situation. It is therefore imperative to gauge the needs of the audiences and understand their preferences in this space. While the situation is favourable to entice people into using the apps, retention will be the real challenge, and the Indian players will have to do thorough research to achieve this goal."
Data collected online by YouGov Omnibus among 1001 respondents in the country between 4th and 6th August 2020 using YouGov's panel of over 6 million people worldwide. Data is representative of the adult online population in the country.