New YouGov survey, combined with BrandIndex daily data shows intent to purchase online is steadily improving since May, but shopping for essentials continues to be a priority
COVID-19 has changed the way the world functions and this has even reflected in the buying behavior of consumers. With the pandemic limiting brick-and-mortar retail, online shopping is experiencing significant growth.
In August, leading e-commerce players, Amazon and Flipkart, unveiled their online shopping bonanza with the Prime Day sale and Freedom sale, respectively. The media reports suggest these sales proved largely successful for both Amazon and Flipkart and brightened things up for local sellers attached to these platforms.
Data from YouGov BrandIndex, our daily tracking tool, shows after suffering a setback during the lockdown, Purchase Intent (whether one would purchase from a brand) for both Amazon and Flipkart picked up by the end of May with the government relaxing delivery restrictions in lockdown 4.0 (announced on May 17th). The scores continued rising throughout June and July and peaked in August around the sale time.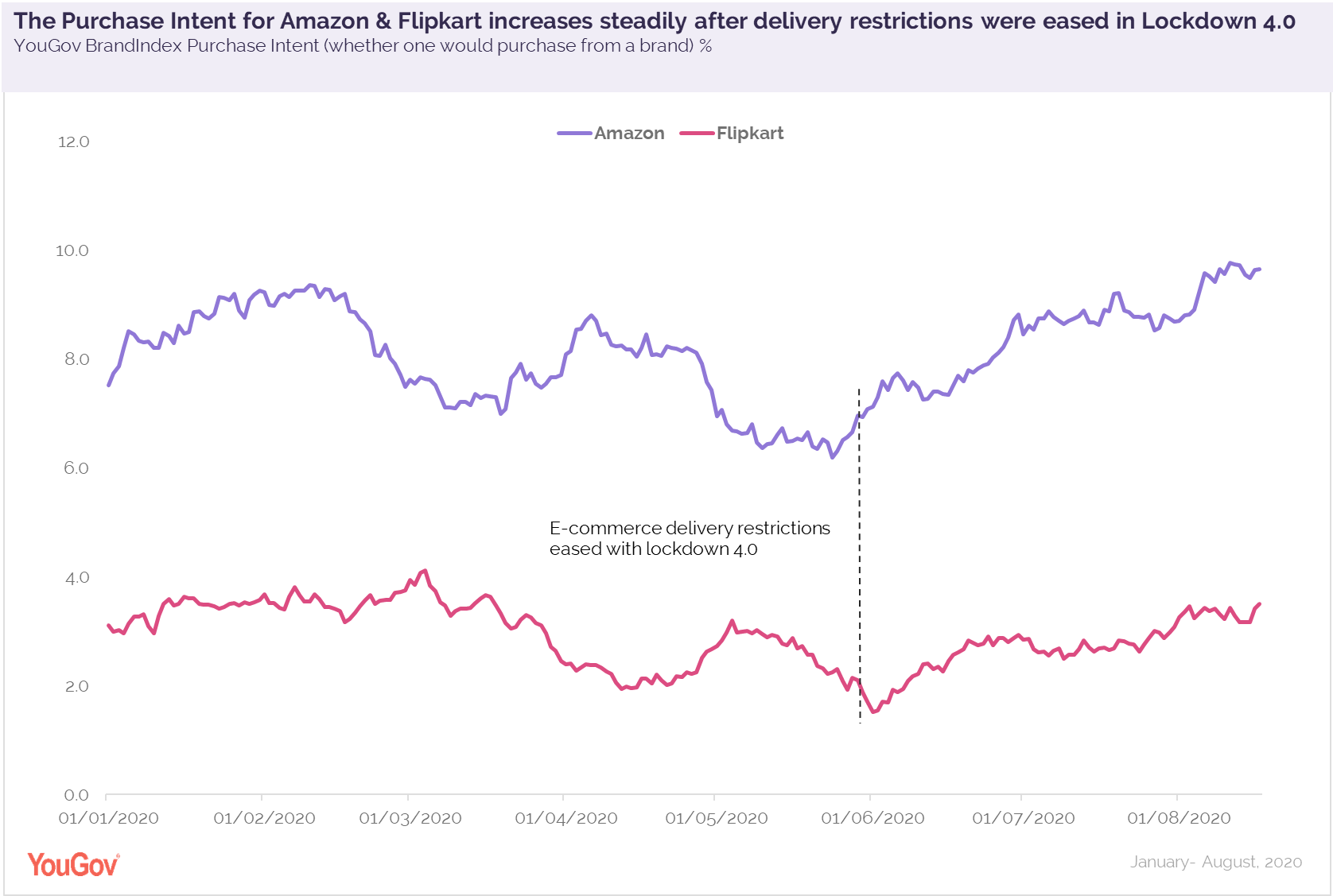 Keeping May-end as the baseline, we see the overall Purchase Intent for Amazon increased from 6.7 to 9.6 by the sale period (7th August). Flipkart noted a similar movement in its score, increasing from 2.2 to 3.4 within this period. However, Amazon maintains the lead in this space.
In addition to this, Amazon and Flipkart will be pleased to know that their advertising efforts were a success, with their Ad Awareness (whether someone has seen an ad for the brand in the past two weeks) increasing following the launch of the recent campaigns.
Amazon India started talking about its Prime day sale through social media posts around July-end and simultaneously collaborated with 14 stand-up comedians to keep customers engaged during the sale. In addition to this, the brand unveiled a campaign "Inn Dibbon mein kya hai" on July 31st, highlighting the resilience demonstrated by customers in adapting to a new way of life amidst Coronavirus. The continuous efforts by Amazon seem to have paid off as YouGov's BrandIndex data shows the brand's Ad Awareness (whether one has seen an advertisement from the brand in the past 2 weeks) has risen from 50.6 on 1st July to 55.0 on 8th August 2020.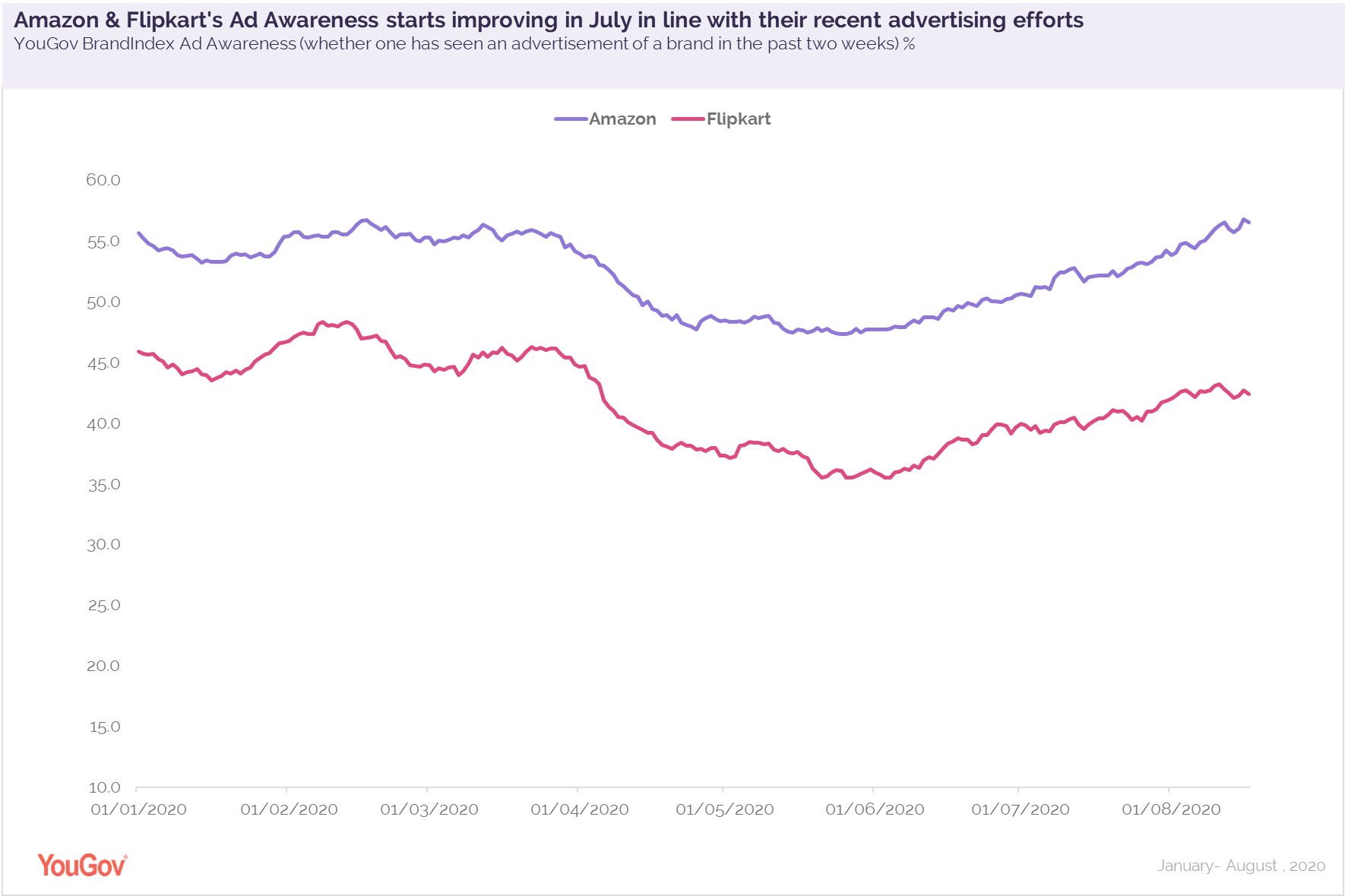 For the same period, Flipkart also recorded a rise in its Ad Awareness score, increasing from 39.9 to 42.6. This suggests that not only were these advertisements well received by people, they could have also influenced their intent to purchase from these brands.
YouGov's latest Omnibus adds further insights to the story and reveals more than half (53%) of urban Indians said they shopped online during these recent sales hosted by Amazon and Flipkart. Millennials (61%) were more likely to say this than Gen X (54%) and Gen Z (44%) respondents.
When asked which category of products they shopped from during the sale, grocery and household supplies (46%) emerged as the top choice, followed by fashion & accessories (42%) and beauty and personal care products (38%). Some spent on mobiles & gadgets (37%), kitchen & home décor (33%), and electronics & home appliances (24%). It appears that shopping for necessary or essential items continues to be a priority, and comparatively spending on big-ticket or leisure items is less preferred during this time.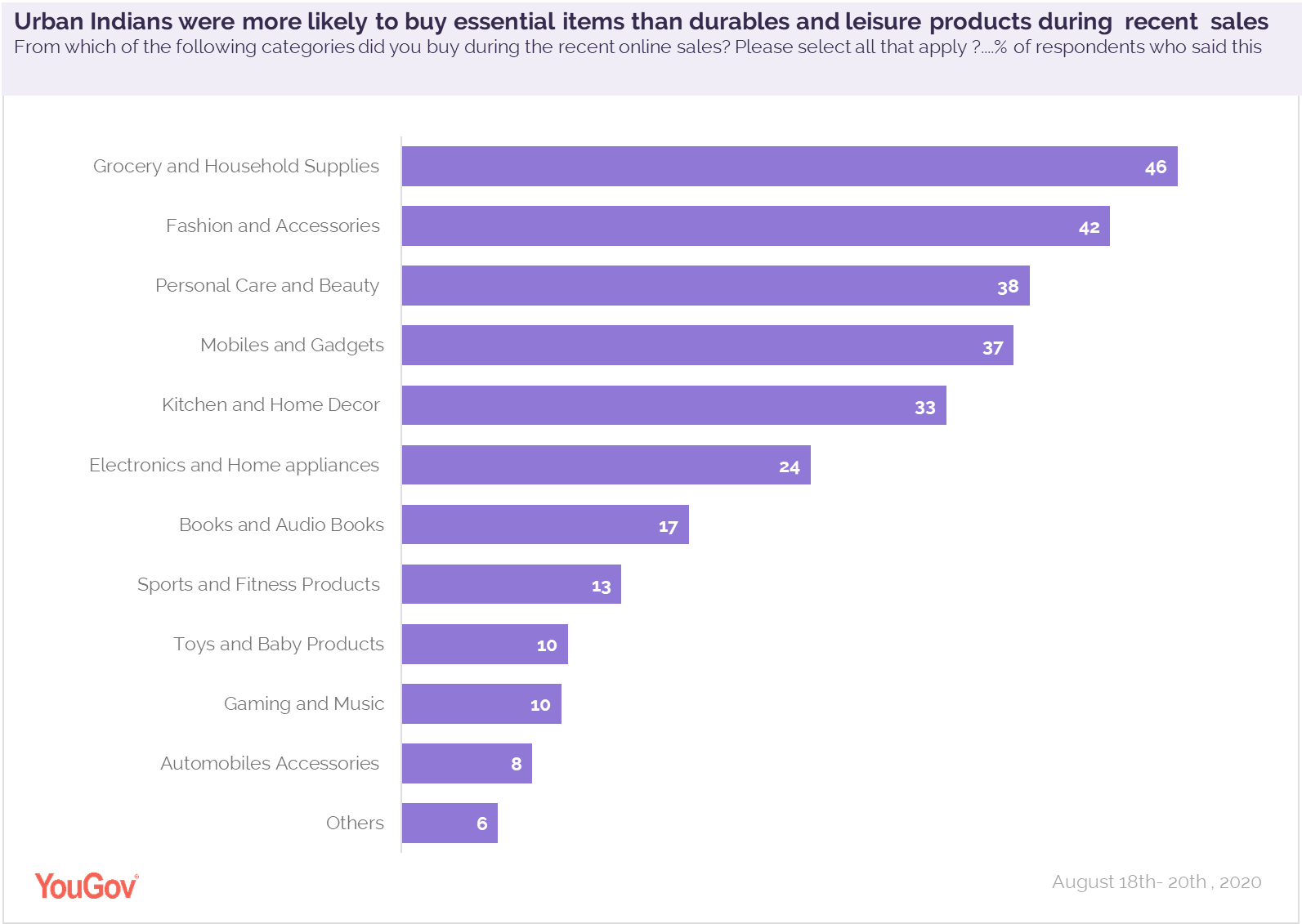 This is even evident from the amount of money spent shopping online. During the recent sales, nearly half (46%) spent up to INR 5000 on their shopping, and 41% spent between INR 5001-20,000 on their purchases. Very few (13%) claimed to splurge more than INR 20,000 on buying big-ticket items.
Talking about future sales, a vast majority of respondents (75%) said they are likely to buy during the upcoming festive and year-end sales. Although the intent is there, brands need to ensure people not only come online but increase purchases across categories. YouGov BrandIndex data will continue to track the intention to purchase and monitor the impact of recent events on consumers' brand perception and purchase behavior.
YouGov Omnibus data collected online among 636 respondents in the country between 18th-20th August 2020 using YouGov's panel of over 6 million people worldwide. Data is representative of the adult online population in the country.