YouGov's latest report provides an analysis of the global video games and esports landscape across 24 markets
The online gaming industry in India is a fast-growing business, evolving into competitive sports and professional gaming. With a growing community of active gamers, Gaming & Esports industry in India is likely to witness a boom in the coming years.
YouGov's new white paper, titled 'Gaming and Esports: The Next Generation', provides an analysis of the global video games and esports landscape across 24 markets.
Amongst the surveyed markets, India ranks among the top ten gaming countries in the world. At present, seven out of ten (71%) people in India claim to be gamers, playing video games or mobile games on any device.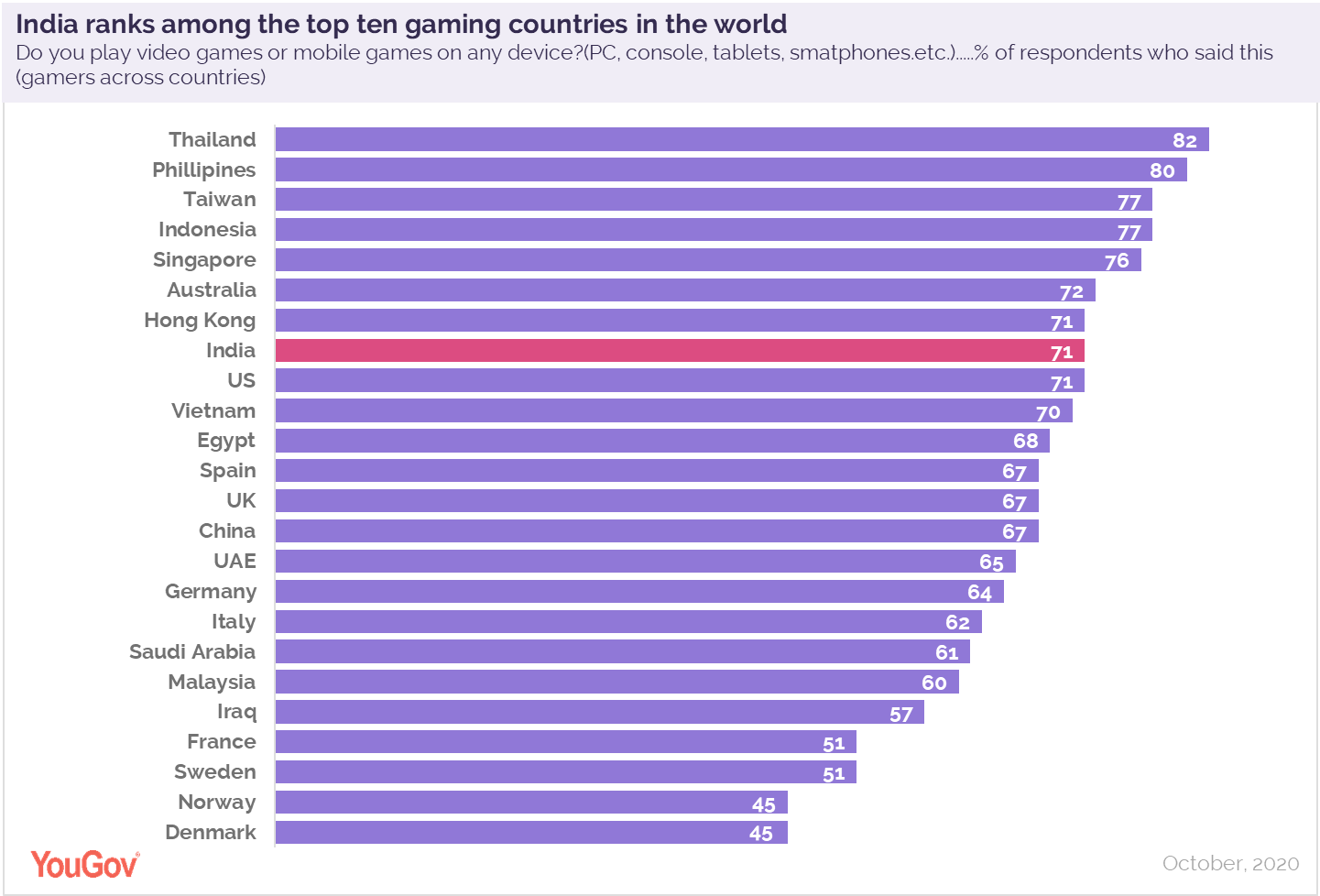 The percentage of gamers in India is at par with US (71%) and Australia (72%), however, it is lower than the proportions in South East Asian countries.
In India, mobile gamers - playing on a smartphone or tablet clearly outnumber PC or console gamers. Just 12% play on consoles compared to 67% who use a smartphone or tablet.
South and South East Asian countries generally have a higher percentage of mobile gamers and a lower share of console gamers. On the other hand, the leading markets for console gamers are Hong Kong (32%), Spain (29%), the US (28%), the UK (28%), and Australia (27%).
When it comes to category of gamers, India is among the top 10 countries comprising of light to regular smartphone gamers- with 82% of its gaming population playing games on their smartphones up to 10 hours a week, and only 16% identified as heavy and intense gamers (playing more than 10 hrs a week).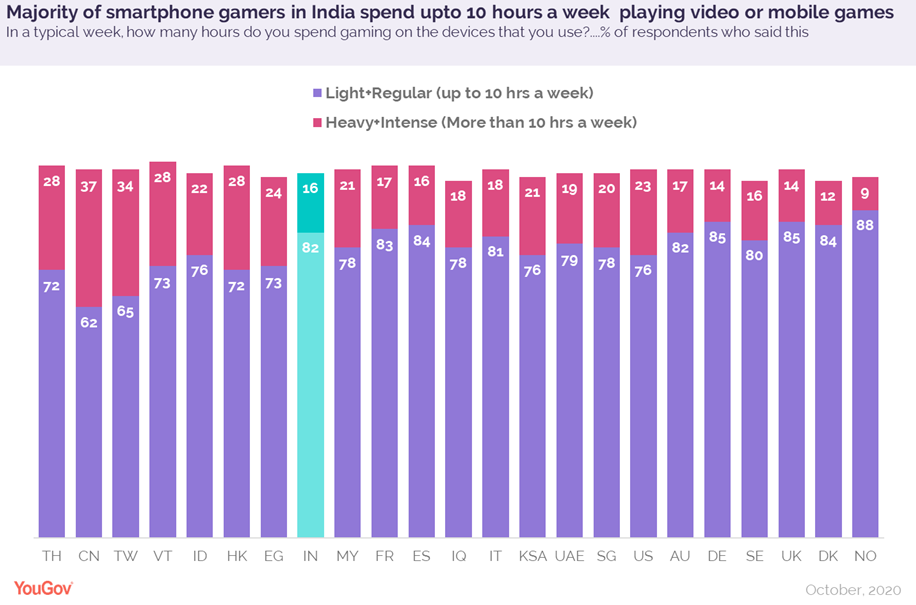 China and Taiwan have the most dedicated smartphone gamers with 37% and 34%, respectively, of the countries' mobile gaming population categorised as 'heavy or intense gamers'.
Apart from playing games, for an important sub-section of players, watching video games online has become as much of a pastime as gaming itself.
Our data shows YouTube Gaming is significantly more popular among gamers than any of it's competitors in several markets. Awareness is the highest in Vietnam (74%) and Indonesia (72%), followed by Thailand (68%), Philippines (66%) and India (59%). The same is true about engagement with YouTube Gaming, where once again we see South and South East Asian countries taking the lead.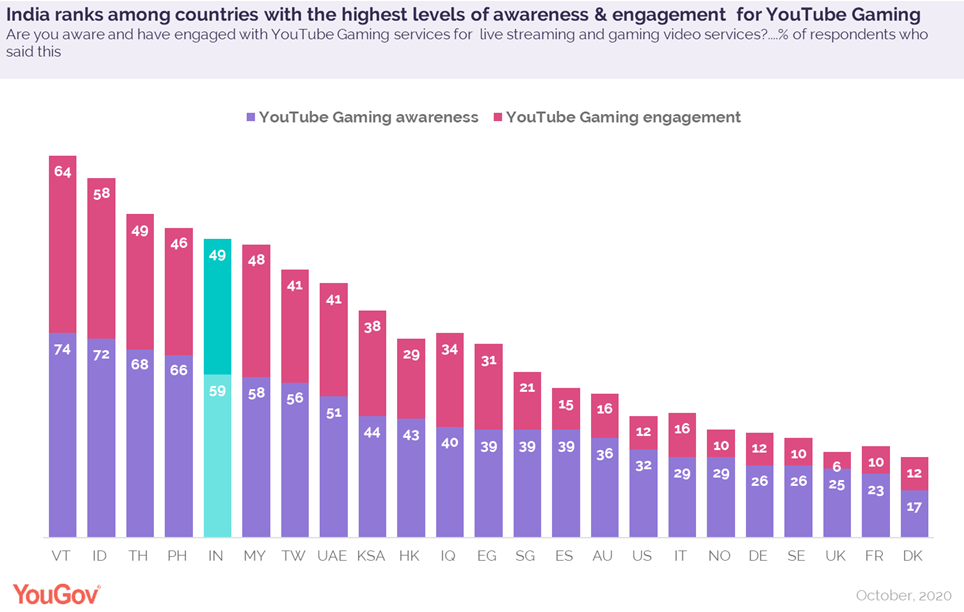 India ranks fifth globally in terms of awareness and third in terms of engagement with YouTube Gaming. The highly aware gaming audience seems to be equally engaged with the platform, presenting a huge opportunity for game developers and console manufacturers.
Compared to YouTube Gaming, a small percentage have engaged with Twitch or Facebook Gaming (12% each). Twitch is more competitive in western markets such as the US and UK – where awareness for the platform is higher than that for YouTube Gaming.
When it comes to Esports, familiarity in India is low - at 31%. The greatest familiarity comes from consumers in East Asia, with seven in ten people in China (72%), Taiwan (71%) and Hong Kong (70%) describing it correctly as 'competitive video gaming, primarily in the form of organised/ professional events'.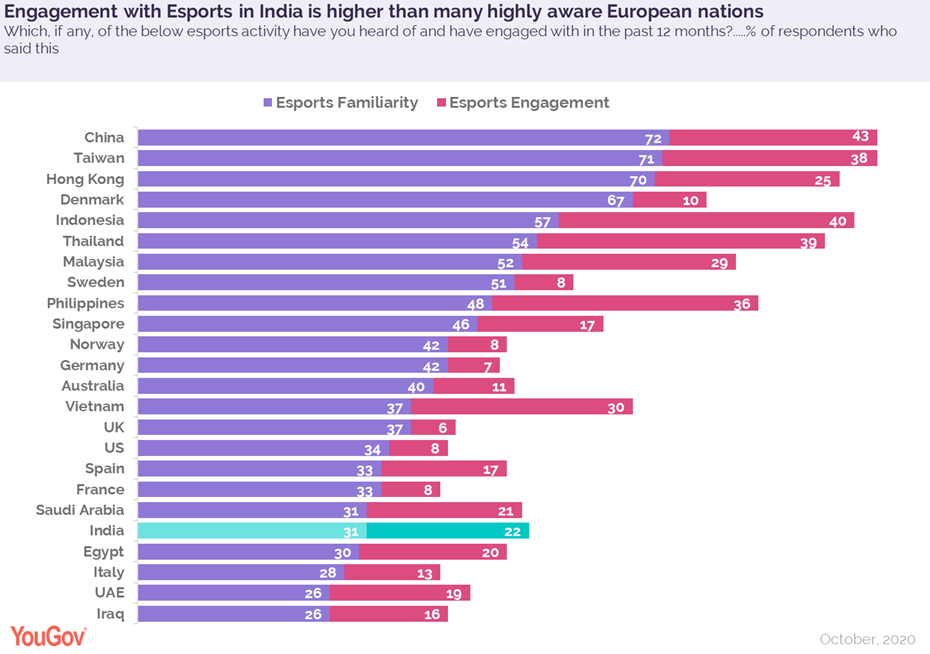 Large proportions in South East Asia also seem familiar with the term, although European countries' familiarity with esports varies considerably.
Despite low familiarity, engagement with esports in India is much higher than in the highly aware markets such as the US, the UK, and several European countries. This suggests Indians are more likely to embrace these competitions, once they know more about them, hinting at a bright future for esports in the country.
Talking about the whitepaper, Nicole Pike, Global Sector Head of Esports & Gaming at YouGov, said, "This year the global video gaming industry has captured the attention of brands, marketers, and investors on a large scale. But this year has also highlighted just how quickly things can change in the gaming ecosystem, making it difficult for advertisers and sponsors to know if, when and how to spend wisely – and for gaming companies to determine how much more growth is on the horizon.
"YouGov is primed to play an important role in demystifying this industry for brands through data, which is why our first large-scale, global whitepaper on esports and gaming comes at the perfect time. Our breadth and depth of global tracking, profiling, and custom survey data is industry-leading, and I'm excited to showcase just how valuable the combination of daily performance tracking and nuanced analysis of the world's gaming audience can be to stakeholders across the gaming ecosystem.
"This whitepaper offers a foundational understanding of gamers – which, given the number of countries, platforms, titles, streaming sites, and competitions at this audience's fingertips is far from basic in today's gaming landscape. Beyond our extensive industry expertise, we also explore key trends that will drive continued growth for gaming into 2021, all rooted in data from consumers around the world – the ultimate source of truth for understanding the next generation of gaming."
Download the full report here.
***Results based on more than 27000 people surveyed on YouGov Omnibus across 24 countries, including 1003 respondents from India. Sample for India is a national urban representation of the country.