More than half females have had an unsafe experience in the past, yet only some have taken action against it
In YouGov's latest survey, we asked women to indicate how often they felt unsafe in 19 different scenarios from daily lives. Most urban Indian women (52%) said they always or often felt unsafe while walking alone at night. 26% feel anxious while walking in certain neighbourhoods or when walking with a friend, partner or family member at night (26% each), while 18% feel insecure walking alone even during the day time.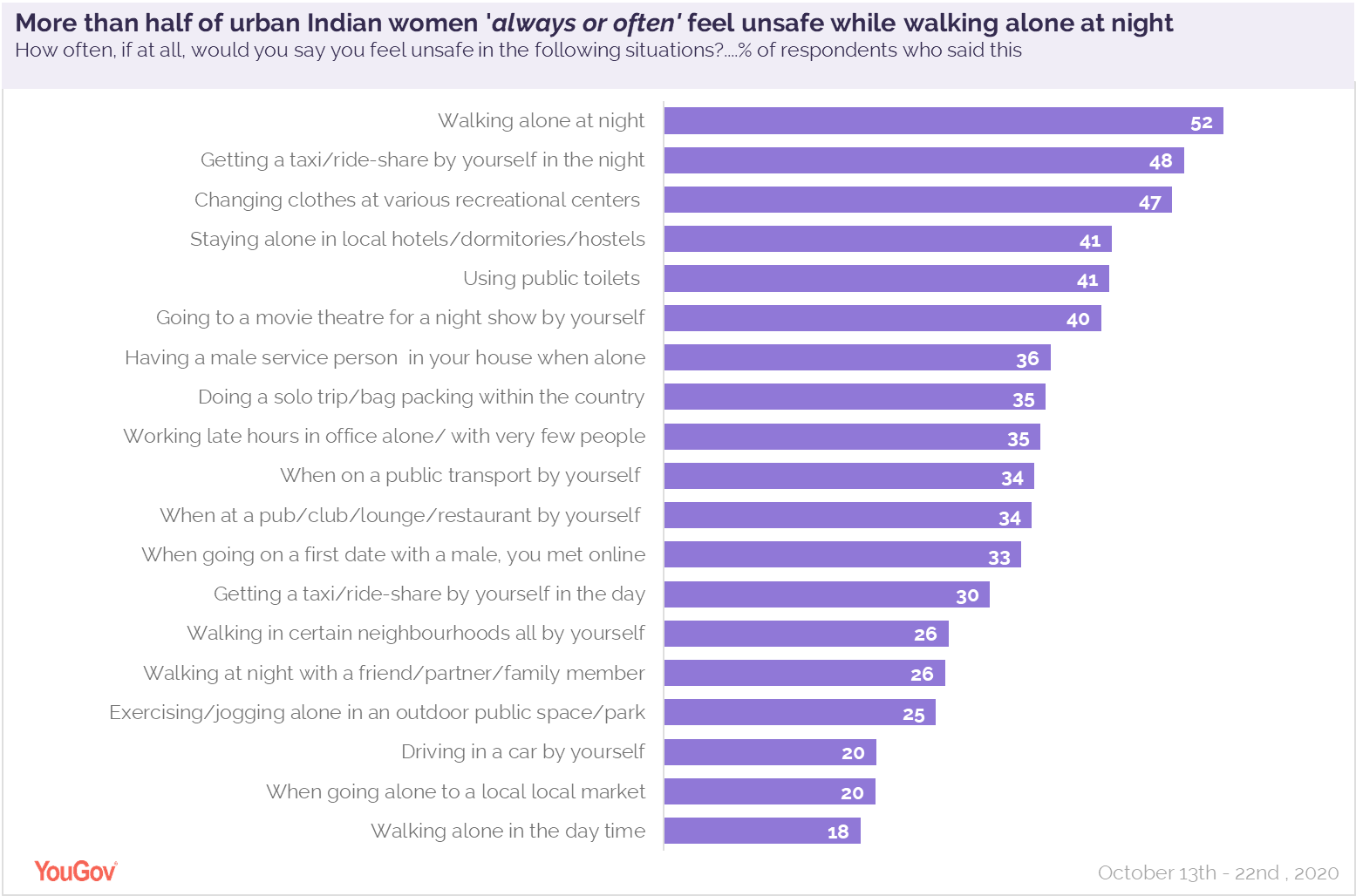 Nearly half the surveyed women (48%) felt unsafe getting a taxi or ride share alone at night (48%) or while changing clothes at public recreational centres like swimming pools or gym (47%).
Many (36%) felt unsafe being alone with a technician at home, working late hours in office alone or with a few colleagues (35% each) or going on a first date with a male they met online (33%).
Fear is comparatively lower when exercising alone in an outdoor space (25%), driving a car by themselves (20%) or when going alone to a local market (20%).
In order to deal with these fears, most women (52%) take measures on a regular basis to ensure their personal safety. 33% take precautions sometimes and only 7% do not take any measures at all.
Keeping constant awareness of their surroundings (60%) and avoiding interactions with strangers (59%) are the most widely taken precautions in order to maintain safety.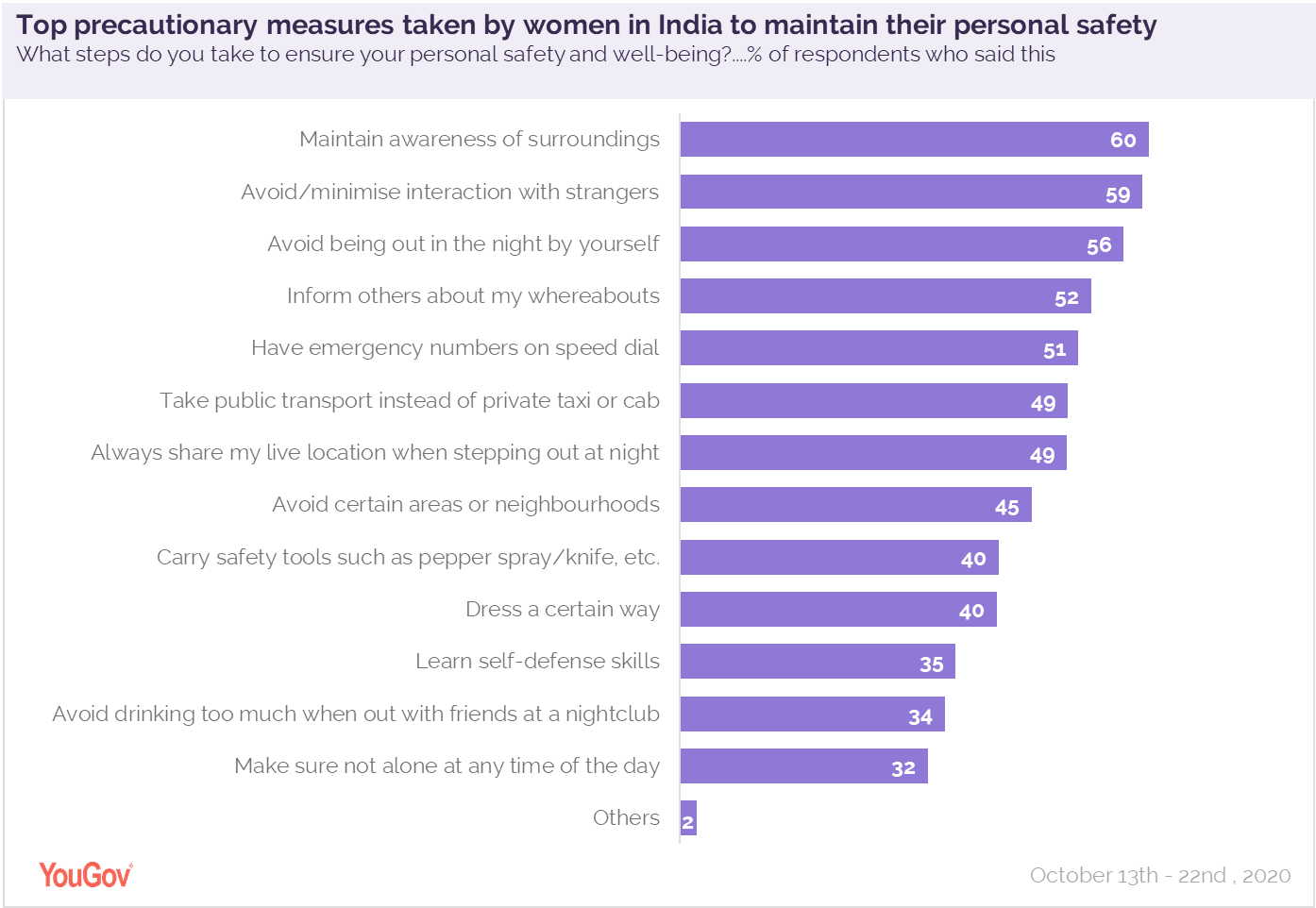 Apart from these, more than half avoid being out in the night alone (56%), keep family or friends informed about their whereabouts (52%) or keep emergency numbers on speed dial (51%) in order to be safe.
The fear has forced some women to go a step further and make changes such as, dress a certain way (40%), carry safety equipment such as pepper spray, etc. along with them (40%) or avoid drinking a lot when out with friends (34%).
According to the survey, seven in ten women in India feel crime against women has increased in the past year. One in five (20%) feel it is the same as last year and only 9% think it has decreased in the last one year.
Talking about themselves, more than half women in India (55%) said they have experienced incidents in the past that have made them feel unsafe. Despite this, less than half of this percentage have lodged an official complain with either the police (24%) or the women's council (16%).
A large proportion of women did not take any action after the incident and discussed the matter with friends/ family (46%) or took charge of the situation themselves (34%). A quarter (24%) ignored the incident altogether.
The data shows most women trust the police and judiciary only to some extent when it comes to ensuring their safety or imparting justice to the victims. Only some (22% and 34% respectively) trust these institutions a lot. The lack of absolute trust in the law and police force of the country could be the reason for women dealing with unsafe situations on their own instead of approaching the authorities.
When asked what steps could help reduce crime against women, a majority (67%) feel early education of men to respect women could be effective in this regard. Many (62%) believe harsher punishments or fast track trials could be effective while a little over half (52%) believe better patrolling by police could help reduce crime against women.
YouGov Omnibus data collected online among around 700 female respondents in India in October 2020 using YouGov's panel of over 6 million people worldwide. Data is representative of the adult online population in the country.