The search engine giant enjoys the best brand health among urban Indian for the second consecutive year
Amazon and Swiggy make notable improvements to their brand perception, but their rankings remain unchanged this year
Dettol makes an impressive new entry into the top 10 brands list
Google takes the top spot for best brand globally alongside tech giants WhatsApp, YouTube, Samsung and Amazon
Google tops YouGov's 2020 Best Brand Rankings in India yet again and becomes the healthiest brand among urban Indians. YouTube and WhatsApp have swapped their positions this year and follow in second (53.3) and third (53.1) position, respectively.
Despite topping the rankings, it was a tough year for tech brands, with each of these brands recording a decline in brand health scores year-on-year. Facebook also recorded a marginal decline to its score, although it has moved up two places to sixth (38.3) in this year's rankings.
The rankings were based on the Index score from YouGov BrandIndex, which is a measure of overall brand health calculated by taking the average of Impression, Quality, Value, Satisfaction, Recommend and Reputation1.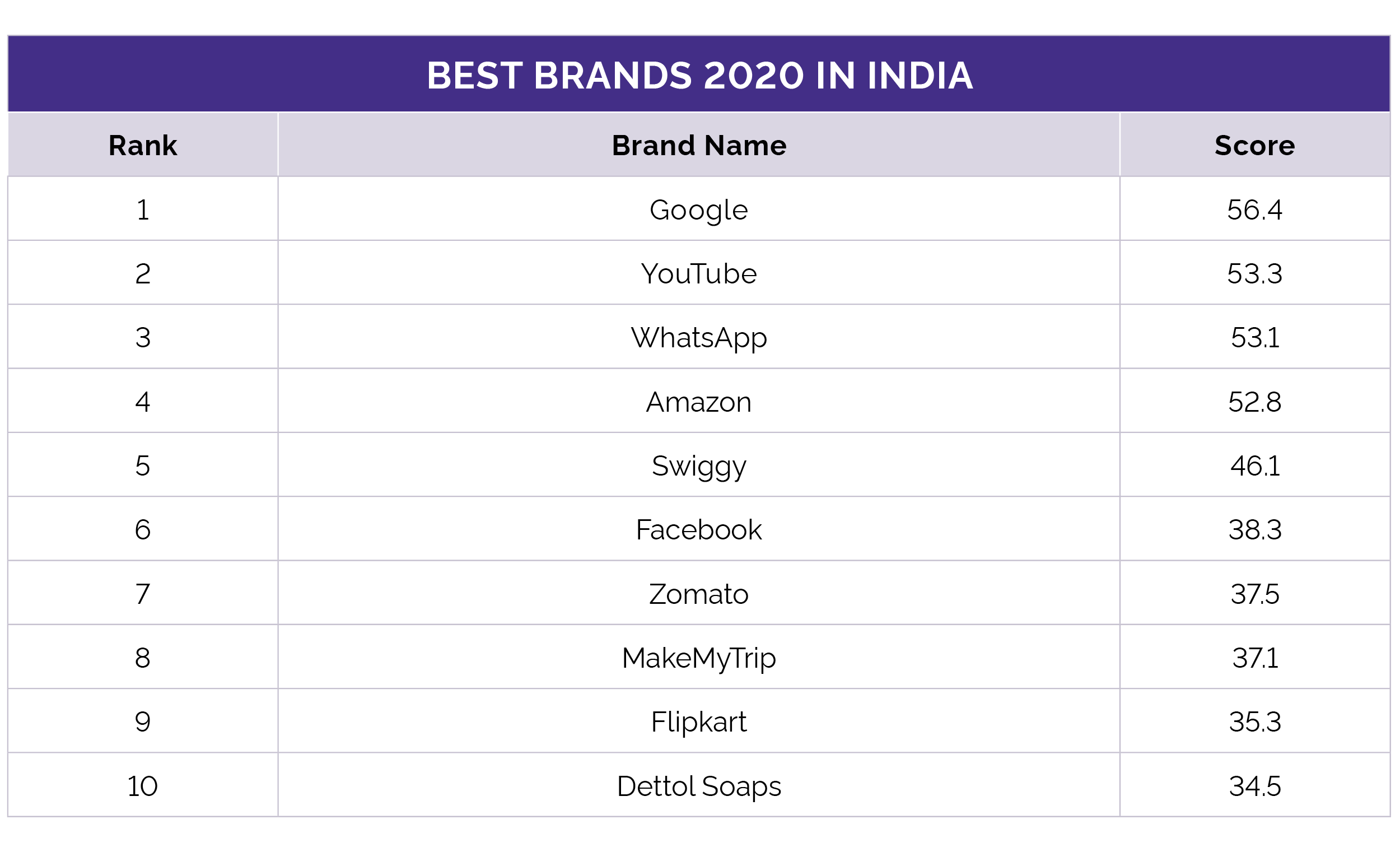 Apart from tech brands, the top 10 list this year is dominated by e-commerce brands, highlighting the rising engagement of Indian consumers with e-commerce platforms during the ongoing health crisis.
Amazon and Swiggy have made notable improvements to their brand perception amidst the pandemic. However, there has been no change in their rankings, and they remain in fourth (52.8) and fifth (46.1), respectively, this year as well.
Zomato has moved up three places in the list, from tenth in 2019 to seventh (37.5) in the 2020 rankings. MakeMyTrip on the other hand has moved down two places- to eighth (37.1), and Flipkart has made a new entry into the list, in the ninth spot (35.3).
Dettol had a very strong year in terms of brand health perception, making its entry in the top 10 list. Along with being in the top 10 brands, Dettol Soaps is also the "most improved" brand of the past year, with a change in score of +5.7.
The rankings also show the brands which have improved the most over the past 12 months.
After Dettol Soaps, State Bank of India is the second-best improver, with a change in score of +4.4.
The pandemic has put the focus on health care and personal hygiene. It is therefore not surprising to see personal care brands: Lifebuoy Soaps and Santoor Soaps make an appearance in the improvers list in the third (+4.3) and eighth (+2.4) position, respectively.
In particular, banks and insurance brands have made marked improvements to their brand perception over the past year. Apart from the State Bank of India, SBI Life Insurance (+2.9), SBI General Insurance (+2.6) and HDFC Life Insurance (+2.2) also appear in the list of improvers.
Tata Motors (3.3) and Samsung Smartphones (+2.4) are other names that complete the list of top 10 improvers of 2020.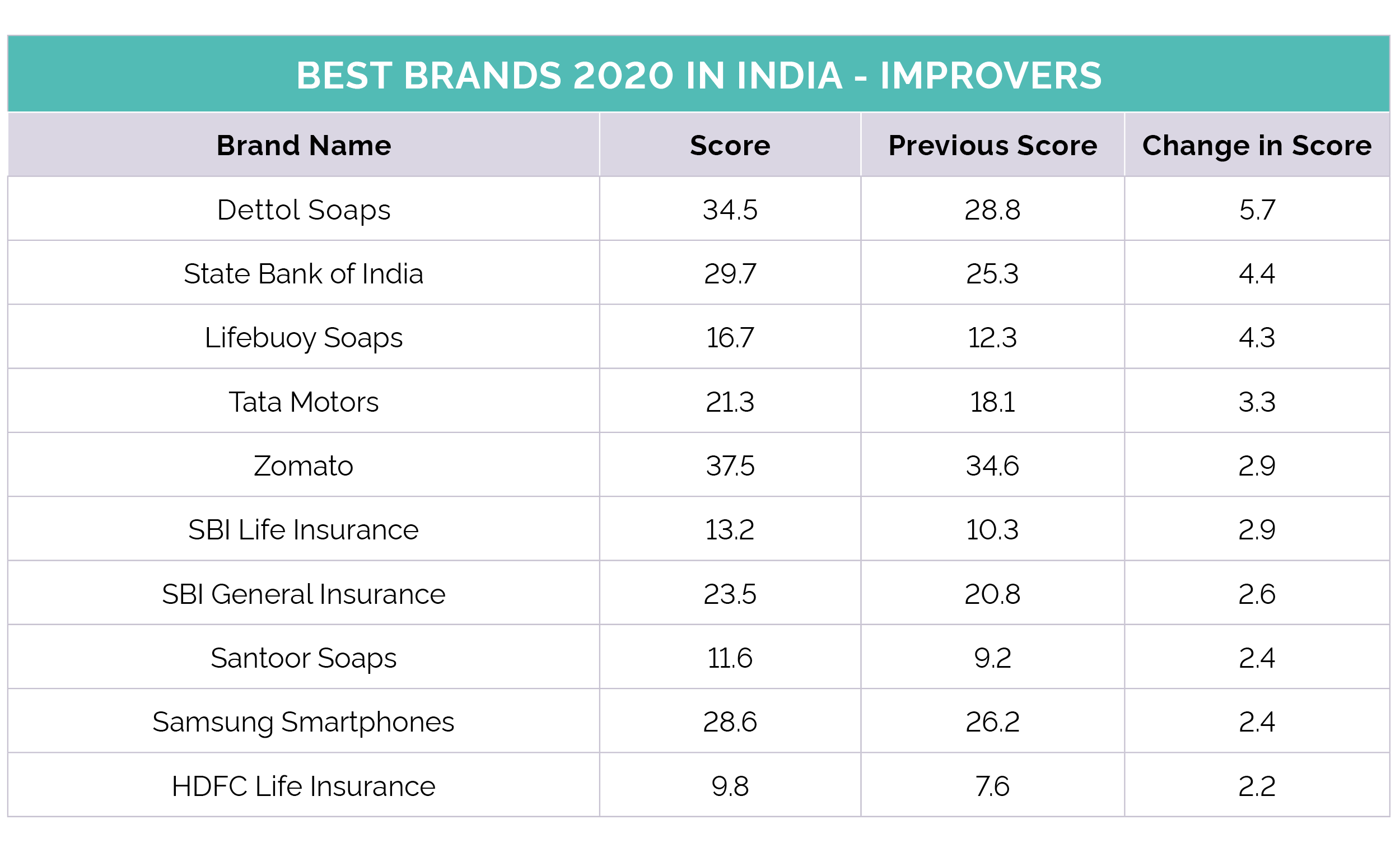 Want to know your brand's rank? Or learn more about YouGov BrandIndex?
Complete the form below and one of our experts will be in touch.
Tech companies dominate the global best brand rankings
YouGov also released this year's annual global best brands rankings with Google taking the top spot. Tech brands dominate the top of the list with the search and advertising giant followed by WhatsApp, YouTube, Samsung and Amazon.
With Netflix and Facebook in sixth and seventh respectively, the only non-tech-related brands in the top ten are Singaporean ecommerce platform Shopee (eighth), Swedish retailer IKEA (ninth) and US sportswear titan Nike (tenth).
YouGov BrandIndex conducts 8 million interviews across the world every year who answer questions about a company's quality, value and their level of satisfaction with the brand, among other measures. YouGov BrandIndex operates in over 40 countries across the globe, covering markets in North America, South America, Europe, Africa, Asia, the Middle East and Australasia.
For this year's global list, YouGov used data from 33 markets – data from countries that cover three sectors or fewer were not counted in the top 10.
Digital brands dominate the global ranking and with good reason. By their very nature the likes of Google, YouTube, and WhatsApp are available in most places on Earth to anyone with internet access. However, while much of the list has only been around for the last couple of decades, classic brands IKEA and Nike that have been around a good while longer also make the list.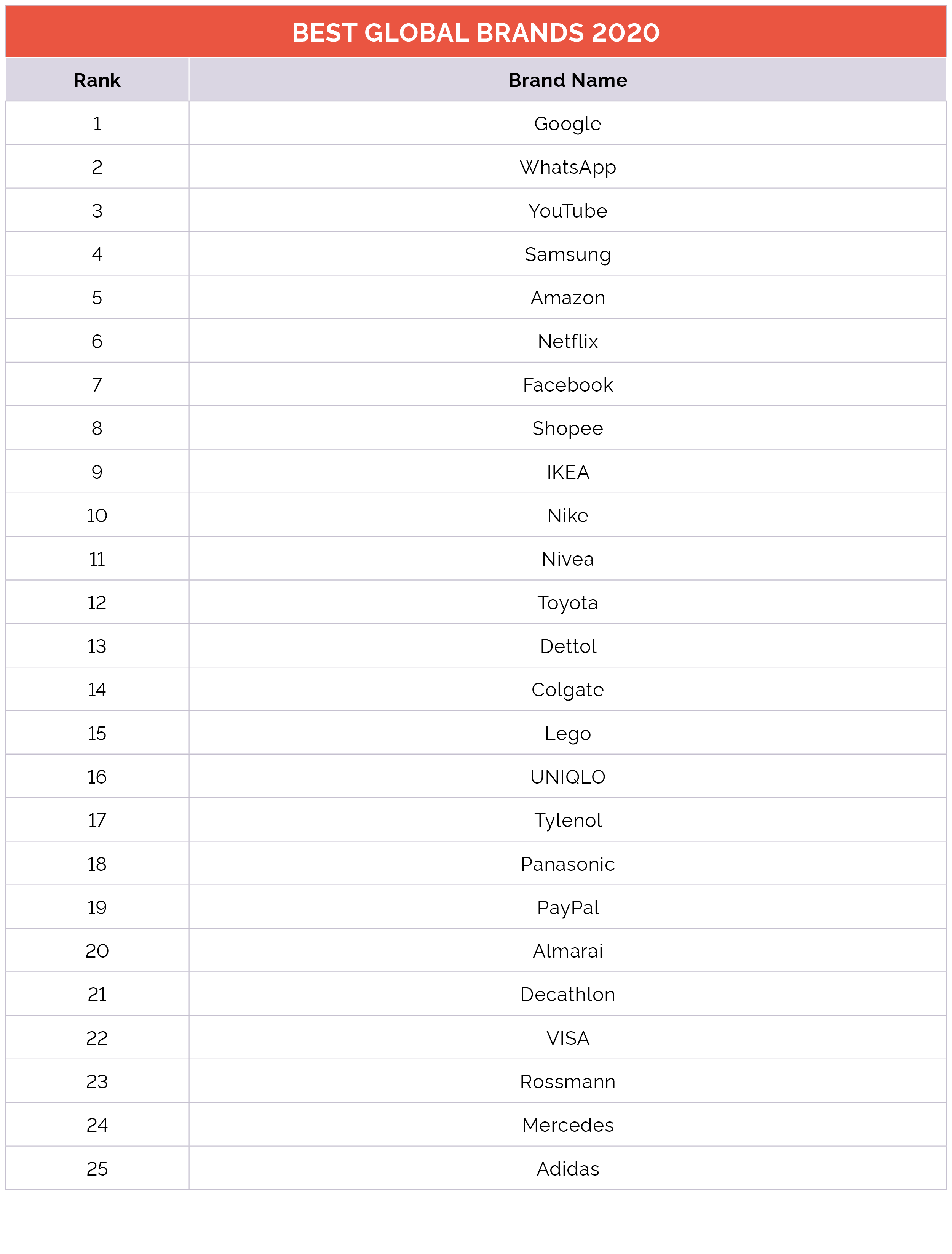 Commenting on the research, Deepa Bhatia, General Manager, YouGov India, said, "YouGov's 2020 Best Brand Rankings place Google in the first place yet again. In addition to being the best brand in India, the tech giant dominates the global rankings as well, highlighting the power of a strong brand.
India's top 10 list this year has a dominance of e-commerce brands, showing the rising engagement of urban Indian residents with online shopping amidst the pandemic. Another category of brands that have benefitted from the health crisis are personal care brands. The presence of brands such as Dettol, Lifebuoy and Santoor Soaps in both the top 10 as well as Improvers list highlights the changing consumer landscape amidst the pandemic, putting the focus on health and personal hygiene."
Methodology
The rankings are drawn from interviews conducted between October 2019 and September 2020. Each day consumers are asked their view on 262 brands in India, which allows YouGov to build a picture of how different brands are perceived by the general public through comparing Index scores – which is a measure of overall brand health calculated by taking the average of Impression, Quality, Value, Satisfaction, Recommend and Reputation.
1Impression – whether someone has a positive or negative impression of a brand
Quality – a net measure of whether consumers think the brand represents good or poor quality
Value – a net measure of whether consumers think the brand represents good or poor value for money
Satisfaction – whether someone is a satisfied or dissatisfied customer
Recommend – whether someone would recommend a brand to a friend or not
Reputation – whether someone is proud or embarrassed to work for a brand