Millennials are most likely to support as well as say their consumption of digital content is likely to increase due to this move
YouGov's latest survey reveals nearly two-thirds (64%) of urban Indians support (either strongly or somewhat) the government's decision of bringing digital content including films, web series as well as online news under the ambit of the Ministry of Information and Broadcasting.
Only a small number (13%) said they oppose this move, while 22% are unsure of their decision.
The findings are similar to the ones revealed by YouGov's survey last year where a majority had given their consent for the censorship of digital content.
Is it interesting to note that millennials emerged as the greatest advocates of digital censorship; with one in seven (69%) saying they support the government's decision to regulate online content.
The majority of urban Indians favour this decision because they feel online content includes a lot of inappropriate content for children (56%). Many find depictions of violence and bloodshed (48%) and nudity & strong language (44%) in certain kinds of content concerning.
Thinking about the impact of this decision on OTT/ Video-streaming platforms, two in five respondents (40%) feel regulation of digital content will make it more suitable for children as well as members of other age groups. A third (33%) are positive about the content quality improving, and almost as many (31%) feel the viewership of digital channels will increase due to this.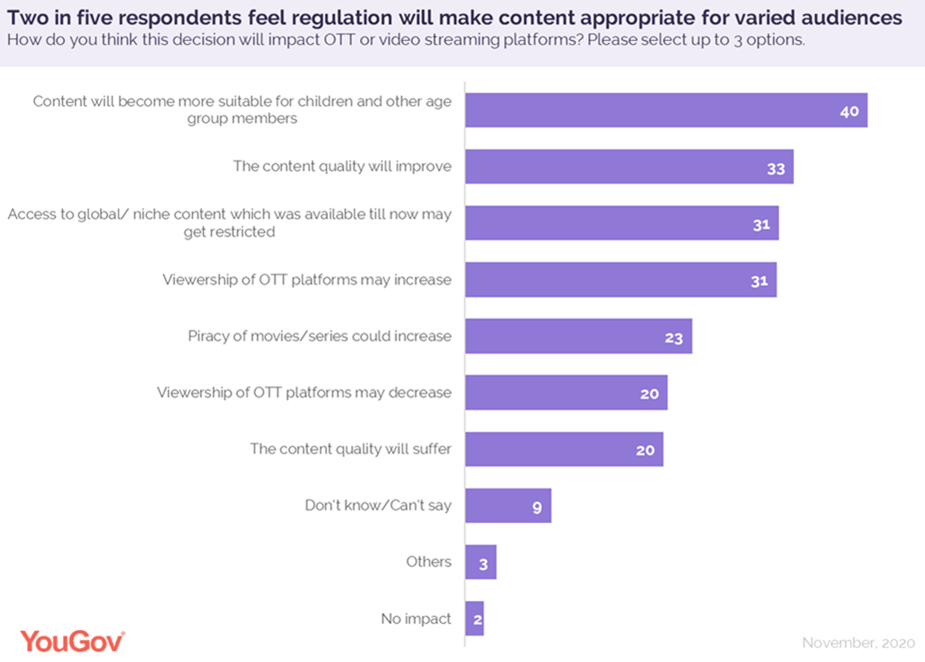 Many expect gloomy outcomes such as restriction of access to the global/niche content (31%), increase in the piracy of movies or series (23%), decrease in the viewership, and deterioration of the quality of content (20% each).
People's positive expectations from digital media regulation extend to online news platforms as well. One-third of urban Indians said regulation of digital news would lead to better clarity of facts around current events and happening (33%). Another third thinks the spread of fake news could now be controlled (33%), and just as many feel that the quality of news on digital platforms will improve (32%).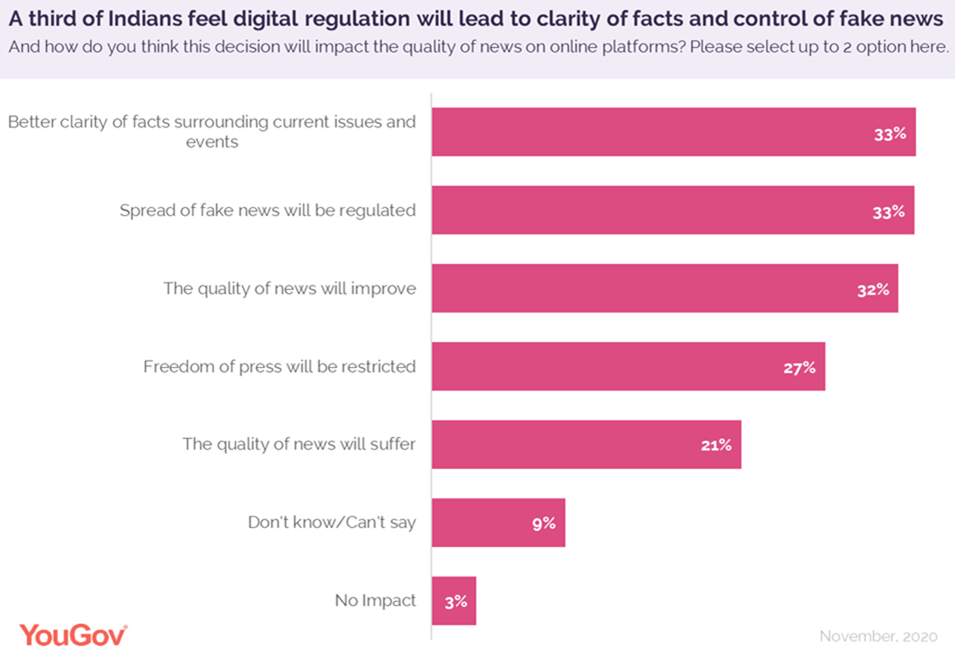 Some believe once digital news comes under the purview of the government, it may lose its essence as the freedom of speech will get restricted (27%), while others are of the opinion that it might affect the quality of news (21%).
When asked about the impact on their personal consumption of digital media, a third (33%) said their consumption of content on OTT platforms is likely to increase because of the filtration of content. One in five (20%) feel it will decrease and for a quarter (24%) it is likely to remain unchanged.
Similarly, two in five (39%) respondents said their personal consumption of digital news is likely to surge due to the regulation. One in three (31%) feel it will remain unchanged, and only a small number (16%) hinted towards a decline in their online news consumption.
Amongst all the age groups, millennials were most likely to say their personal consumption of both digital content and digital news will increase once content goes through regulation- at 40% and 45%, respectively.
YouGov Omnibus data collected online among around 1001 respondents in India between 17th and 20th November 2020 using YouGov's panel of over 6 million people worldwide. Data is representative of the adult online population in the country.