A majority of urban Indians have downloaded their favourite QSR's app, and many claim their order frequency has increased since then
Online food ordering has gained momentum amidst the pandemic, putting a greater focus on mobile apps and digital services.
Earlier this year restaurants were in a state of rebellion against food aggregator platforms due to high commissions charged on deliveries. This led to many restaurants cutting ties with these platforms or branching out on their own.
COVID-19 hastened the transition for many players, resulting in new or upgraded restaurant apps.
YouGov's latest survey shows when it comes to food delivery from QSR chains; three in five urban Indians (60%) prefer ordering food through apps such as Zomato and Swiggy.
Even though a majority prefer to order through a third-party app, many people (35%) choose to place their order directly through a restaurant's mobile app or online through its website (26%).
A few (18%) prefer ordering through both- food aggregator as well as restaurant apps.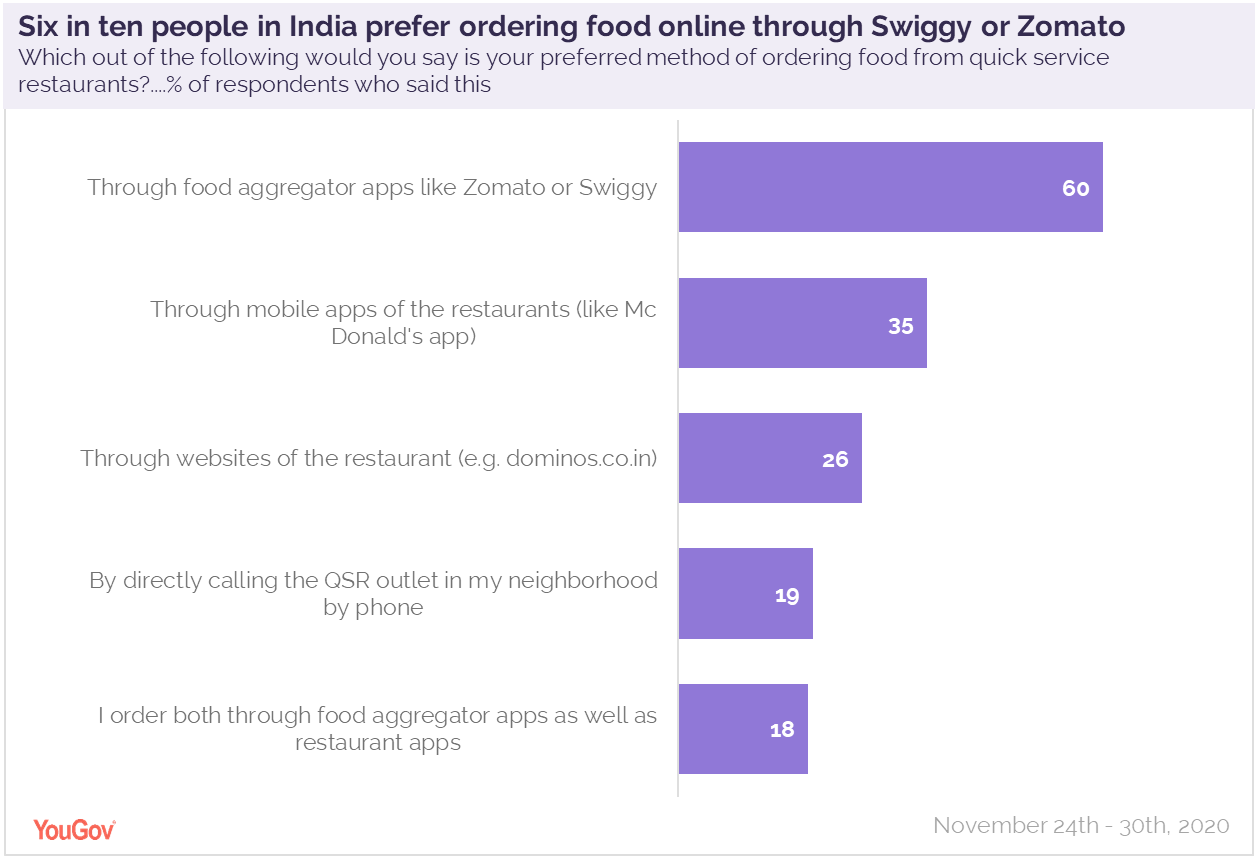 When it comes to quick-service restaurants, more than three in five (62%) urban Indians claim to have the mobile apps of their favorite chains. One in six (15%) seem to be ignorant about the restaurant's app but are willing to download it. Whereas, a fifth (19%) are still reluctant to download the app despite being aware of it.
Out of those hesitant to download the apps, close to half (45%) said they prefer ordering food through a food aggregator's app than a restaurant app, and a little over a third (35%) are more confident of the safety practices followed by the former.
Even though food aggregators lead the delivery race, not all is lost for restaurants. Among those who already have the app of their favourite food chains, close to half (45%) admit their order frequency has increased since they downloaded the app.
The pandemic has made the world more digitally inclined. When asked how they came to know about their favourite restaurant's app, social media (72%) emerged as the top source, followed by online ads (65%) and word of mouth publicity by friends or family (51%). This indicates digital ads should be highly considered by food chains in their promotional strategies.
Talking about what would encourage people to download and use the mobile apps of quick-service restaurants, more than half pointed towards discount coupons and special offers by restaurants on their apps (52%).
Many respondents said they would be encouraged to order upon seeing the safety and quality norms practised by the restaurant for deliveries (46%), while others are attracted towards cashback on certain credit cards (43%).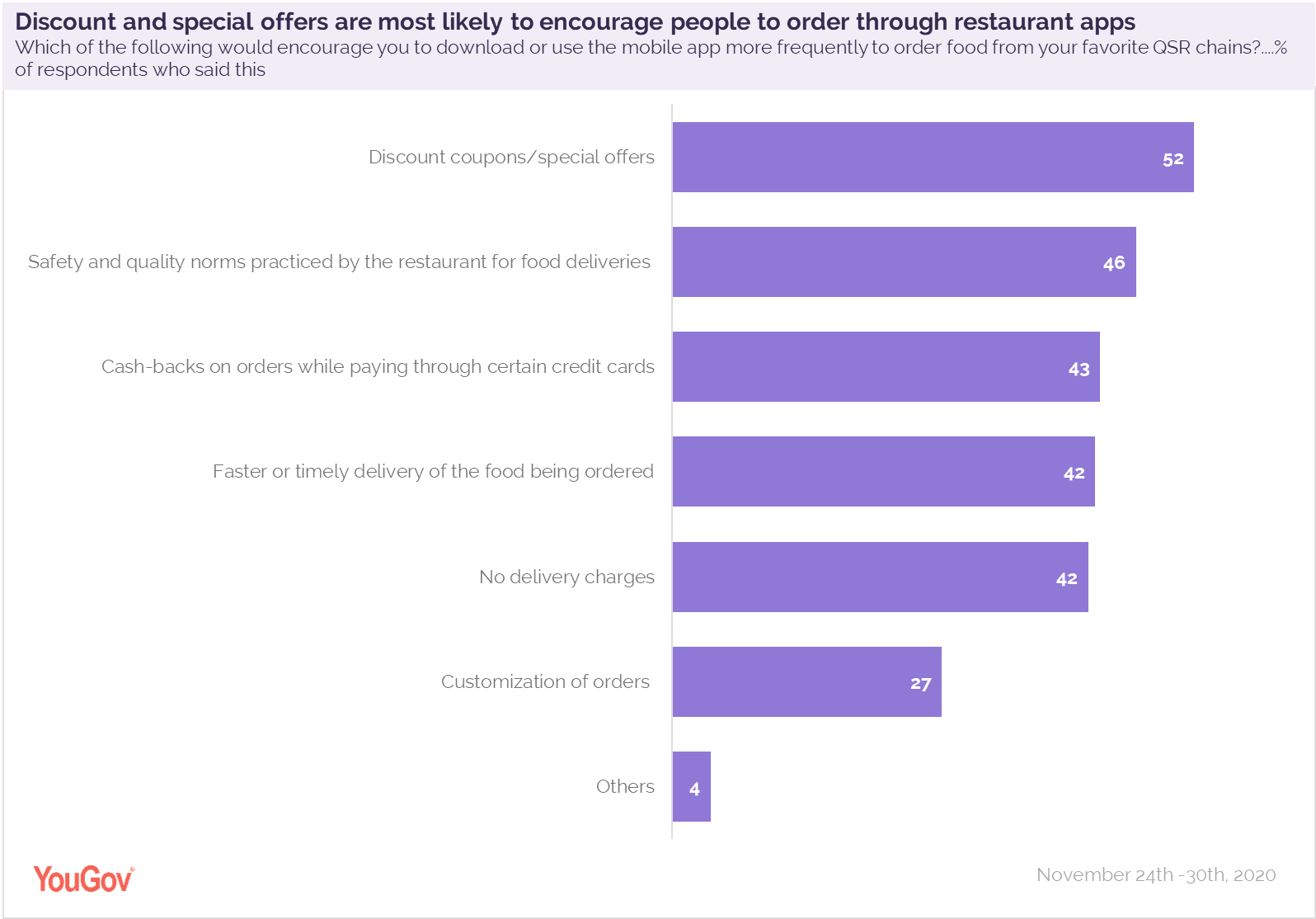 Faster or timely deliveries and no delivery charges (42% for each) are some of the other steps that restaurants can take to entice customers to order through their mobile apps.
Talking about the need for mobile-based apps for restaurants, Deepa Bhatia, General Manager, YouGov India, said, "Mobile apps have given new meaning to quick service. These apps become more relevant in the current pandemic where social distancing has become a norm. While many restaurants have their own apps, food aggregators seem to be leading the delivery race. To emulate their position in the delivery space and to avoid the limitations of third party platforms, restaurants need to strengthen their online offerings by extending propositions that encourage customers to order through their own apps than others'.
YouGov Omnibus data collected online among around 1001 respondents in India between 24th and 30th November 2020 using YouGov's panel of over 6 million people worldwide. Data is representative of the urban adult population in the country.