The Indian auto manufacturer enjoys the best brand health among urban Indians
The top 10 list sees a dominance of Japanese auto brands and German luxury cars
Honda, in particular, seems to have had a good year in terms of brand health
Amidst stiff global competition, Tata Motors and Royal Enfield secure a spot in the rankings
Maruti Suzuki tops YouGov's 2021 Auto Rankings in India with an Index score of 28.6. Despite this year's global pandemic and consequent economic downturns, the Indian auto manufacturer enjoys the best brand health among consumers in India.
The rankings were based on the Index score from YouGov BrandIndex, which is a measure of overall brand health calculated by taking the average of Impression, Quality, Value, Satisfaction, Recommend and Reputation1.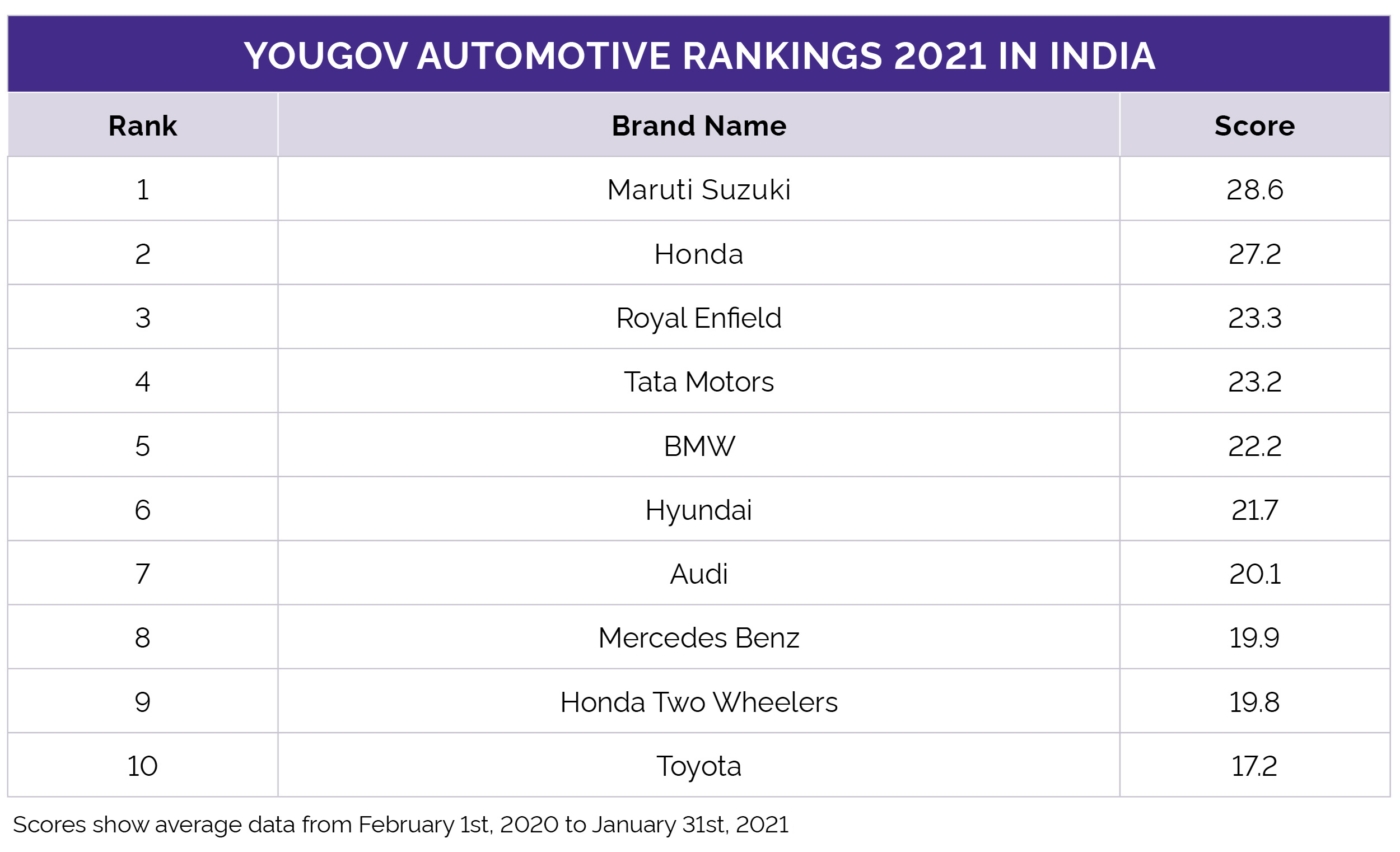 The 2021 rankings show urban Indians' strong affinity towards Japanese auto brands. After Maruti Suzuki, Honda takes the second place with a score of 27.2.
Honda particularly seems to have had a great year despite the pandemic. The brand created awareness about the pandemic through its successful ad campaign "Until we drive again #Stayathome" created entirely from home.
Apart from this, the Japanese car manufacturer took several steps to ensure the safety, well-being and convenience of its customers and dealers across the country amidst a national lockdown.
Along with the parent brand, Honda 2 wheelers also makes an entry into the list at nine (with a score of 19.8).
Hyundai and Toyota take the sixth (21.7) and tenth (17.2) place, respectively.
German luxury auto brands BMW, Audi and Mercedes Benz take fifth, seventh and eighth place in the rankings, with a score of 22.2, 20.2 and 19.9, respectively.
Despite stiff competition from foreign brands, two Indian brands make an appearance in the list: Royal Enfield at third (score of +23.3) and Tata Motors at fourth (score of +23.2)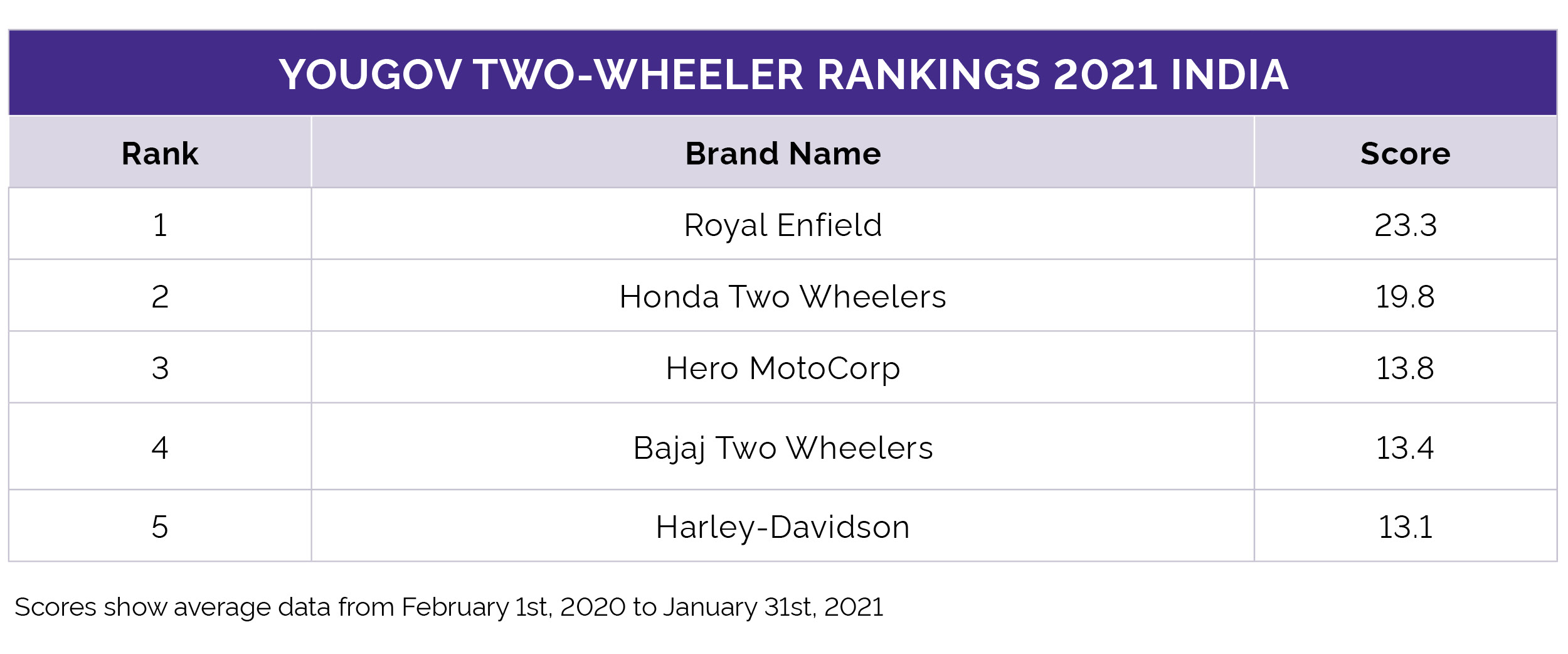 Commenting on the research, Deepa Bhatia, General Manager at YouGov India said: "YouGov's 2021 Auto Rankings reveals the healthiest auto brands in the market. The Indian rankings show a dominance of Japanese car brands or their subsidiaries, with five leading brands making up the top 10 list. Affinity towards German luxury cars is also strong among urban Indians.
In an overall tough year for carmakers, it is good to see Indian brands Tata Motors and Royal Enfield strengthening their place amidst global players and enjoying good brand health among Indian consumers.
Methodology
1Impression – whether someone has a positive or negative impression of a brand
Quality – a net measure of whether consumers think the brand represents good or poor quality
Value – a net measure of whether consumers think the brand represents good or poor value for money
Satisfaction – whether someone is a satisfied or dissatisfied customer
Recommend – whether someone would recommend a brand to a friend or not
Reputation – whether someone is proud or embarrassed to work for a brand