Travel and hospitality brands dominate the rankings, with six leading names featuring in the top 10 list
YouGov analysis reveals Amazon Pantry tops the list of India's most recommended brands, with a Recommend score of 84.5%.
The rankings are based on YouGov BrandIndex's positive Recommend score, which measures the percentage of a brand's customers who would recommend it to a friend or colleague. Every brand in our Rankings has a minimum sample of 300 and has been tracked for at least 6 months, with all scores being rounded to a single decimal place.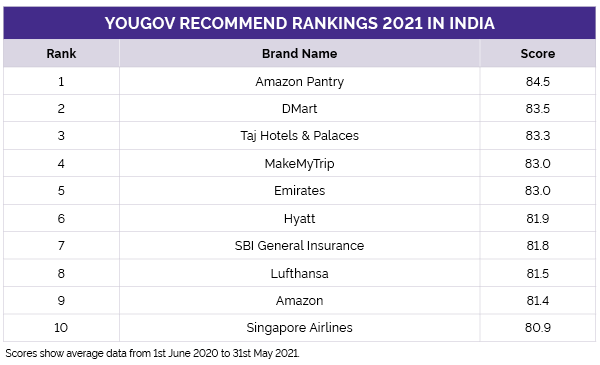 Whilst the public endured lockdowns, online grocery stores benefitted from the shift towards online shopping amid the pandemic. DMart follows Amazon panty in second, with a score of 83.5. In addition to this, e-commerce giant Amazon places ninth (81.4) in the top 10 rankings.
With the easing of restrictions, luxury hotels lured patrons with discounts and a safe stay experience. This in turn helped them strengthen their position among travel-starved consumers. Taj Hotels & Palaces places third (83.3) and Hyatt takes the sixth spot (81.9) in the top ten list. Travel booking site MakeMyTrip also appears in the fourth place (83.0) in the rankings.
Despite facing bans and restrictions, airlines enjoy strong advocacy among consumers in India. Emirates is placed fifth (83.0), Lufthansa eighth (81.5) and Singapore Airlines parks itself in tenth position (80.9).
YouGov also revealed the brands that made the greatest improvement to their Recommend score among customers over the past 12 months. HDFC Life Insurance noted the biggest uplift (of +8.1) to its Recommend score, from 61.6 last year to 69.7 this year.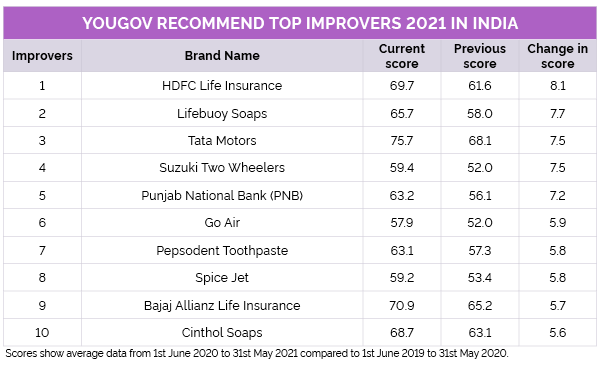 Amidst there uncertain times, health gained priority and many people are focused on securing themselves against emergencies and unforeseen situations. Bajaj Allianz Life Insurance also appears in the list (with a change in score of +7.2), along with Punjab National Bank (+5.7).
The improvers list features auto brands such as Tata Motors and Suzuki Two Wheelers (change in score of +7.5 each).
Lifebuoy Soaps (7.7), Go Air (5.9), Pepsodent Toothpaste (5.8) and Cinthol Soaps (5.6) complete the 2021 improvers list in India.
Deepa Bhatia, General Manager, YouGov India, said, "Despite being amongst the worst effected sectors due to the pandemic, travel & hospitality brands can take heart that their brand advocacy scores remain high and healthy. We see hotels, booking sites and airlines enjoy strong advocacy among urban Indian consumers indicating that consumers wanderlust has not dimmed. Most improved brands are focussed on financial services, automotive and personal care brands that have strengthened their position year-on-year."
Methodology:
The YouGov Recommend Rankings 2021 are calculated using data we collect from members of the public in markets around the globe every day, from our flagship YouGov BrandIndex tool.
Every brand's performance is tracked daily against a range of metrics, and our Recommend ranking measures the percentage of a brand's customers who would recommend it to a friend or colleague. The rankings data can be further developed with YouGov Recommend+ a fresh approach to understanding consumer advocacy.
YouGov Recommend+ is a highly cost-effective NPS® diagnostics approach that gives marketers the full picture on what drives existing and potential promoters by speaking directly to those customers who recommend your brand.YouGov BrandIndex draws data from interviews with our 15 million registered panel members across 40 sectors and more than 55 countries globally. This year's ranking includes consumer views from across 33 markets, including USA, China, Germany, India, and the UK, and many more.