The rankings reveal the top ten brands best at converting aware consumers into considerers of brands
YouGov Finance Purchase Funnel Rankings 2021 highlight the top-ten brands successful at converting consumers through the purchase funnel over the past year across key categories in the Finance sector.
The brands in YouGov Finance Purchase Funnel Rankings are ranked based on their Consideration score among consumers who are aware of each brand. Brands were measured between 1st September 2020 and 31st August 2021.
The India rankings are divided into three categories: Banks, Life Insurance and General Insurance
Banks
India's largest state-owned bank SBI, which has a legacy of over 200 years is the top performer in the 'Banks' category in India with a Consideration score of +46.2 among urban Indians who are aware of the brand. The bank's collateral-free loan offering to its customers to help cover Covid expenses may have helped the bank consolidate its position among customers.
HDFC and ICICI Bank, follow in the second (34.7) and third (29.6) place, along with other notable private lenders such as Axis Bank (22.2), Kotak Mahindra Bank (21.6), Standard Chartered (13.1) and Citibank (12.5).
Along with SBI, other leading PSUs to feature in the list are Bank of Baroda, Punjab National Bank and Bank of India securing the sixth (16.7), seventh (16.6) and eighth (15.9) place respectively.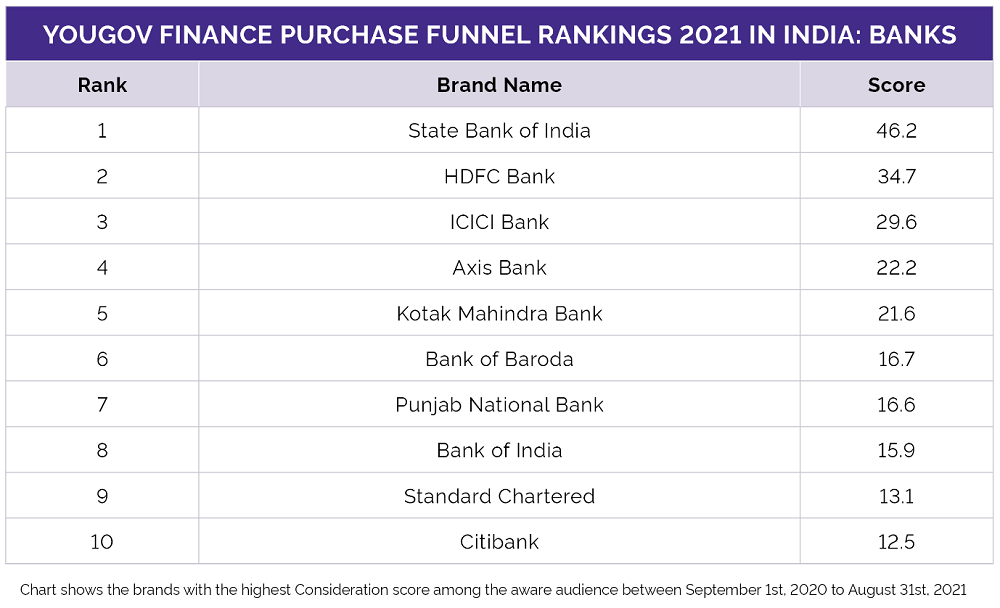 Life Insurance
India's largest life insurance brand Life Insurance Corporation of India (LIC) is the top performer in the Insurance category, with a Consideration score of 41.4.
SBI's subsidiary brand SBI Life Insurance lands in second (25.1), followed by ICICI Prudential Life Insurance in third (21.1) and HDFC Life Insurance in fourth (20.7).
Tata and AIA group's joint venture company Tata AIA Life Insurance appeared in fifth (19.1) in the list, along with other popular joint venture companies such Bajaj Allianz Life Insurance (16.6), Aditya Birla Sun Life Insurance (15.3), Reliance Nippon Life Insurance (13.8), Max Life Insurance (13.0) and PNB MetLife Insurance (10.1).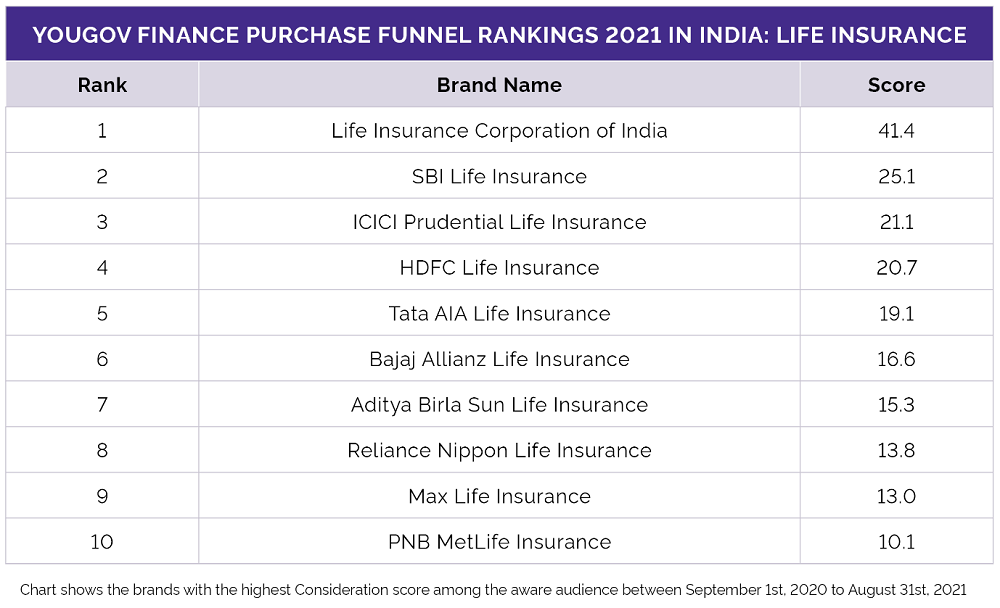 General Insurance:
Within 'General Insurance' category SBI General Insurance is the top performer (41.0), followed by HDFC ERGO General Insurance (35.2) and ICICI Lombard (33.2).
One of India's first standalone health insurance provider Star Health Insurance appeared in fourth (32.8) and Bajaj Allianz General Insurance in fifth (30.8).
Other notable brands that make it to the top ten for this category include Tata AIG General Insurance (30.5), The New India Assurance (26.3), National General Insurance (25.0), Aditya Birla Health Insurance (23.8) and Reliance General Insurance (23.3).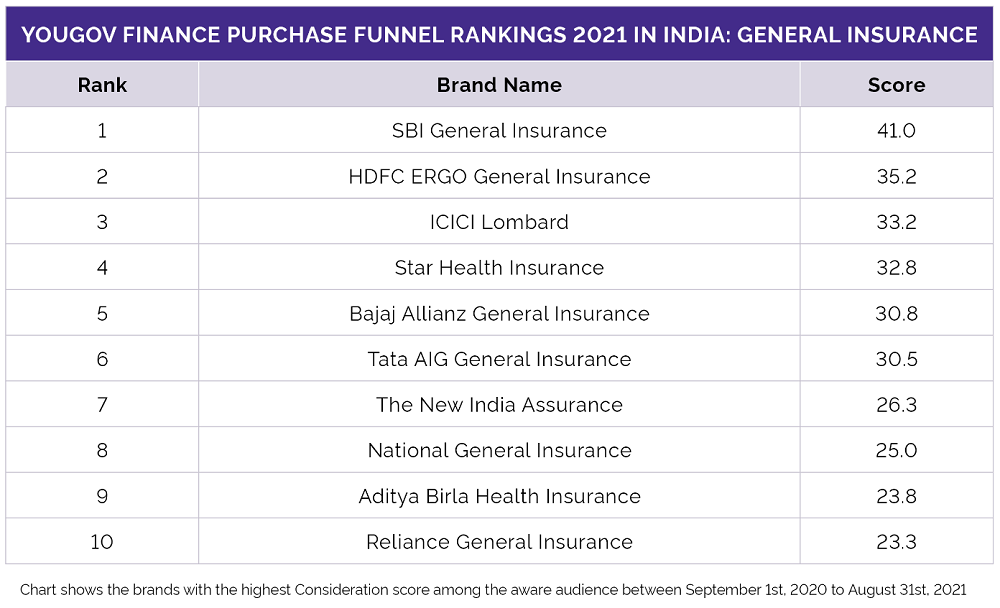 Methodology:
The brands in YouGov Finance Purchase Funnel Rankings are ranked based on their Consideration score among consumers who are Aware of each brand. This allows us to show which brands are most successful at converting Aware consumers into ones that would consider the brand when next in-market.
To identify the Aware audience we ask, 'Which of the following brands have you ever heard of? Please select all that apply.' And in follow up we ask the Consideration question, 'When you are in the market next to use a product or service from a Financial Services brand, which of the following would you consider?'. The questions vary slightly from this template in different sub-sectors and regions.
The rankings chart shows the brands with the highest average Consideration score between 1st September 2020 - 31st August 2021. The scores are representative of Aware consumers within the general population of adults 18+.
All scores listed have been rounded to a single decimal place; however, we have used additional precision to assign ranks. All brands have been tracked for at least 6 months to be included in the rankings.
Get in touch to learn more